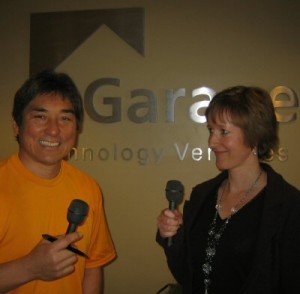 By Alison van Diggelen, host of Fresh Dialogues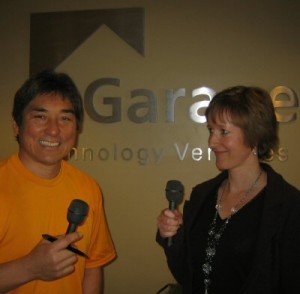 This is a transcript of part two of my interview with Apple evangelist and Alltop Founder, Guy Kawasaki when we discussed the Kindle and green publishing.
Alison van Diggelen: What are your thoughts on Amazon's Kindle and electronic publishing? That's going to save trees; that a green technology…
Guy Kawasaki: I think Kindle's on to something, but I don't know if it's for books…I can see it for reference books. I could see if you have the Chicago Manual of Style on the Kindle. Rather than carrying the Chicago Manual of Style around with you – which is a huge book, six hundred pages or so- and if you really need to know what's the rule for how to write percent out, is it four zero P-E-R-C-E-N-T, is it 40%….it's nice to have the Chicago Manual of Style on a Kindle.
Would I read the latest Tom Clancy book on a Kindle? I don't think so. Is it nice to know that when I get on an airplane I have a subscription to Wall Street Journal, Road and Track, New York Times, Tech Crunch, my blog etc., that is good. I like that. It means I just have to buy a whole lot less stuff in the airport bookstore and I don't have to carry a stack of stuff and I don't have to feel guilty about killing a tree…having said all that, I don't use a Kindle because I have to keep so many things charged in my life. I have to keep my iPhone charged because its battery life is pathetic, keep my Mac Book charged because its battery life is pathetic and so I prefer when I travel not to have to carry 15 lbs of extension cords, adaptors and all that, so it would just put me over the top to have to make sure …you know… I don't want to be like I'm going on a mission: Mac Book charged? Check. IPhone? Check. Kindle? Check. Gas? Check. You know: I just need to get in the plane. So that's why I don't use it.
Alison: And what might persuade you to use it?
Guy: Infinite battery life
Alison: Infinite battery life?…OK
Guy: One week…
Alison: By why wouldn't you use it to read a novel? Is it that touchy feely thing of just holding a book?
Guy: Well, the first Kindle – I have not touched a second Kindle – the first Kindle the bottom corners were sharp, they were like daggers. You know I just didn't like to hold it in my palm and I don't know…it's like one more thing…worry about charging, worry about dropping…but I do believe that those things will take off. Will they eliminate books? I don't think so. Not in my lifetime.
Someone wrote a blog about how, for the cost of printing the New York Times, the NYT could give every subscriber a Kindle…that's interesting.
Alison: That's pretty powerful.
Guy: But I have to say…in my life, I'm on my computer constantly. There is about 15 minutes a day I sit out and I read the Mercury (News) and I read the Chronicle at a table and it's just nice to be not looking at a monitor.
Alison: Mmm
Guy: The interesting thing is that my kids, who're teenagers, they do not read the newspaper, right. So they have never NOT looked at YouTube…I don't know where they get their news, God help us. So maybe this generation, for them, a Kindle's perfectly normal …OK that's where they get their news. What is this piece of paper here? My kids don't know what a typewriter is…they've never used a typewriter. Arguably they …my three year old will never use a CD, right? It's going to be all digital downloads. So, he knows what a DVD is because he watches Aliens and Monsters or whatever on it, but just the physical media is going to be gone by his age.
Alison: Guy Kawasaki, thank you for joining me today on Fresh Dialogues.
To listen to Part One with Guy Kawasaki on green revolutionaries and evangelism click here
To read the transcript of Part One with Guy Kawasaki click here