By Alison van Diggelen, host of Fresh Dialogues
In the beginning…there was no word from Silicon Valley tech leaders on Donald Trump's presidency, despite his kingly proclamations: Let there be Two Pipelines, Let there be a Wall…Let there not be TPP!
But on the seventh day, tech leaders arose against Trump's dominion over them when his immigration order unleashed chaos for their people. And so, on the 16th day, they filed a legal brief saying the order inflicted "significant harm  on American business, innovation and growth."
Today in San Francisco a US Court of Appeals will decide oral arguments in the case: State of Washington et al. vs Donald J. Trump et al..
I joined the BBC World Service's Business Matters last night to report on Silicon Valley's furious reaction to Trump. Venture capitalist, Jean-Louis Gasse spoke for many in the valley:
"The danger with an administration or a president like Donald Trump is that he gives permission to lie…to be offensive, to be homophobic, to be xenophobic. Cultures are nothing but a system of permissions and those come from the top. When you see the President of the US lying – you have to stand up and say: it's a lie!"  Jean-Louis Gasse, Silicon Valley venture capitalist
Listen to the BBC World Service podcast, (my report starts at 5:15).
.
Here's a transcript of our conversation (edited for length and clarity) and a longer version of my report:
Fergus Nicoll: Donald Trump says he is pro-business. But a lot of businesses, it seems, are not pro-Trump. They're certainly not in favor of his attempt to restrict immigration. Almost 100 mainly tech companies have filed an amicus brief arguing that the ban – already the subject of a separate legal process – inflicts significant harm on American business. Who's signed up? Apple, Google, Microsoft, Facebook, Twitter and belatedly Tesla. I'll hand over to Alison in a moment – but first, let's hear from Emily Dreyfuss at the tech news website Wired in Boston.
Emily Dreyfuss: By some estimates, half of unicorn startups in America were founded by an immigrant. These big companies, Apple, Google, Facebook: they depend on H1-B visa holders. 85,000 H1-B visas go to the tech community every year in America. This is affecting their bottom line. Yes, there is some risk but I think these technology companies are calculating that together they are stronger which is why they've signed on to this amicus brief. I think what we're seeing here is a clash of ideology and business acumen. In this instance, Trump saying he's pro-business is actually just talk.
Fergus Nicoll: Is that a fair summary then, Alison…the way it's seen on the west coast?
Alison van Diggelen: Trump is saying that he's pro-business (and I believe he intends to be), but it looks like his immigration ban has not been thought through… as to the impact it's going to have on business.  It's been severely criticized .
I've been closely watching Silicon Valley's reaction to the Trump presidency since inauguration day. When Trump issued that immigration order some Silicon Valley leaders were compelled to break their silence and take action. It's an issue that's split the US in two. A CNN poll shows about 53% oppose the ban. But today Trump has said that negative polls about the travel ban are "fake news." He accused the NY Times of making up stories and sources. So my report explores why Trump is getting under Silicon Valley's skin via this travel ban and the role of lies and fake news.
The day after he was inaugurated, Silicon Valley took to the streets to protest. Tens of thousands of marchers carried placards saying "Stop the hate"; "Words Matter", and "Never Again." I asked Patrick Adams, a local science teacher…What's your message for Trump?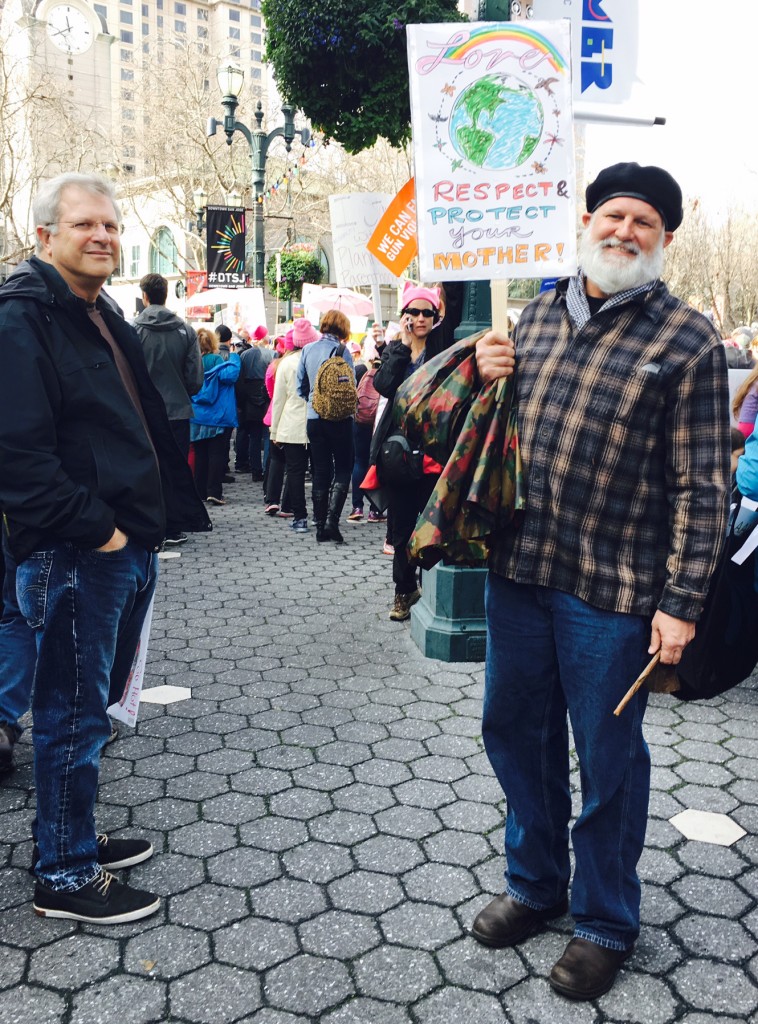 Patrick Adams: Get out of the way…this is a tsunami, this is people who care deeply about what this country really stands for – which is inclusion and love and hope – it's unstoppable. This idea: that the trickle down economics of neoliberalism and the strange backward thinking of racism is going to lead us to a better world? It's not, it's a dead end.
Alison van Diggelen: In the first week of Trump's presidency, it appeared like "business as usual" here in SV. On day seven, Trump's immigration order lit the fire under SV.
By day 10, protests had broken out at several tech campuses; and business leaders came out of their bunkers to voice concerns about the order's morality, not just its economic impact. It was personal: almost 60% of Silicon Valley engineers are foreign born.
I spoke with Meg Whitman, CEO of Hewlett Packard Enterprise, a company born here in 1939:
Meg Whitman: Our view is that this was a mistake. We are a nation of immigrants and a broad-brush sweep of seven countries, of Muslims in those seven countries, is not what America is. So I hope that the president rethinks…
If you think of the innovation that's been done in the valley over the last 75 years, much of it is from people who came here from someplace else … that's an economic engine of the country and an economic engine of the world…
Alison van Diggelen: Alphabet's chairman, Eric Schmidt even described the Trump administration actions as "evil" but many responses were muted.
I contacted companies, from oil to solar; from startups to Fortune 500, but many declined to talk, even LinkedIn cofounder Reid Hoffman who was an outspoken critic of candidate Trump. Why the silence?
Is it the prospect of Trump unleashing his Twitter followers? Kevin Surace, CEO at Appvance, a software company, sums it up:
Kevin Surace: No one wants the current leader of the free world to unleash something against them. And frankly as a CEO of a corporation, it's your duty to your shareholders to not have the US government hate you…the last thing you want is the president saying: I've had it with your company, I'm going to slap tariffs on you…
Alison van Diggelen: Surace emphasizes that the stock market is up over 8% since the election and the Dow hit the symbolic 20,000 point milestone last month. Trump even hosted a "cordial" tech summit with many of the valley's leaders. Three juicy carrots are now dangling their way: the prospect of infrastructure investment, a corporate tax cut and a huge tax break for the repatriation of $2.5 Trillion in corporate profits lying offshore.
Kevin Surace: If that all comes back to the US, it'll be the biggest boom to the US economy, possibly ever. For the next 10 years, the economy will be on fire.
Alison van Diggelen: Nevertheless, venture capitalist, Jean-Louis Gasse addresses the disquiet in Silicon Valley. He points to H1-B visa concerns as well as a flood of uncertainties:
Jean-Louis Gasse: The stock market is up, up, up right now which we know could turn around on a dime…
It's not good for biz to have too many uncertainties on immigration, on trade wars, on interest rates, on spending, on building a wall with Mexico…
Alison van Diggelen: Gasse was Steve Jobs' right hand man when Apple first expanded into Europe. I asked him to sum up the Valley's reaction to Trump:
Jean-Louis Gasse: They're waking up to the fact that just like you need clean air and clean water… you need clean information for society to be healthy. It's an issue of conscience for the people in tech to get up and say we're going to fight fake news – especially the ones that stem from the top. The danger with an administration or a president like Donald Trump is that he gives permission to lie. … to be offensive…to be homophobic, to be xenophobic… Cultures are nothing but a system of permissions and those come from the top. When you see the President of the US lying – you have to stand up and say: it's a lie!
Continues….
Check back soon for part II when we discuss:
Elon Musk's role in Trump's economic advisory council and why his decision to stay is so controversial, especially after Uber's CEO stood down.
And Silicon Valley Leadership Group's CEO Carl Guardino's advice to Trump.