By Alison van Diggelen, host of Fresh Dialogues
Sometimes I wonder if anyone is actually listening to my late night conversations with London on the BBC World Service. Well, I just found out that, YES they are. And some listeners are even sharing these conversation with influential people.
This summer, my producer told me that my conversation with the BBC's Fergus Nicoll was used for "training purposes" at the BBC's headquarters in London. We were discussing my interview with Instagram's COO Marne Levine and how male champions can really help women succeed in business.
Curious? I was too.
Here's a link to the featured clip at the BBC and a shorter (90 second) version below: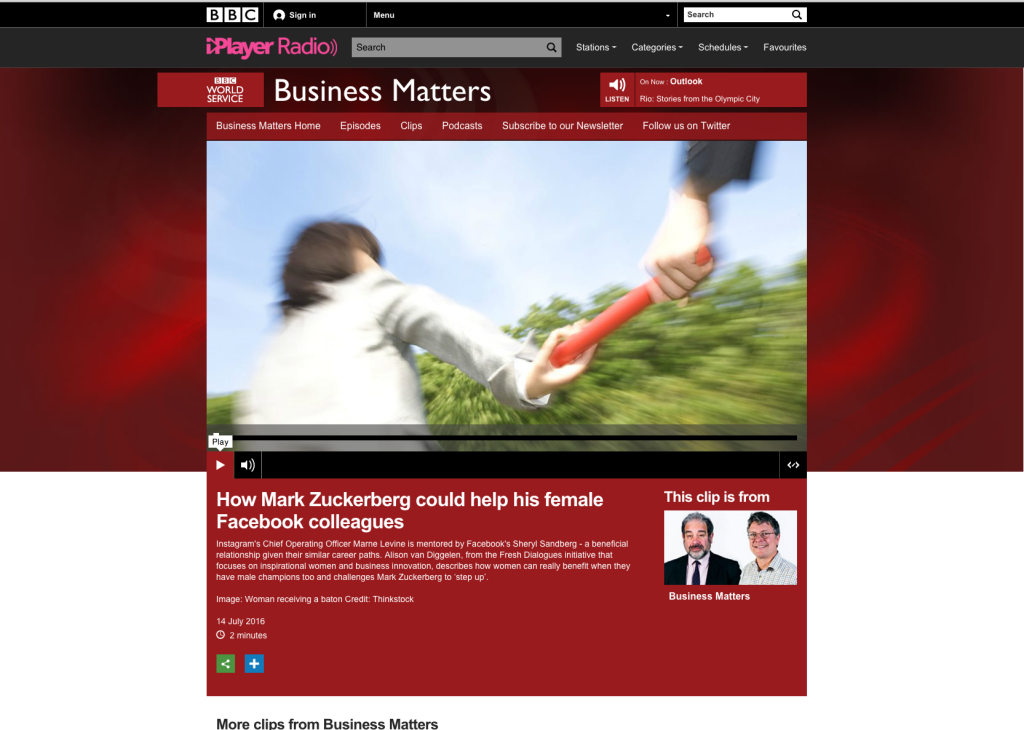 From the BBC's Business Matters feature:
Instagram's Chief Operating Officer Marne Levine is mentored by Facebook's Sheryl Sandberg – a beneficial relationship given their similar career paths. Alison van Diggelen, from the Fresh Dialogues initiative that focuses on inspirational women and business innovation, describes how women can really benefit when they have male champions too and challenges Mark Zuckerberg to 'step up.'
Here's a transcript of our conversation (edited for length and clarity):
Alison van Diggelen: One thing that female entrepreneurs in positions of leadership have told me that will help, is for women to have male champions. People like Mark Zuckerberg and Google's Sundar Pichai have to step up and be champions of women and make it easy for their teams to not just attract, but retain women. Offering childcare on-site is a large part of that…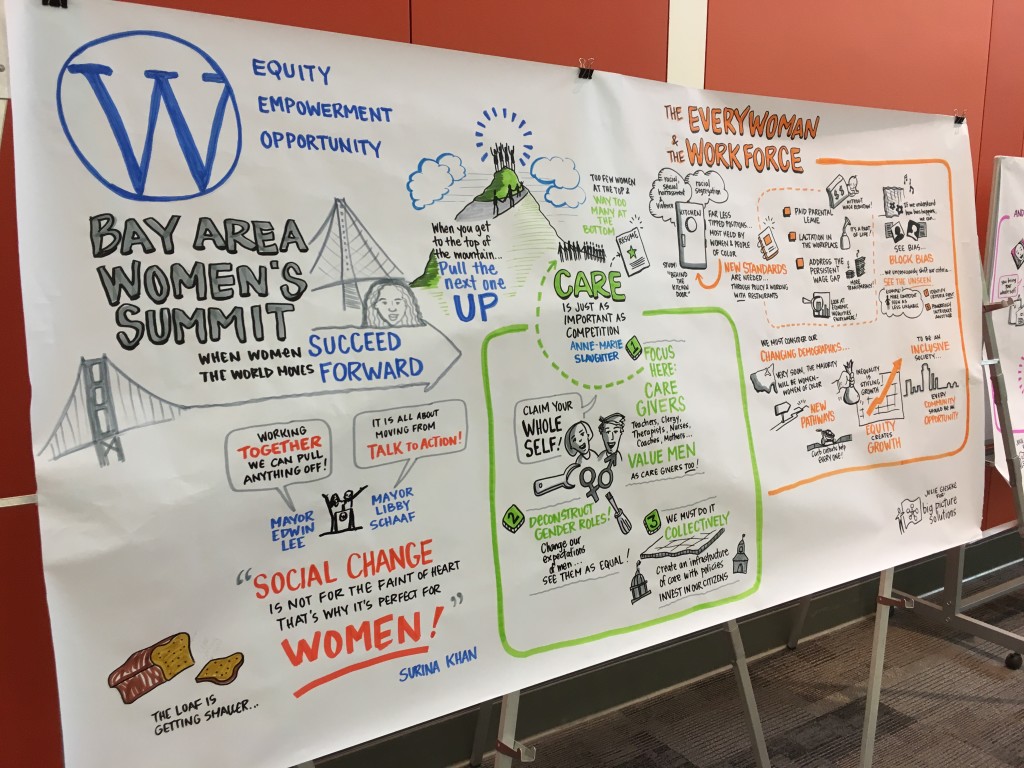 Fergus Nicoll: So making sure that the onus is not always on female executives to have female mentees?
Alison van Diggelen: Yes, absolutely. It has to be shared. One of the things that was repeated time and time again at the Bay Area Women's Summit, where I interviewed Marne Levine (COO of Instagram), is that the United States doesn't have universal paid family leave. Quite a few companies in Silicon Valley are offering it (often in paltry amounts, by European standards), but it needs to be federally mandated in order for the U.S. to remain globally competitive. That was one of the messages that came over loud and clear.
It's well accepted here (in Silicon Valley), the advantages of diversity: having males and females on the team can increase the bottom line, creativity, innovation and meeting the needs of this diverse clientele. That's well proven, but these companies are having to step up and try harder to attract and retain these women.
Find out more about inspiring women in business:
TaskRabbit's CEO, Stacy Brown Philpot is one of the few black, female CEOs in tech. What is she doing for women and diversity in tech?
Meet some of the top women in tech in our Fresh Dialogues Inspiring Women Series