By Alison van Diggelen, host of Fresh Dialogues
Last night, I had the pleasure of meeting the talented and influential author, Michael Lewis. You probably know he wrote Moneyball, The Big Short and The Blind Side and has been compared favorably to literary genius, Tom Wolfe. Lewis revealed that he's almost finished a prequel to his huge bestseller, Moneyball and it will be published in December 2016. Although his publishing schedule precluded him from accepting an in-depth interview with me last night, he did agree to one in December. So, not a strike out, just a delay in play.
Details of the prequel are under tight wraps, but I did learn this: it's been eight years in the making, and he's completed about 45,000 words (about 150 pages). He'll send his trusty editor at Norton the remaining chunks every six weeks and is on schedule for a September completion. He says "once it's on track, it's like a freight train."
The topic? It's about sports (possibly just football) and analyzes the distribution of pay across teams. As with most of his books, it's a character driven story, featuring people who surprised him and are in a situation that forces them to reveal their true character. The only other clue he shared was that he had access to the "brain trust" of the San Francisco 49ers.
Here are highlights from the evening's onstage conversation with Brian Adams at Foothill College Celebrity Forum Series:
On The Big Short Movie: Lewis described it as "a relief" to see how good the movie was and praised the talent and craftsmanship of the production team. He called out Christian Bale for his exceptional performance as Michael Burry, the Silicon Valley financial whiz, whose character "led us through the jungle of complexity."  Lewis explained that Bale spent a day with Burry and was able to channel his breathing and his awkward mannerisms with incredible accuracy throughout the movie.
Lewis also praised the straight to camera moments, especially Margot Robbie in the bathtub and lamented the production limitations of being a mere writer. He didn't feel ownership of the movie as he'd sold the rights, and didn't sit on the set since he considered it "a pointless exercise." He was, however, involved in promoting the movie with the cast and says they're really "not that good looking," with the exception of (gorgeous) Brad Pitt. In Lewis's opinion, their star appeal is more to do with their force of personality and talent. He added, "I'm not a good judge of male beauty." That got a huge laugh from the audience.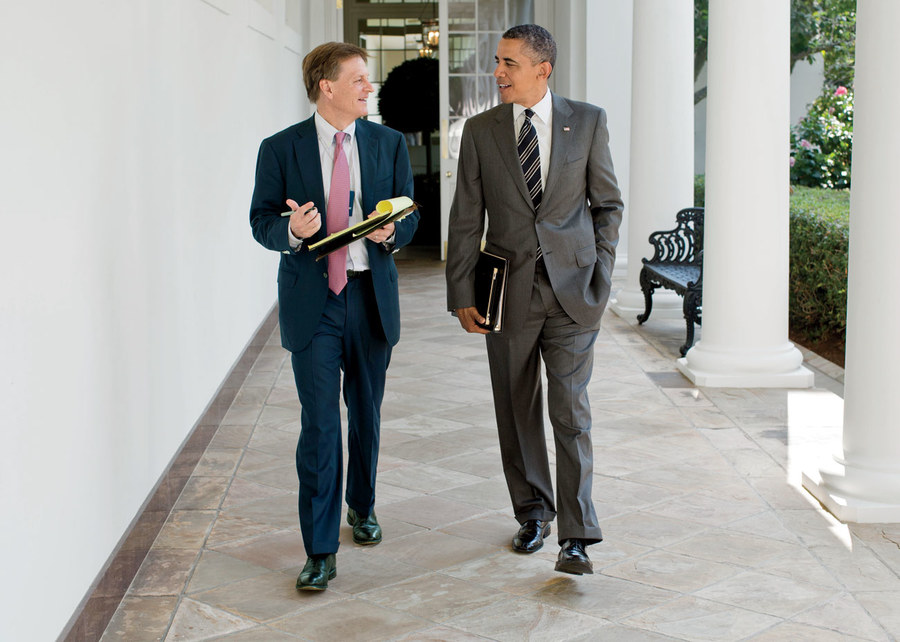 On Politics: Lewis considers Donald Trump a bully and that the race would now be between Hillary Clinton and Jeb Bush, if Trump hadn't bullied him so hard during the early Republican debates. He thinks that Donald Trump and Bernie Sanders wouldn't be candidates today without the financial crisis of 2008 and mass outrage that followed, with the widespread feeling that the financial system is rigged. He asks: "Is this the beginning of something or the end of something?"
It's a very good question indeed. He even alluded to a dystopian future where fame rules supreme and the Kardashians become viable leaders of the modern world. A true horror indeed.
Lewis doesn't like to make predictions, but when pushed, he admits that he thinks Trump will get the Republican nomination and he'll lose spectacularly to Hillary because "he does dumb things."
On the Panama Papers: Lewis thinks the biggest leak of the century won't have big reverberations in the US. He added, "You can go to Delaware to hide money…wait for the Delaware Papers!"
On Upcoming Projects: Lewis is working on a screenplay pilot re Wall Street in the 20's; a book on President Obama that explores how leaders make decisions (based on the fabulously insightful Vanity Fair profile); and a book for kids about money: how to make it, use it, and the "social power of money."
Do check back here in December for my interview with Michael Lewis!
Many thanks to Celebrity Forum founder, Dick Henning for the kind invitation backstage.
Update: This afternoon, I've been invited to join the BBC World Service show Business Matters to discuss my Michael Lewis encounter. Check back soon at Fresh Dialogues for more news on that.