By Alison van Diggelen, host of Fresh Dialogues
Today, Hyperloop Technologies, the futuristic high-speed transport company, confirmed that it has secured $26 Million in financing. CEO, Rob Lloyd said that he's confident of closing the full $80M series B funding by the end of 2015. Who's putting up the money and what does this mean for rival company HTT, Hyerloop Transportation Technologies?
I recently visited the Hyperloop Technologies HQ in downtown LA, on assignment for the BBC. Here's my BBC Report transcript. You can also listen to the BBC World Service podcast and our discussion (starts at 14:00)
Here are five things to know about Hyperloop Technologies:
1.  What is a hyperloop?
A "hyperloop" comprises passenger or freight pods that are shot down a near-vacuum tube from one city to another, at over 700mph.
The company's product is modelled after Elon Musk's Hyperloop white paper, where he described it as:
"A cross between a concorde and a railgun and an air hockey table." Elon Musk
2. Who's financing Hyperloop Technologies?
Celebrated venture capitalist Shervin Pishevar is cofounder of Hyperloop Technologies and he told me recently:
"The idea itself can have a deeply transformative effect on our planet, and on our lives. It brings the world closer together. Think about the impact of the Wright Brothers' invention of flight, and their Kitty Hawk moment, what a pivotal moment that was." Shervin Pishevar
Pishevar is putting his money where his mouth is. His company Sherpa Capital contributed to the Series A funding, along with Formation8, Caspian VC and Zhen Capital. All have renewed their commitment to the company today and were joined by other unnamed investors.
"All of our Series A investors – Formation8, Sherpa Capital, Caspian Venture Capital, Zhen Capital and other individual investors – are also participating in the Series B." Hyperloop Technologies CEO, Rob Lloyd
3. How will it make money?
The prospect of commuters traveling on land between SF and LA in 30 minutes (and between other similarly spaced cities at super high speed) has people talking about how the Hyperloop could revolutionize the personal transportation industry and urban planning, however the really big financial opportunity appears to be in freight.
Cofounder Pishevar told me that they're focused on a potential freight market of $150 Trillion over the next 20 years.
As Hyperloop Technologies Director of Operations, Erin Kearns explains:
"We definitely see the benefits of transporting cargo…ports being too small…ships are sitting offshore five miles…we want to streamline the process, make it a lot more elegant, a lot cleaner for the environment." Erin Kearns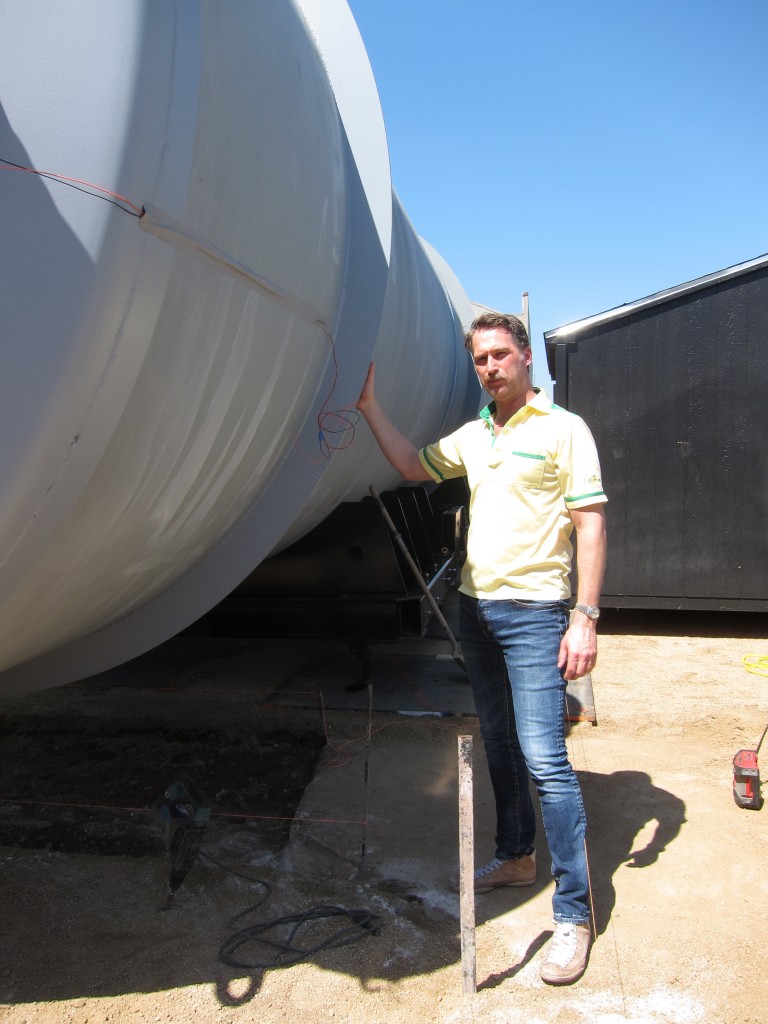 4. What's the timeline?
CTO Brogan Bambrogan says that the company is planning to build a full-scale full-speed Hyperloop test track in the California desert by the end of 2016. He's channeling Elon Musk in driving his Hyperloop team forward.
"The team is trying to operate on a timescale that is of Elon Musk ilk…By 2017/18, we'll have shovels in the ground in a couple of locations," Brogan BamBrogan 
5. What are the challenges?
Despite this optimistic timeline, the team has many challenges to overcome before it can make the hyperloop a profitable operation, not least of which are the technical hurdles.
I spoke with Mark Jacobson, a professor of civil and environmental engineering at Stanford University. He compares it to California's High Speed Rail project, and is convinced the hyperloop will be much more expensive to build and operate, due to the need to keep a near-vacuum in the tube. Then he lists the technical challenges…heat build up, leakage from the vacuum tube, keeping a uniform distance between the pods and the tube.
And then there are the regulatory issues like zoning, rights of way, permits etc. These challenges make it more likely that Hyperloop Technologies' first operational project will be overseas, possibly in Asia, where regulations are less strict.
6. What about rival HTT?
Hyperloop Transportation Technologies  (HTT) has said it will start work on a 5-mile demo track in California's Quay Valley early next year. Despite partnerships with Aecom, Oerlikon and key industry partners; this rival team of 400 is not yet funded.
I interviewed HTT's CEO Dirk Ahlborn by phone in September and he confirmed plans to close a $150 Million first round of VC funding in mid-2016. He is convinced that, although his team is mostly part-time, he has "the best people in Japan, China and India and they're doing it because they believe in the project, not for the money."
When I asked him what would stop some team members moving to rival companies, he cited his team's stock option contracts, and their "moral obligation" to stay with HTT.
Ahlborn didn't rule out joining forces with Hyperloop Technologies and said that synergies exist between the two companies.
Yesterday I asked Ahlborn about his attitude to Hyperloop Technologies:
"We are 2 years older (than Hyperloop Technologies) and rather than spinning a wheel with a motor with an air bearing on top, we are getting ready to build the first passenger version in Quay Valley." Dirk Ahlborn
I wondered whether the severe water shortages could impact the planned Quay Valley "Model Town for the 21st Century" in California's drought-starved central valley, and hence his Hyperloop demo track which is part of the entertainment destination development.
"We are independent from the actual Quay Valley project so it doesn't concern us, but I don't expect them to have issues as they have plenty of water rights." Dirk Ahlborn
Ahlborn said that HTT will be releasing a schedule of future progress very soon. Hyperloop watchers eagerly await the next move in the race to complete stage one – a working hyperloop prototype.