By Alison van Diggelen, host of Fresh Dialogues
Last night, the long awaited Tesla Model X was launched and Elon Musk took great pleasure in underlining its clean air qualities. Musk reiterated the mission of Tesla: to accelerate the advent of sustainable transport and show that any car can go electric. But he couldn't contain a smile, as he talked about air quality and referred to "recent events" i.e. the VW DieselGate scandal.
Musk showed off the SUV's giant air filter (10 times the size of a typical one) and said:
"Recent events have illustrated the importance of air safety…(in the Model X) you can have air quality levels comparable to a hospital operating room."
Musk then got somber, put on his superhero hat and showed the massive crowd estimates of how air quality can reduce life expectancy in some of the world's most polluted cities: Beijing, 22 months; Los Angeles, 8 months and Paris, 7 months.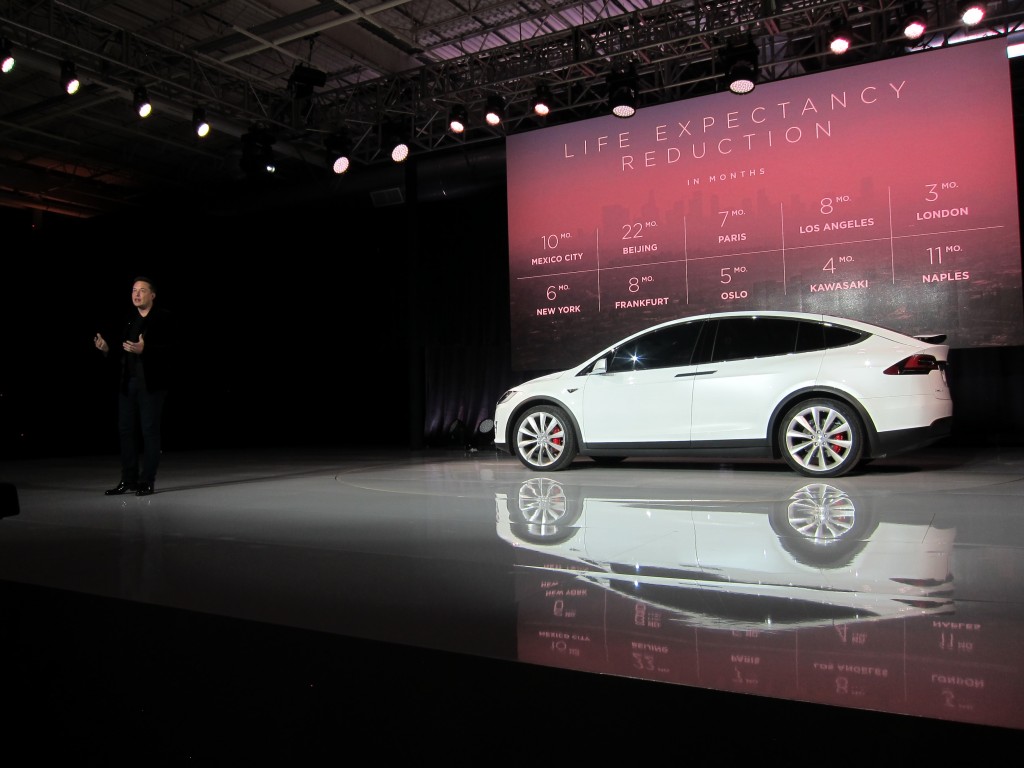 .
According to Musk, using the high quality "X-size" air filter plus a smaller one (still larger than an average car's air filter) gives the Model X a 700 fold improvement in city smog filtering. The company claims it's also 300 times better at filtering bacteria, 500 times better at filtering allergens, and 800 times better at filtering viruses.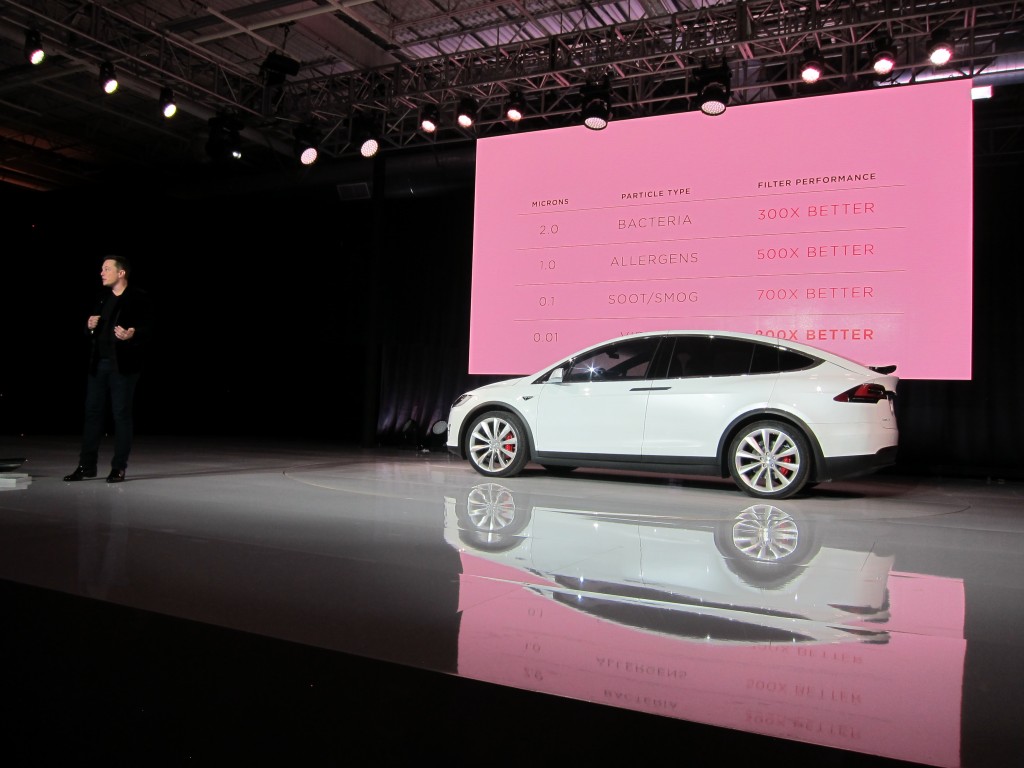 .
But the biggest cheer of all came when Musk made this surprise announcement:
"If there's ever an apocalyptic scenario, you just press the bio-weapon defence button – this is a real button."
I asked George Blankenship, former VP at Tesla, about Tesla's clean air focus.
"Who else is going to think in that magnitude with something as normal as an air filter? These are the kinds of things that Elon pushes to the limit and delivers products that no one else can deliver. The reason he's doing it is to save the planet. It's all about the survival of this planet and the atmosphere." George Blankenship
We discussed how VW's emissions cheating scandal might impact electric car makers like Tesla.
"It's unfortunate that others feel they have to do things like that in order to compete. It's the absolute opposite of what Tesla does…they find a solution. It reinforces that innovative companies that come up with a solution that others don't…there's a reward for it: 5 star crash ratings, cleaner air than a surgical room. That's what innovative companies do as opposed to companies that try to figure out how to bend the rules to get an advantage." George Blankenship
After a thorough tour of the Model X features, including the elegant falcon wings, Elon delivered keys to some of the first Model X buyers.  This time round, Elon beat his friend, and first Model S owner, Steve Jurvetson and got the number one Tesla Model X. There's definitely admiration, perhaps a little envy, captured in my photo below.
Update: Jurvetson told me this morning that Elon had a check made out in advance at an early Tesla Board meeting, to make sure he secured the first Model X.
Read more about Tesla and Elon Musk at Fresh Dialogues
Who's buying the Tesla Model X?
Elon Musk's Life Story – in his own words and more EV reports