By Alison van Diggelen, host of Fresh Dialogues
Last night, Tesla CEO Elon Musk showed he's getting more like Steve Jobs by the minute. Just as Jobs helped revolutionize the personal computer, music and phone industries; Musk has helped revolutionize the world of e-commerce, space exploration and electric cars. And now he's set his sights on the energy sector. With this announcement, Musk has burnished his revolutionary status by revealing that Tesla Motors is no longer "just" a car company, but an energy company.  You can read the 12 key facts of last night's presentation here. Some commentators are calling it the start of an energy storage revolution, but there are no guarantees.
I joined the BBC's Fergus Nicholl and Revathy Ashok (Bangalore Political Action Committee) on Business Matters last night to discuss the implications of Musk's bold vision for energy storage. Here is the podcast from the BBC World Service. Our Tesla conversation starts at the 29:00 mark.
Here are some highlights of our conversation (edited for length and clarity):
Fergus Nicholl: Elon Musk…you've met the man. How would you introduce him to a global audience?
Alison van Diggelen: He is a genius inventor…the (Thomas) Edison of our day…incredibly sharp minded, a big old geek, but he's very personable. He has grand visions and wants to make it happen…he has the ability to paint a picture, and motivate a team and build a team. He's changed the world of electric vehicles and he's now planning to change the world of power, utilities and battery storage.
Fergus Nicholl: That is an application that would apply in many many countries, beyond India. The idea that you could weather blackouts, brownouts…you're saying you could bank it, use it when you need it and not necessarily get hit by little domestic crises?
Revathy Ashok: Absolutely. It's pretty common in India for a normal household to have a one to three hour battery back up. For the last 12 hours it's been raining heavily…we've had no power at all, so all connectivity is lost. I have three hours of battery backup which is all gone…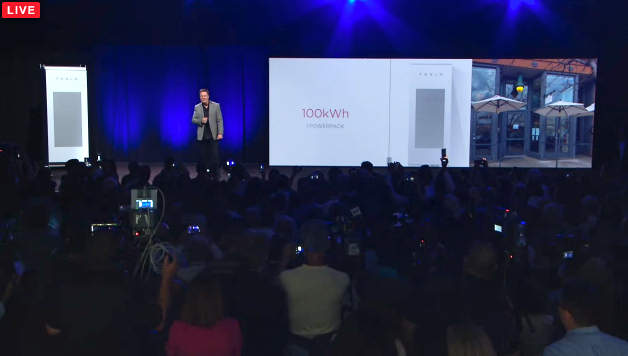 Alison van Diggelen: The main idea is, if you've got solar panels on your roof, or windpower, your house can become a power station with the addition of these batteries. No matter what natural disaster, earthquake etc. is happening, you will have a reliable source of power. You won't need the utility anymore. You can just disconnect from the grid, go "off-grid." So that's the huge potential and that's why people are really excited about tonight's announcement.
Fergus Nicholl: The Gigafactory (in Nevada)…tell us more about it…a net zero energy factory…it's quite an extraordinary project.
Alison van Diggelen: Yes, a net zero energy project means it will be solar powered itself and will produce as much energy as it uses to make these batteries. It's definitely quite revolutionary and has Elon Musk's fingers all over it.
Fergus Nicholl: In this picture, the entire roof is vast solar panels, kind of like a solar farm laid perfectly flat. I guess Nevada is probably the best place to be for that?
Alison van Diggelen: Indeed, several states were actually fighting over it. California was hoping to get it too, but Nevada won out because they gave some very juicy incentives…The Gigafactory will produce more batteries, once it's fully operational, than the world's supply of batteries in 2013. That's what they're predicting. It's a mind blowing amount of batteries and Tesla board member, Steve Jurvetson told me they're planning to build more Gigafactories around the world, once this one is operational. As well as being Net Zero, they're going to be creating a lot of employment, so there will be a lot of communities wanting them in their back yard too.
Fergus Nicholl: They'll be lining up in different countries…
***
Note: We didn't have time to discuss the competition that Tesla will face in the battery storage space. There are already major players like Samsung, LG Chem and Mitsubishi working on energy storage solutions and a slice of what Deutsche Bank estimates is a $4.5Bn market.  The question is, will Tesla's strong brand and reputation for quality emulate what Apple achieved in the cellphone market, and leapfrog over the existing competition? In his usual hyperbolic (Steve Jobs) fashion, Elon Musk said last night that "existing battery solutions suck." But the success of his high risk venture in the energy storage market will depend on swift execution and competitive pricing that makes the Tesla Powerwall a viable solution for a wide spectrum of potential buyers, from wealthy consumers and businesses in California to rural communities in India, Africa and beyond.