By Alison van Diggelen, host of Fresh Dialogues
Tesla Motors released its first batch of all electric Model S sedans today.  The cars are actually built – not just assembled – at the Tesla Factory in high priced Silicon Valley. The company's CEO, Elon Musk, says he's creating "the greatest car company of the 21st Century," yet despite the hoopla, Tesla is one of the most shorted stocks on the Nasdaq. Will this ambitious entrepreneur – who led the successful SpaceX mission to the international space station last month – prove detractors wrong again?
I visited the factory on June 14 and Gilbert Passin, VP of Manufacturing at Tesla gave me a fascinating two hour tour. He explained the process of making a Model S, from the stamping shop, where huge hydraulic press machines stamp sheets of aluminum into 3-dimensional fenders, hood panels, doors, and roofs; to the quality testing where the paint work is meticulously checked and recycled water is used to test each model's watertightness.
At the stamping shop, Passin says, "These parts are extremely critical because it's like the foundation of what makes a good car…See the robot is actually picking up the part in slow motion to make sure that everything works well…you don't want anything to break."
Shiny red robots and red T-shirt clad employees work hard at the factory: stamping, assembling, welding, painting and testing. The release of the first ten Model S Sedans is a big milestone for this innovative company. We talk to Charles James Lambert, who is a team leader working on the stylish and unique door handles Tesla manufactures at the factory. "I'm building a door handle that's going on something fabulous to me: the model S…so sexy to me, the car, right?" he says. "That we have a door handle that responds. It's pure elegance to me."
Steve Jurvetson, a Tesla board member, snagged the very first prelaunch Model S (Elon Musk had to wait for number 2) and raves about it with the wide-eyed glee of a teenager describing his first set of wheels. "It's kind of like driving in a hyper space portal to the future…" says Jurvetson.
Yet this futuristic car, that accelerates 0-60 in 4.4 seconds, does so in a whisper, not a roar. Jurvetson argues that silent is better. "It's like saying I sleep better when there's industrial noise going on outside my house, really?" he says and suggests that for drivers who miss the roar of an internal combustion engine, downloadable sounds might be the answer… "People can make it sound like whatever you want. You know, Harley Davidson: "huff pwuffpwuff pwuff." Fine…just dial it up…blast your ears out…who cares?" he says.
Jurvetson, a Silicon Valley venture capitalist, sincerely believes that all vehicles will be electric one day and Tesla will lead the way. "I love what it represents: emblem of the future and a symbolic step towards a oil-free economy."
The Model S is phase two of Elon Musk's masterplan to disrupt the car industry and create efficient sustainable transportation. In 2008, Tesla released the Roadster, a high-end electric sports car priced at over$100,000. With the Model S, Tesla has made a more affordable car, and a year or two after its Model X comes out in 2013, aims to produce a 3rd generation model for $30,000. An electric car "for the masses." Tesla has already catalyzed an industry shift. Today most major car companies are releasing electric or hybrid models. "Even some of the biggest competitors – the gas burning giants of the past – have admitted that they kicked off their electric vehicle program because they saw what Tesla did," says Jurvetson. "Management said: this little company in CA is doing it, why can't we?"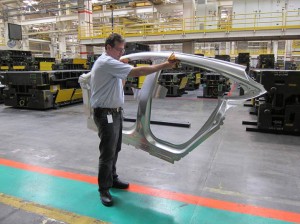 Tesla may be a trailblazer, but it faces a bumpy road ahead. Those shorting the stock (betting that the stock will fall in value on the Nasdaq) have a bearish reaction to Tesla's high debt levels, tough competition and uncertain prospects for mass-market adoption. But it's more than just the scrappy startup -the Millennium Falcon (Star Wars)- against the Empire (GM, Ford et al). Damon Lavrinc, Transportation Editor for Wired Magazine explains, "The established players don't like to be challenged on their own home surf."
He argues that to succeed, Tesla must address both range anxiety and charging time challenges. Price is also an issue. The 150-mile range car may have a base price of $50,000 after federal rebates. But for the fully loaded 300-mile range model, you'll pay closer to $100,000. California buyers also get a state rebate ($2500) plus those precious carpool stickers. "Once we can get that price of entry lower, once we can get that battery capacity larger, that's when it's really going to take off," says Damon Lavrinc. So far, Tesla has 10,000 reservations for the Model S and will deliver about half this year, ramping up to 20,000 in 2013, if the orders continue to come.
Experts compare it to the BMW 5 Series, but Tesla's VP of Manufacturing explains its edge. "We'll change the world by bringing a product that's extremely efficient, very clean for theplanet, extremely fast, extremely comfortable…extremely beautiful," says Passin. But Tesla has to get it right the first time, there's no room for error.
Back in the Tesla Factory, at the end of our tour, Passin explains, "The car has to be finished, has to be perfect, the people working here know this is the end of the line, so it has to be good." Although these challenges seem formidable, Elon Musk is attacking them like a true tech superhero, channeling the wild ambition of Steve Jobs and his obsessive search for perfection. Musk reportedly works 80-90 hours a week, splitting his time between Tesla and his space exploration company, SpaceX. Elon Musk was reportedly the inspiration for the Iron Man movies. "He may have superpowers, I don't know," says Passin, chuckling.
Last month, Musk proved naysayers wrong with his historic SpaceX Mission to the international space station. Can he do the same for the Electric Vehicle market? So much depends upon the successful launch of the Model S sedan. Damon Lavrinc of Wired Magazine sums up what's at stake: "It's not just so much a make or break it for Tesla, it is very much a make or break it for the entire electric vehicle industry."
Alison van Diggelen is a contributor to Climate Watch and The California Report