By Alison van Diggelen, host of Fresh Dialogues
This week, we explore the progress of Novacem, the London based "green cement" manufacturer. On April 22nd, 2010, the company received an appropriate Earth Day honor: Novacem was named a Top 10 Emerging Technology by MIT's Technology Review Magazine.
"The annual TR10 spotlights the emerging technologies we find most exciting. These are the innovations most likely to alter industries, fields of research, and even the way we live and work," said Jason Pontin, editor in chief and publisher of Technology Review magazine. "We celebrate the innovators making these accomplishments possible and look forward to their continued advancement within their respective fields."
I caught up with Novacem's Chairman, Stuart Evans at the AlwaysOn GoingGreen Conference in Sausalito last year to explore the company's "secret sauce" and how it plans to compete with Khosla's "favorite child," Los Gatos based Calera. Here is the newly released video of our conversation.
.
At the conference last year, Vinod Khosla, the green investment guru, was asked to name the company with the greatest chance of becoming the next Green Microsoft  while onstage at the GoingGreen Conference in Sausalito.  He declined to name his "favorite child" but did praise Calera, the green cement maker he's backing; and spoke about the huge potential growth in this sector. Since cement production creates 2.5 billion tons of CO2 annually,  representing  5% of manmade sources, it offers great potential in both climate change impact and market opportunity.
Stuart Evans, Chairman of Novacem, shares Vinod's bullishness about the market for green cement. This British entrepreneur has assembled a team from Imperial College, London (he dubs it the MIT of  the UK) and claims to have invented a carbon negative cement.
How does Novacem technology differ from Calera's?
"The big play at Calera is that they want to go next to power stations to absorb the carbon dioxide there (carbon sequestration)… We're making cement without a carbonate based feedstock. Vinod was talking about his materials being used in aggregate applications; we're really replacing Portland Cement…we're in the same space, we're not head to head…we're possibly even complementary. Besides, in a 2.5 billion (volume/ $150Billion) market, there are room for a couple of players…"
Download or listen to this lively Fresh Dialogues interview
We welcome feedback at FreshDialogues.com, click on the Contact Tab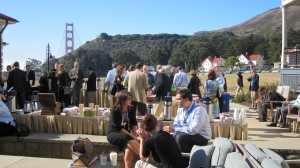 Why is Novacem carbon negative?
"Our cement doesn't emit carbon dioxide, it absorbs carbon dioxide. We start with the material magnesium silicate (not calcium carbonate)… they have no carbon in them,  so right there we've got a stunning advantage. We only work at 800 degrees centigrade (compared to Portland Cement which requires 1400 degrees) so the energy sources we can use include biomass fuels which have a much greener footprint. ..We add a magic sauce to it (a mineral additive) which means that the cement absorbs carbon dioxide rather rapidly."
The importance of team
"The team is everything; money is important but the team is even more important."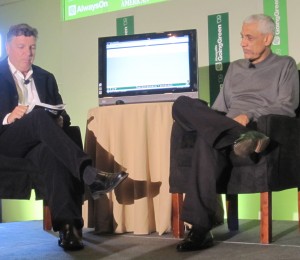 On Vinod Khosla's expertise
"We are tremendously flattered that Vinod is following our lead and investing in green cement." (A display of typical British humor here)
For more Fresh Dialogues interviews and transcript with Vinod Khosla, click here
For other interviews recorded at the conference:
Tony Perkins of AlwaysOn
David Chen of Morgan Stanley
The interview was recorded at the GoingGreen Conference, Sausalito on September 15, 2009. The background sound you hear is nautical 'music' from buoys, as container ships make their way under the Golden Gate Bridge.
For more info on Green Cement, check out these links