By Alison van Diggelen, host of Fresh Dialogues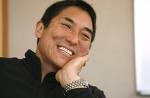 This week, we feature an interview from the archives with Guy Kawasaki, Apple evangelist and venture capitalist at Garage Technology Ventures
He shares his candid thoughts on why he thinks the venture capital model is broken and delivers a bullish pitch for a $500 Million VC Fund.
On the VC Model and Startups
"I think the venture capital model is fundamentally broken, but for different reasons. It's not the lack of exits. A series of forces: including open source, the recession – so there's lots of people available for very low prices and cheaper commercial real estate…You can start a company for a lot less today than ever. Life is good in that sense. ..You really don't need $2 million to build a prototype…I'm talking about a certain type of company…a web 2.0 content, social network something… I'm not talking about finding a cure for cancer."
.

.
Download or listen to this lively Fresh Dialogues interview
We welcome feedback at FreshDialogues.com, click on the Contact Tab

The interview was recorded on April 8, 2009 when the DJIA stood at 7837
To hear or read more Fresh Dialogues interviews with Guy Kawasaki…
Click here for rules for Green Revolutionaries
Click here for Guy's views on Prius and electric cars
Click here for Guy's views on ebooks and the Kindle
To read transcripts click here