By Alison van Diggelen, host of Fresh Dialogues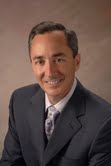 Ask Akeena Solar CEO Barry Cinnamon about the current brouhaha on repealing AB 32 and he's likely to "get political."  Since the 1970's, he's been a strong advocate for solar power and is an active member of the Silicon Valley Leadership Group. I met with Barry at the Los Gatos headquarters of the solar designer-installer and he had strong words for the Governor and the two gubernatorial candidates, Meg Whitman and Steve Poizner:
1. Is Governor Schwarzenegger doing enough to stimulate the green economy?
"Nobody's done enough."
2. Advice to Governor Schwarzenegger on Gubernatorial candidates, Meg Whitman's and Steve Poizner's stance on AB 32 … that it's killing jobs and should be repealed.
"Governor Schwarzenegger should pick up the phone to Meg Whitman and Steve Poizner and tell them to back off their inane commentary on AB 32. That it's killing jobs….that's just prima facie false."
"Message to Governor Schwarzenegger: fantastic job that he's done on behalf of solar …but as a leader of the Republican Party,  I'd encourage him to work out a little bit on the Republican candidates… explain to them that our state and Silicon Valley has become a leader in clean tech
because

of the State's strong support for (alternative) energy. It would be disastrous if it was suspended in any way."

3. Will the Whitman/ Poizner stance on AB 32 backfire?
"That policy (proposal) is going to galvanize every person and every company involved in clean tech to vote for (Gubernatorial candidate) Jerry Brown."
Download or listen to this lively Fresh Dialogues interview
We welcome feedback at FreshDialogues.com, click on the Contact Tab
To see more exclusive Fresh Dialogues interviews on solar power click here and for a full interview archive click here