By Alison van Diggelen, host of Fresh Dialogues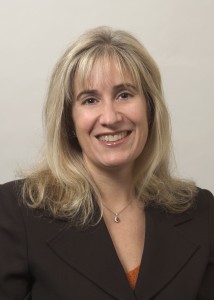 Download or listen to this lively Fresh Dialogues interview
We welcome feedback at FreshDialogues.com, click on the Contact Tab
Laurie Yoler, a managing director of Growth Point Technology Partners, was a founding board member of Tesla Motors and currently serves on its advisory board. I met with her at the FountainBlue Clean Green Annual Conference on Friday January 29th, the day Tesla announced its planned IPO. Needless to say, Yoler was bullish about Tesla's prospects this year. We also discussed President Obama's State of the Union Speech on January 27th and the government's role in stimulating green technology.
Good news for Green Tech Venture Capitalists in State of Union Speech?
"Rather than what our president said that night, I look at what's actually taking place, the changes I'm seeing. President Obama as a president has embraced sustainability throughout his tenure."
Obama's role: could he do more?
"He wants to embrace things that have already happened at the grassroots level, instead of mandating across the board. He does have to step forward and the longer he waits to put in Federal goals, the states are going to be further and further along and it's going to be even messier to sort out. So I think it has to continue to be a priority but so far it seems to be."
Government's Role in Green Tech?
Demand Side
"The government can be a huge customer for many of these technologies… In the advanced transportation, advanced vehicle sector the DoE stepped in where the VCs stepped out. The DoE provided $8.5 Billion in funding in the the advanced vehicle technologies last year. The entire venture industry only invested $670 Million, so more than 10 X: government jumping in saying, 'No no no, we want to incent advanced vehicles, fuel efficient vehicles, so we want to jump in.'"
Legislative side
"It's been tough getting some very big things through the system. I think there is continued interest but I'm not sure that we're going to see the regulation happen as fast as many would like. But it is happening at the state level, 29 states have renewable energy standards that they have set and six more in process."
On Tesla's prospects in 2010
"We've seen the continued success and momentum of Tesla…I get giddy every time I see one on the road. I think we've seen all the large auto manufacturers now make a commitment to electric vehicles, flex fuel vehicles, hybrid and battery technologies. So if we look across the automotive ecosystem, we see that there is sustained momentum and so I would hope Tesla would benefit from that, being one of the pioneers."
To hear more Fresh Dialogues interviews with Laurie Yoler, click here
For a full list of Fresh Dialogues interviews including Tom Friedman, Paul Krugman and Jack Welch, click here