By Alison van Diggelen, host of Fresh Dialogues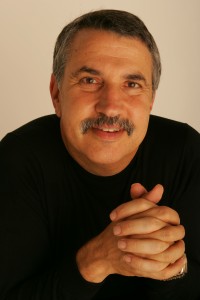 Download or listen to this lively Fresh Dialogues interview
We welcome feedback at FreshDialogues.com, click on the Contact Tab
Last week, I sat down with Pulitzer Prize winner, Tom Friedman, just before he delivered a lecture to an expectant Foothill College Celebrity Forum audience at the Flint Center in Silicon Valley.  We discussed his bestselling book, Hot, Flat, and Crowded and why he thinks it's imperative that the U.S. government jump-start the green economy. According to Tom, creating the right ecosystem is key: funding research, setting price signals and creating incentives to encourage green innovation. Tom admitted to some China envy in that regard. (see below or check out the transcript)
On his motivations for writing "Hot, Flat, and Crowded"
"My concern is about America…imagine if Microsoft were a French company; Google were a Chinese company…What would our standard of living be like? If Energy Technology (ET) is the next big thing, we need to be at the head of the line…By being big in the next big thing, we'll be seen by the rest of the world as working on the most important problem in the world."
On the need for Energy Technology
"Demand for clean energy, clean fuel and energy efficiency is clearly going to explode; it's going to be the next great global industry. I know that as sure as I know that I'm sitting here at De Anza College talking to you."
Why do we need government action?
"Research needs to be funded, and that's government's role…(we need) really scale answers to clean energy and climate change."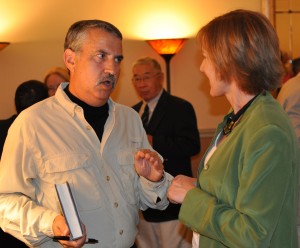 Why Tom says: 'Change your leaders not your light bulbs'
"(We need) people who can write the rules, set the taxes, incentives…people who are really committed to launching the ecosystem of green innovation."
Can the US government get its act together on climate change?
"Government has a huge role…if the government is divided against itself – red states, blue states – we're not going to get where we need to be."
Does he have China envy?
"You detect the envy of someone who wants his own government to act democratically with the same effectiveness that China can do autocratically."
If President Obama asked him to be his Green Czar, what would he say?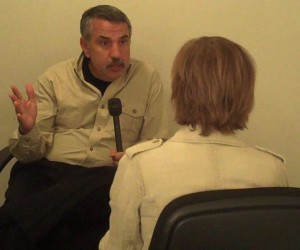 "I'd say: I get my aggravation playing golf."
The interview was recorded in Silicon Valley on September 10, 2009. Click here for transcript, and check back soon for video and more interview highlights. Check out Part Two of our interview when  Friedman discusses the Van Jones resignation, how he deals with critics; the future of journalism and daiquiris with Maureen Dowd.
Here's a transcript extract from Part Two on Dealing with Critics
Alison van Diggelen: "In that environment of criticism (that Van Jones bowed to), do you feel you are a 'bad guy'?"
Tom Friedman: "I don't really care. I say what I say. I think there's a big audience for what I say and I don't really pay attention to the critics."
Alison:  "Right. So you just turn a deaf ear?"
Tom: "I keep on marching on. I hear it and it's fine. And it's a free country. You can say whatever you want.  But I've got my own bully pulpit and I use it. I don't use it to shout back at critics; I use it to get my message out.  I'm looking forward. You know, the dogs bark and the caravan moves on. I'm in the caravan."
Alison: "But you don't feel that distraction…that Glenn Beck and his ilk… are getting stronger and are going to be energized by the Van Jones resignation?"
Tom: "The Glenn Becks and the other opponents of these ideas will have their audience and I have mine…and let the best man win. I don't spend my time dealing with my critics. I've got a great podium and if you're criticizing me, God bless you. I'm not above criticism. My focus is on my ideas with my audience. "
Alison: "I'm not intending to criticize you. But I'm just curious…"
Tom: "I'm telling you this is just my philosophy…My feeling is, I'm out there. And therefore, if you can't take the heat, don't be out there… Why would I waste a column writing about one of my critics? So what I always say to the critics is, 'you may be writing about me, I really appreciate that, but don't think for a second that I'd waste a column writing about you.' "
Alison: "Good for you."
Tom: "By the way, they're entitled to their criticism. I'm out there.  Sometimes you even learn from critics, but you move on."
See also Exclusive Fresh Dialogues Video of Tom Friedman on Copenhagen "This is a problem that will be solved by innovators, not regulators."