By Alison van Diggelen, host of Fresh Dialogues
Download or listen to this lively Fresh Dialogues interview
We welcome feedback at FreshDialogues.com, click on the Contact Tab
I caught up with Vinod Khosla at SD Forum's Visionary Awards. In this exclusive interview, Vinod, a pioneer in clean tech investment, describes how in 2000, he started "looking for something new, something difficult and something large to invest in." He found his first clean tech investment in Bloom Energy and has since gone on to invest and nurture dozens of clean tech businesses including Ausra, AltaRock and Stion
KR  Sridhar of Bloom Energy introduced Vinod by saying: "We all need to root for his success, because his success is this planet's success."
And Vinod's recipe for success? The freedom to fail.  "The Silicon Valley ecosystem allows me to fail…you get more shots at goal." Vinod Khosla
.

He's been described as a "risk junky" but  Vinod describes his successful formula thus:  "we muddle through until we find the right answer."
But was Vinod's motivation to save the planet, ensure energy independence or was it purely economic? This question and many more are discussed during this seven minute interview, including his views on a clean tech bubble, biofuels and nurturing entrepreneurs.
I also interviewed the smart and articulate Visionary Award winner Judy Estrin. Check back soon for that Fresh Dialogues interview. Excellent discussions also with her fellow Visionary, Kay Koplovitz ; Business  Week bureau manager, Robert Hof; & Silicon Valley Watcher, Tom Foremski, who has a good post on Vinod.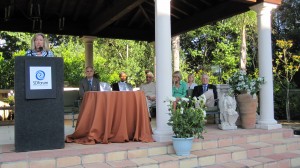 The interview took place in the library of Heidi Roizen's home in Atherton. Please excuse the champagne popping party atmosphere of this recording.
Click here for the full transcript of the interview
More on Vinod Khosla and Bloom Energy