By Alison van Diggelen, host of Fresh Dialogues
Download or listen to this lively Fresh Dialogues interview
We welcome feedback at FreshDialogues.com, click on the Contact Tab
I talked to acclaimed actor and activist, Martin Sheen about why he thinks everyone has a responsibility to do something about the environment.
His views are especially topical today in light of the historic Climate Change Bill that went to the House last week. Although the vote passed, 212 representatives voted no; something Paul Krugman describes as treason against our planet. Martin Sheen would probably agree with that description.
"We have to be aware of our responsibility to future generations…he who hath offspring giveth hostages to the future. Well I've given children and grandchildren, so they own that future."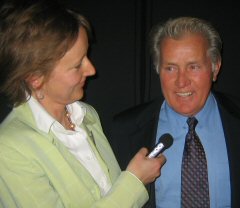 When we talked about getting the green message out, does Sheen think we should leave it all to Al Gore?
"It's incumbent on all of us to share as much information and DO as much as we can." Martin Sheen
The interview was recorded at the Flint Center in Cupertino, on November 19, 2008
For the full interview, click here