By Alison van Diggelen, host of Fresh Dialogues

On Monday, I was invited to Greens Restaurant in San Francisco to meet Microsoft's Chief Environmental Strategist, Rob Bernard. We then joined a small group of  researchers and media to discuss  Microsoft's efforts to lower its carbon footprint and leverage information technology globally to address climate change and other environmental issues. The sun setting beyond Golden Gate Bridge was an apt backdrop for the conversation.
Cambridge scientist, Rich Williams (one of Microsoft's 1000-strong Ph.D. researchers)  emphasized that environmental challenges go beyond climate change and counting carbon footprints, "Just reducing CO2 to zero – and all will be fine – is not our goal." The researchers have broader perspectives that take into account water resources, migration patterns, and longer term "blue sky" projects.
Joining the discussion were Eric Berlow, Director of the Sierra Nevada Research Institute field station in Yosemite, Surj Patel of the Gigaom Network; and Peter May and Matt Wheeland of Greenworld Media.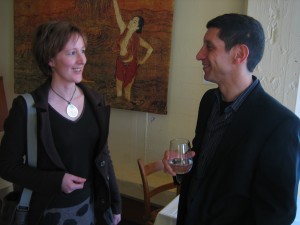 Rob and I had a lively conversation which covered:
The roots of his green passion
Where Microsoft's greatest energy reduction opportunities lie and how he plans to cross the chasm
How the company plans to leverage and scale IT to impact the world's environment
Steve Ballmer's recent announcement re. Cloud Computing and how that will impact server design and energy efficiency targets
Microsoft's Ingenuity Point Competition showcasing and supporting green software companies, eg Green Building (Santa Rosa) and TR Controls (London)
How Microsoft leads by example at its Mountain View campus
Free Verdiem Edison software that allows optimization of desktop power settings for Windows
The interview was recorded on Monday March 23, 2009
Listen to Microsoft's Rob Bernard on Fresh Dialogues
Download or listen to this lively Fresh Dialogues interview

We welcome feedback at FreshDialogues.com, click on the Contact Tab



Check back next week for part II of the interview when Rob answers: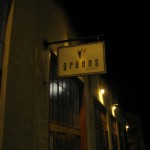 Why Microsoft is late to the green world (or at least late in talking about its green initiatives)
Why the 2008 Green Peace Report ranking for Microsoft was so low and what he's doing about it
Microsoft's Climate Change research and modeling
How he plans to emphasize the urgency of action