By Alison van Diggelen, host of Fresh Dialogues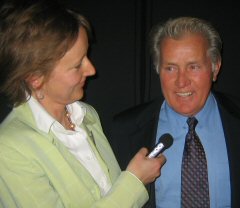 Download or listen to this lively Fresh Dialogues interview
We welcome feedback at FreshDialogues.com, click on the Contact Tab
Check out the new Fresh Dialogues YouTube Channel for more exclusive interviews, including Elon Musk, Harry Hamlin and Jessica Jackley.
I had the pleasure of interviewing Martin Sheen who was visiting Silicon Valley as a guest of Dick Henning's Foothill College Celebrity Forum Series.  In this first part of our Fresh Dialogues interview, Martin talks about the roots of his social activism, his faith, his marriage and his movies.
We also explore:
* Money and happiness
* Silicon Valley millionaires
* Social conscience
* What is God?
* His college fantasy
* His heart attack during the filming of Apocalypse Now
To read selected quotes from the interview click here
Here is Part Two of Fresh Dialogues with Martin Sheen when we explore his environmental activism, his "West Wing" perspective on President Barack Obama and what two exciting movie projects Martin will be working on through 2009.
Note: Martin donated all proceeds from his Celebrity Forum appearance to the Berkeley based nonprofit, The San Carlos Foundation What a guy!
Check out the Fresh Dialogues YouTube Channel more exclusive interviews.