By Alison van Diggelen, host of Fresh Dialogues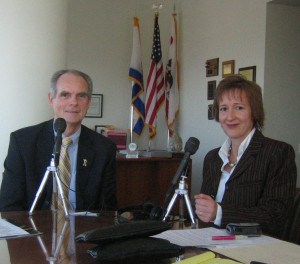 Download or listen to this lively Fresh Dialogues interview

We welcome feedback at FreshDialogues.com, click on the Contact Tab
I met with San Jose Mayor Chuck Reed at his swanky corner office on the 18th floor of the gleaming City Hall just three days after Barack Obama was elected President of the United States. We discuss what this historic election means for Chuck and his Green Vision for Silicon Valley; and how he got his moniker The Green Mayor. We also explore:
1. Chuck's own dramatic journey from poverty in Garden City, Kansas (digging trenches) to top public servant in Silicon Valley
2. How the Beach Boys influenced that journey
3. Why his military background helped shape his green motivations today
4. What Mike Honda said to inspire his bold Green Vision
5. Why Silicon Valley companies from Fairchild to startups are getting into clean tech.
6. How a Green Mayor walks the green walk at home and why his lawn has brown spots.
To listen to Part Two of the interview on Tesla, tactics for attracting clean tech etc, click here
To check out selected quotes, click here