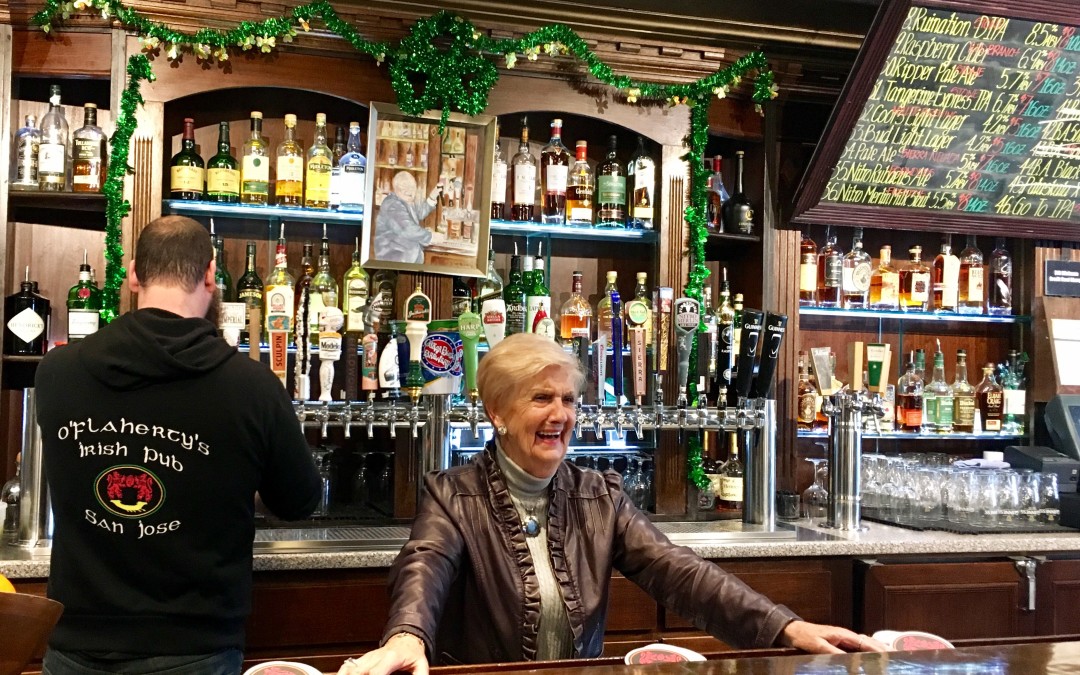 By Alison van Diggelen, host of Fresh Dialogues
Irish immigrants have been in California since the gold rush days. On assignment for the BBC World Service, I went looking for the Irish in Silicon Valley and found that you can take the people out of Ireland – you can even take their pubs – but you can't take Ireland out of the people….
Nevertheless, a new generation of Irish tech immigrants are less nostalgic for the past, and are redefining what being Irish means. They bond over mindset, not heritage; big dreams and an openness to new ideas and cultures. I started my quest at Trinity Cathedral in San Jose where a celebration of St Patrick's Day and the San Jose-Dublin Sister City program was in full swing….
Here's my report for the BBC's Business Matters:
Listen to the podcast at BBC World Service or to the program excerpt below:
Here's a transcript of my report (edited for length and clarity):
The report opens with traditional Irish singing by the Black Brothers Band "Green Among the Gold: "They played their jigs and reels beneath the skies of their new homeland, For Irish hands have woven strands of green among the gold."
33 million U.S. residents claim Irish ancestry, that's over four times the population of Ireland. With 2.5 Million, California has the highest Irish population of any state. It's not surprising then that the Irish are making their mark on Silicon Valley…Is it the luck of the Irish, or something else?
Meet Eoghan (Owen) McCabe, CEO of Intercom, a fast-growing startup for business messaging. He and his three Irish cofounders have found a sense of belonging among the software and silicon of the valley.
Eoghan McCabe: One of the most magic things about this place is it does allow you to think big. We're social beings, we're all looking for the appreciation, respect, if not love of the people around us…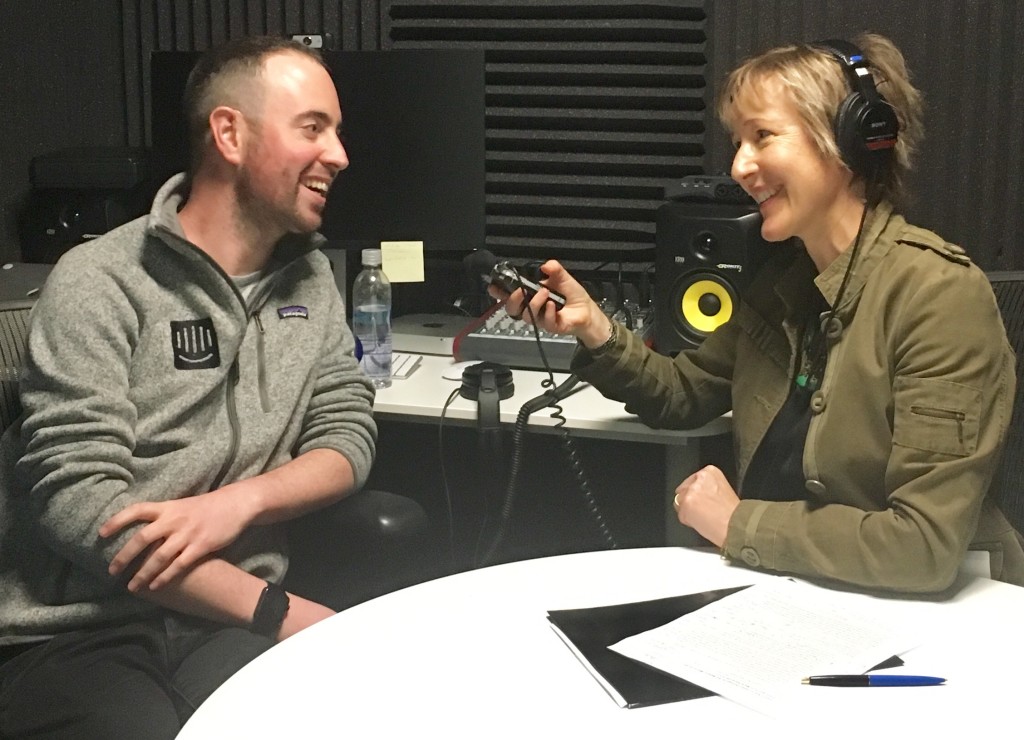 As well as working on something you're passionate about, McCabe has this advice:
Eoghan McCabe: Work with people you love and know and respect…don't try to rush the relationship.
He admits to a chip on his shoulder, an urgency to prove himself. How has being Irish helped him recruit, attract capital, and grow the business?
Eoghan McCabe: The humility goes a long way in the valley…there's a lot of hubris, people are damn good at selling themselves. So it's a breath of fresh air when people admit they're flawed and they can't predict the future and they might not succeed. That natural humility, that vulnerability, that honest approach goes a long long way…They want to be successful on the basis of their merits.  What you don't find often is people trying to play that Irish card.
Dave Burke, a Dubliner who's now a VP at Google says his formula for success is seeking out challenges that are "uncomfortably exciting." But does he seek out Irish techies for his 1000-strong team?
Dave Burke: We're looking for not really the country culture, but the outlook and perspective culture: the energy, interest in making an impact, being smart. In tech… we want the best and brightest from all round the world, we want diversity…that's antagonistic to the nationalist perspective. Nationalism looks backward, it looks unsustainable, it's frightening… It doesn't readily compute with people. Why wouldn't you be open to new ideas and people?
But Burke acknowledges that some old traditions endure, especially on St Patrick's Day.
Dave Burke: A meal of Guinness? Yes! [laughter]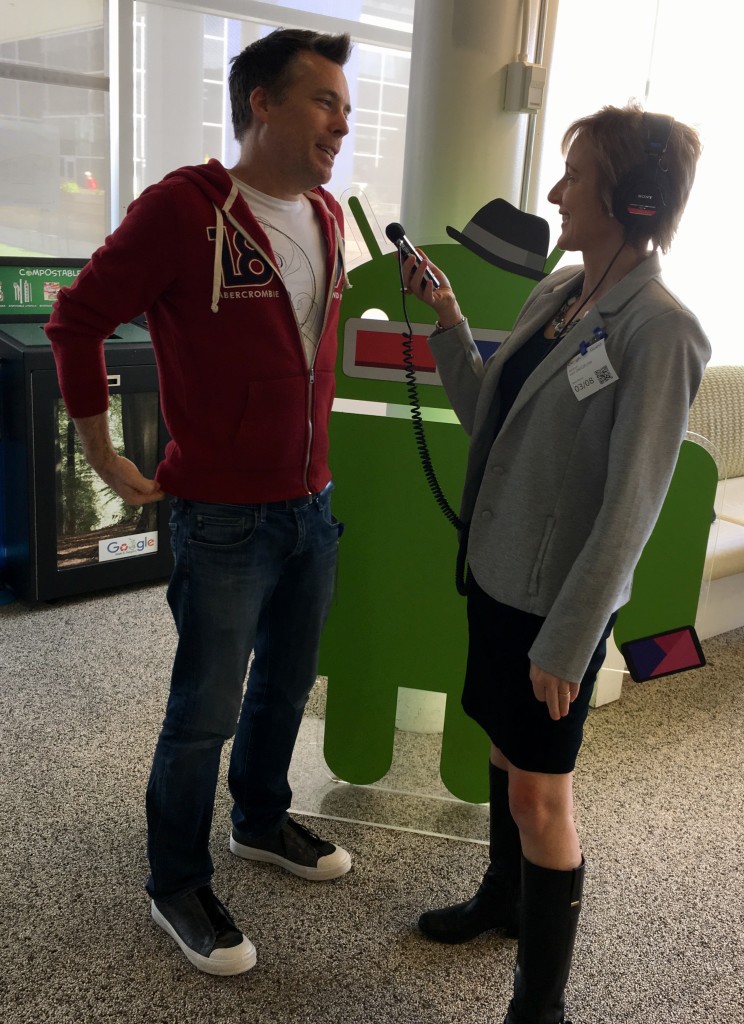 Talking of drinks…Some immigrants were so determined to bring a wee bit of old Ireland to California, that's literally what they did.
[Audio: Irish pub…] I've come to the  O'Flaherty Irish Pub in San Jose to meet the owner, Marie O Flaherty.     
[Audio: Guinness pouring….Barman: Guinness… 8 dollars ….]
That looks good….
Marie O'Flaherty: This is an authentic Irish pub – it came on a boat from Ireland everything you see – the signs, pictures, the bar, the stools, everything….
Over 15 years ago, her late husband Ray O'Flaherty bought the pub in Dublin on a birthday whim. Today, it's a landmark in Silicon Valley, and ground central for St Patrick's Day festivities in the South Bay.
Alison van Diggelen: Is fearlessness part of the recipe for success?
Marie O'Flaherty: You have to have a lot of guts to take it on, self confidence to know whatever it is, you can do it…
Being open to new ideas, like embracing craft beers, keeps the pub popular with the "young uns" she says. The family business nurtures connections with Ireland and the world, through tourism, close links to the Silicon Valley Innovation Center & sporting ties…
Marie O'Flaherty: All the rugby teams…New Zealand did the haka up on the bar here…they drank 11 kegs of beer that night.
Having a heart of gold is also part of the Irish success story…
Marie O'Flaherty: See this poor soul here…He's a homeless…they give him a drink and send him on his way…You have to just look out for everybody…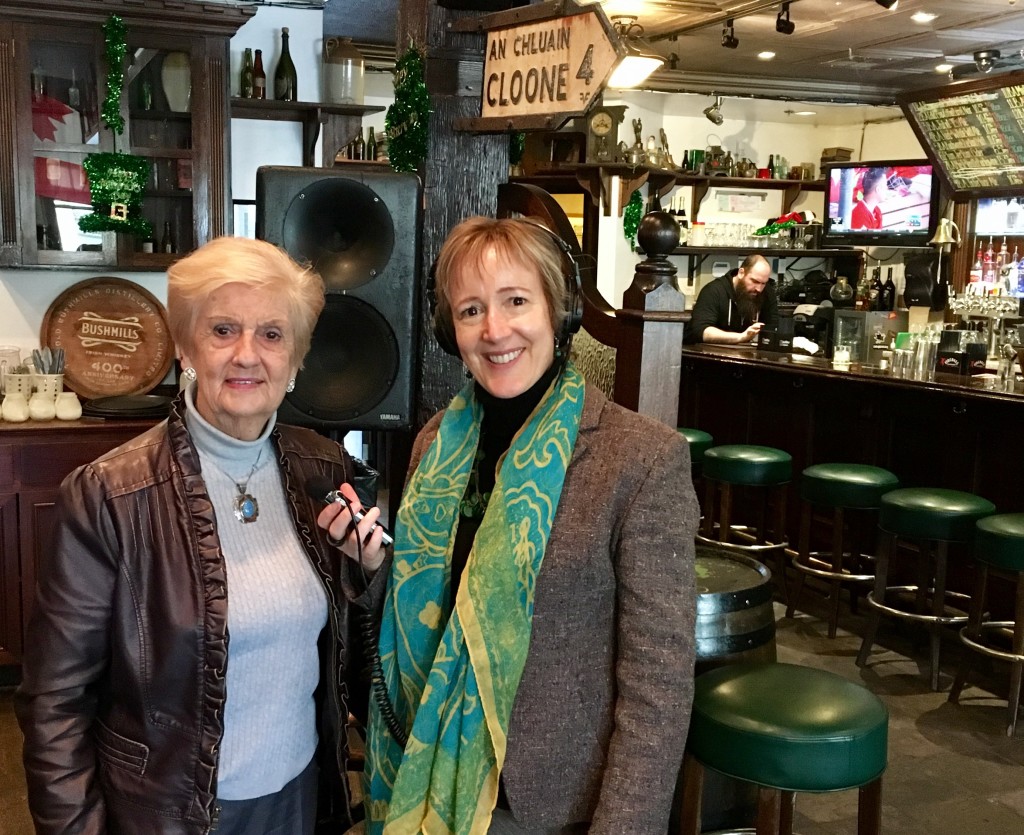 Marie O'Flaherty and Mark Finn singing:
Oh Dublin can be heaven, with coffee at eleven, and a stroll down Stephen's Green
No need to worry, no need to hurry…
If you don't believe me:  
Come and meet me there
In Dublin on a sunny summer's morning…[laughter]
END of Report
Listen to the BBC Podcast or the audio above for a lively discussion with the BBC's Roger Hearing and Bloomberg's Nisid Hajari about the tech community in Silicon Valley; and how the President's proposed travel ban is already having an impact on business and academia in the United States.
Check out the Fresh Dialogues Silicon Valley "World Series"