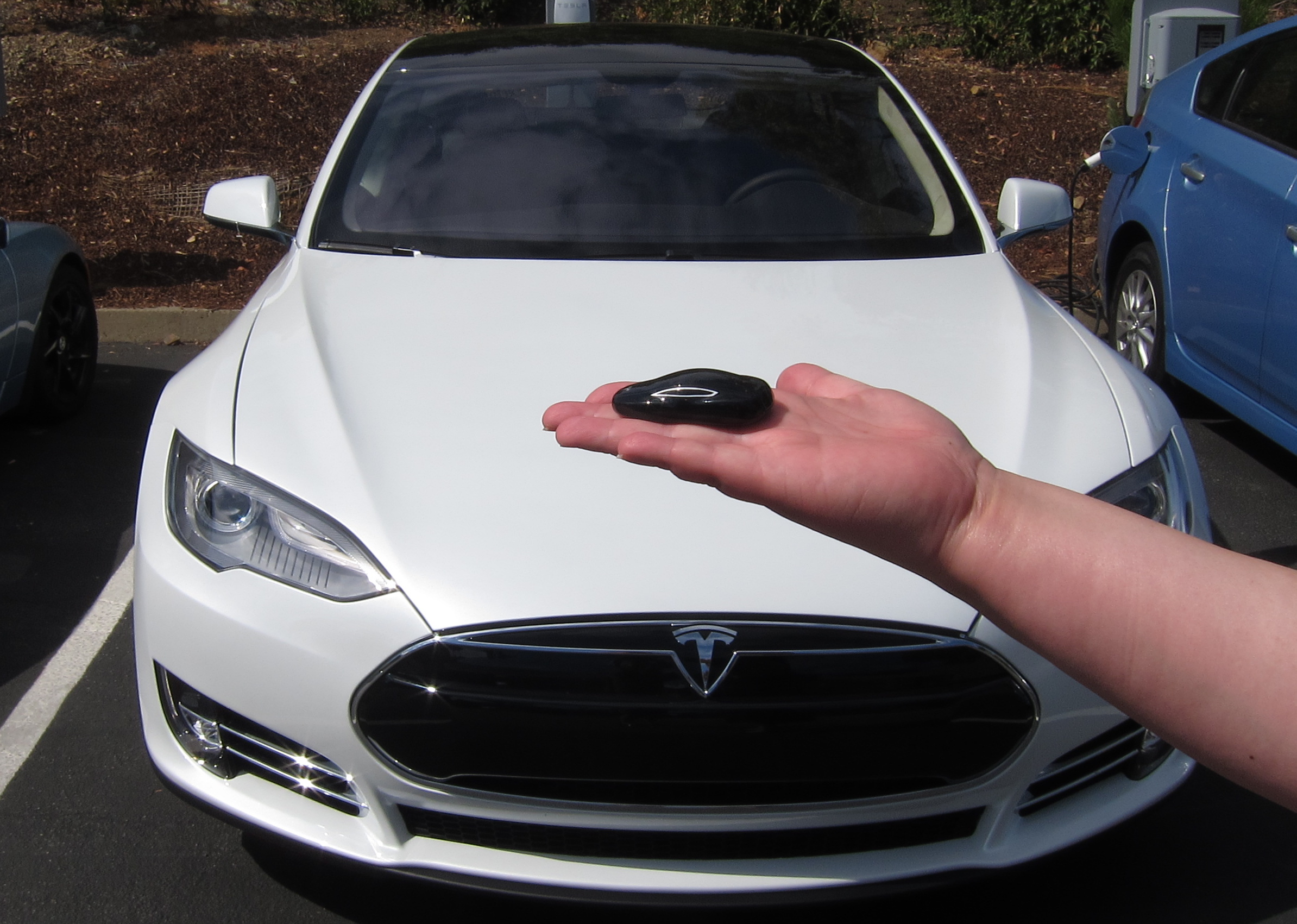 By Alison van Diggelen, host of Fresh Dialogues
In June, Fresh Dialogues toured the Tesla Factory and last week we finally got behind the wheel of the finished product: a Model S Performance. It's an impressive vehicle: sleek, stylish and powerful. Very powerful. The acceleration felt like a rocket. We took it 0-50 in about four seconds and thanks to its low center of gravity, it was easy to handle on the winding hill roads around Palo Alto. Going 60 plus on Highway 280 felt smooth and effortless. You gain speed so fast, it's quite formidable, especially for this Toyota Prius driver. In the latest test drive, Motor Trends confirmed a 0-60 mph time of 3.9 seconds; faster than Tesla's own specs of 4.4. That makes it the fastest American sedan.
I'd heard about the 'sensitive' accelerator pedal and wondered how it would be in the confined space of the Tesla HQ parking lot? But I found it easy to navigate and control both in forward and reverse gears. Backing into a parking space was a cinch thanks to the rear camera.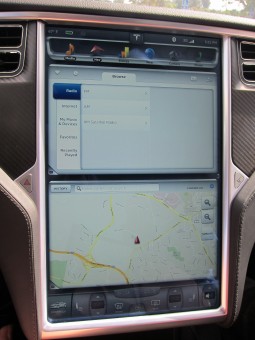 The massive 17-inch touch screen looked like it could be a major driving distraction, but having experienced its utility, I'm more appreciative.   Glad to see that most functions can be controlled from the steering wheel, including the impressive sound system.  Spinal Tap fans will be delighted to learn that the volume goes to eleven (really!); a spec no doubt dictated by Tesla product architect, Elon Musk with tongue firmly in cheek.
You can choose what appears on your dashboard: energy consumption, range, media, climate control, etc.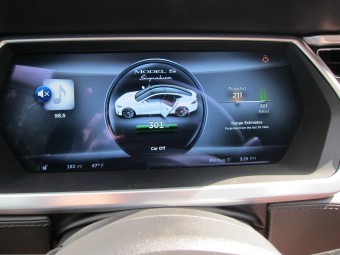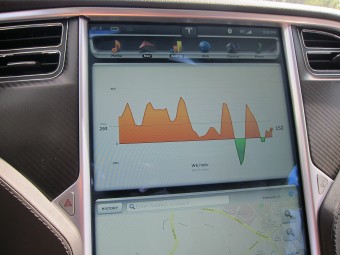 Tesla's Christina Ra explained the energy charts and how the range is impacted by all that powerful acceleration.
The regenerative breaking was very noticeable (see green shading on graph). The second you take your foot off the accelerator, you feel it kicking in, giving you more control and increasing the range of the car. It's rated 265 miles by the EPA, but the way we were driving, the projected range fell to 192. To get the maximum range, Tesla recommends an optimum speed of 55 mph, with the windows up and no A/C.
Two criticisms:
1. These snazzy door handles certainly look and act cool. Tesla Factory worker Charles Lambert said it best, they're distinctive and sexy. According to reports, they're not just eye candy, they actually improve the aerodynamics of the car. I understand they're fitted with an anti-break-your-fingers release mechanism, but when I checked it out, the handle gave me a good finger squeeze –  not in a good way. It stung. Maybe I'm extra sensitive, but I think Tesla should consider adjusting the specs, just a tad.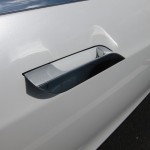 2. When you get in the car and sit down in the driver seat, the car switches on. Touch the foot break and the motor is on and ready to go. But when you stop, it feels disconcerting not to have an "off" button. Say you pull over to make a phone call… or enjoy the sunset? I'd be more comfortable knowing this super powerful motor is definitely off. And isn't suddenly going to take off….
Overall though, a remarkable driving experience and a giant leap up from my beloved Toyota Prius. Made in Silicon Valley is definitely a plus.
More on Tesla at Fresh Dialogues  – Meet the First Tesla Model S owner
Note: I will be interviewing Elon Musk at the Computer History Museum as part of its Revolutionaries Series. If you have any burning questions for Tesla's founder, please contact us or share them on our Facebook Page.