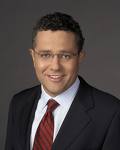 By Alison van Diggelen, host of Fresh Dialogues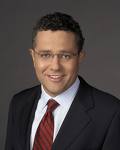 Last week, President Obama announced a surprise decision to allow oil and gas drilling off the East Coast of the United States. The world was at once outraged and confused. What many analysts overlooked is that Obama also said in his speech, "For the sake of the planet and our energy independence, we need to begin the transition to cleaner fuels now."  There was much for both sides to analyze and to debate.
I sat down with CNN's senior legal analyst Jeffrey Toobin before his Foothill College Celebrity Forum appearance, to try to make sense of Obama's announcement. Toobin is best-selling author of The Nine (On the secret world of the Supreme Court Justices), and two of the most high profile political controversies: Too Close to Call (the Bush-Gore Presidential Recount) and A Vast Conspiracy (the Clinton-Lewinsky Affair), so I figured he'd provide some good insights into Obama's latest political strategy. See also Huffington Post coverage
On the Obama Offshore Oil Drilling Announcement
"It's a bit peculiar frankly…it seems on one level that he's negotiating with himself…conceding something to the pro-development forces before the negotiations have really begun in earnest…but there may be some larger political game at work…that this shows how accommodating he is… "
On the Republican Reaction
"Gestures of good faith to Republicans have generally been met over the last year and a half with non responsive actions."
.
.

Download or listen to this lively Fresh Dialogues interview
We welcome feedback at FreshDialogues.com, click on the Contact Tab
On the EPA Regulating Greenhouse Gases as Pollutants
"That's a campaign promise that Obama appears to be keeping…they have already started the process."
On Health Care Reform
"It's a historic moment for Obama, for the country…It's going to give the Democrats a tremendous shot in the arm for the mid-term elections… This is going to change the country…it's done."
Check back soon for Part II of the Toobin Interview when we discuss the environmental record of the Supreme Court and Toobin's pick for Justice Stevens's successor.
For more exclusive interviews check out Fresh Dialogues GREEN INTERVIEW SERIES ARCHIVES or Fresh Dialogues YOUTUBE CHANNEL