CASSIDY: CITIZEN JOURNALIST TAKES THE JOB TITLE SERIOUSLY
By Mike Cassidy Mercury News Columnist  
Published : 07/02/2009 12:00:00 PM PDT
Updated: 11/05/2009 11:32:01 AM PST
Alison van Diggelen took all this business about anyone being a citizen journalist seriously.
She's not the sort to register with Blogger to start tapping out essays on the battles between California gray squirrels and the pesky blue jays in her verdant backyard.
Instead, through preparation, determination and an irresistible charm, she's become a one-woman media machine in Silicon Valley. For the past eight months, the Scottish immigrant has been quietly producing podcasts on green living and green technology from her Almaden Valley home. Her guests? Martin Sheen, Charlie Rose, Maureen Dowd, Jack Welch and a host of Silicon Valley tech execs.
"I just started going out there and finding people to interview," she says, while plying me with coffee and homemade rhubarb pie on her back patio. "So far, no one has said no."
I mean, how do you resist a name like van Diggelen and a brogue as thick as the fog on the Highlands?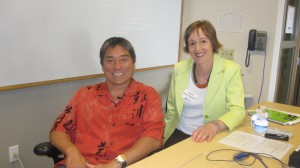 "I thought it would be rude to say no," says New York Times columnist Dowd, who van Diggelen approached at an April Flint Center event. "She was persistent, charming and enthusiastic, which is kind of an unbeatable combination."
Van Diggelen, 42, whose podcasts are called Fresh Dialogues, www.freshdialogues.com , is an example of a new brand of journalist. Using tech tools, many developed in the valley, they are able to tell their own stories on their own terms without
the need for backing from big media outlets. For her, it's in large part about getting the word out about ways to save the planet.
"Here's a wonderful way to showcase leaders and their green-ness" van Diggelen says. "Get them on tape. Get the sound of their passion about issues. Inspire people to think green, be green and invest in green."
Armed with high-end recording and editing equipment that cost less than $1,000, van Diggelen posts a weekly five- to 20-minute program from a spare bedroom. She works for cheap, and like many of the new media breed (and even the old media breed) she's searching for a way to make money with information.
For now, the van Diggelens rely primarily on husband Frank's job as an executive at Broadcom to pay the bills, but Alison hopes to land some sort of sponsorship deal for her podcasts.
Though Fresh Dialogues is new, van Diggelen has been probing the edges of media for years. I first met her in 2000, when she was the editor and main writer of siliconmom, a Web site that she started when she found herself working as a stay-at-home mom and looking to connect with the larger world.
The site's pieces about postpartum bodies and balancing work and family caught on. Van Diggelen branched out, writing freelance stories for the Mercury News and filing pieces for the local business press, where she found herself writing profiles of Silicon Valley entrepreneurs.
"I found it very stimulating," she says, "very exciting."
At the same time, van Diggelen's children, a main source of siliconmom material, were getting older.
"You kind of have to respect their privacy," she says of Lewis, 14, and Tanera, 12. "It's not cool anymore" to detail their embarrassing moments or fears or aspirations.
And so on to Jack Welch, the former GE CEO, whom she buttonholed at a May Commonwealth Club event in Santa Clara. He and his wife, Suzy, had just finished giving a talk.
"Jack Welch was just standing there," she says. "I made a beeline."
And she recorded an interview in which Welch talked about the business case for companies to go green (consumers expect it) and about how there is no percentage in resisting.
Van Diggelen snagged Dowd at a Celebrity Forum speech after friend and event organizer Dick Henning invited her backstage. Dowd agreed to meet van Diggelen at her hotel the following day, but explained that she could talk for no more than 15 minutes.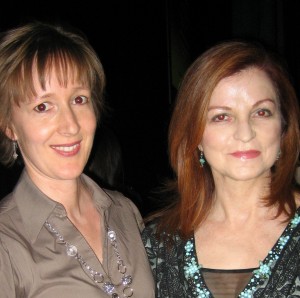 "Then she came," Dowd says, "and she's so well prepared and had done all her homework, I ended up saying, 'Take as much time as you need.' "
Van Diggelen's edited podcast was a sweet and funny 13 minutes, during which Dowd talked about her mother and her dream day, which would include an old movie, maybe "Out of the Past" with Robert Mitchum; a cute guy; a glass of chardonnay; oh and, recycling. Green living, remember?
Yes, van Diggelen says careful preparation is key to a good interview. But follow-up is important, too.
After Dowd left town, van Diggelen mailed her a thank-you, including a DVD of the Mitchum movie.
A true citizen journalist, you see, is always working.
Contact Mike Cassidy at mcassidy@mercurynews.com or 408-920-5536. Follow him on Twitter at twitter. com/mikecassidy .
More media coverage at the Media Page

Green Interview Series
Published in the San Jose Mercury News July 15, 2010
By Mary Gottschalk
In the summer of 2008 Alison van Diggelen found herself needing a change.
The Scottish-born van Diggelen was then well known for her siliconmom website, which she started in 2000 when her son was 5 and daughter was 3. Her insightful and witty essays soon led to writing assignments from Bay Area Parent, the San Jose Mercury News, Silicon Valley Business Journal and other local publications, establishing her credentials as a journalist.
Then two years ago, she says, "I was changing definitions of what I was. I was Silicon Valley Mom, but I was changing hats. I had made a decision that after a point, the kids' lives are their own, and I felt it wasn't right to be writing about their exploits. My kids are growing up, and it was time to focus on something where I felt I could make a small difference."
Now the Almaden resident is on track to launch a television show on CreaTV Comcast Cable this fall.
Her first step was a 2008 summer internship at KQED radio with the Forum team.
"I had a wonderful time; it's such a great program and I was involved with pre-interviews with Michael Krasny's guests," van Diggelen says.
"It was so exciting, I said, 'I want to do my own version of this.'
"I had lunch with Michael at the end of the internship, and he wished me well and said, 'You can do it, but it's hard to get a slot on radio.' "
So she decided she could do it online.
In September 2008, at the end of her internship, van Diggelen launched Fresh Dialogues with the help of web designer Carol Pecora.
A website with podcasts, the title Fresh Dialogues is van Diggelen's tribute to Terry Gross' Fresh Air on National Public Radio.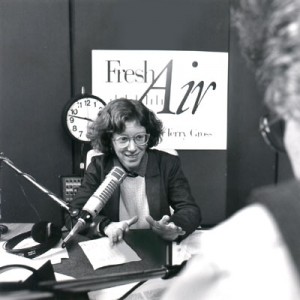 Along with Krasny's encouragement, van Diggelen sought advice from Moira Gunn of Tech Nation, which also airs on NPR.
"Moira was very helpful. She advised me to find a niche and mine that niche because with one person you can't do All Things Considered," van Diggelen says.
"The advice from her was to ask myself what do I feel passionately about and do that." She felt passionate about the environment and global warming.
"I can't change the world, but I can profile people who are finding greener solutions to making energy or driving cars more efficiently, and they can help us all live with a lower carbon footprint."
Original websites and podcasts are common fare in Silicon Valley, but what sets van Diggelen apart is her uncanny ability to coax major names to agree to interviews.
Martin Sheen, Thomas Friedman, Charlie Rose, Jack Welch and Maureen Dowd, as well as a number of major Silicon Valley figures, have all sat down to chat with van Diggelen.
"I'm very fortunate," she says. "I'm good friends with Dick Henning, who is the founder of the Foothill Celebrity Forum, and when he has someone like Maureen Dowd, I get a chance to meet them."
While there are no guarantees of an interview, van Diggelen says, "Even if it's a slim chance, I think it's so important to have done your homework and know about them. I do prepare my questions beforehand, but I like to have more of a conversation. You can get more from someone if you go with the flow."
Aware that celebrities have been interviewed endlessly, she says, "I try to come on in a different way so it's not a canned answer, so I'm getting something fresh."
While Fresh Dialogues is a place "where we focus on green business issues," van Diggelen acknowledges that some podcasts are more green-focused than others.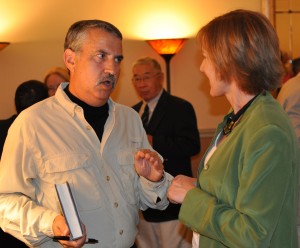 In interviews with Vinod Khosla of Khosla Ventures on clean tech or Stuart Evens of Novacem on carbon negative cement manufacturing, the green aspect is front and center.
With celebrities, it's sometimes "not as pure green," she says.
In her 90-minute interview with Dowd, van Diggelen says they covered a variety of topics from column writing to politics to how Dowd recycles.
Even though Dowd's comments on recycling are limited to how she does it herself, van Diggelen says because she "has a huge following, just to hear her talk about recycling is a treat for them."
Jack Welch, former General Electric CEO, was somewhat of a surprise, she says.
"He's very opinionated and he said to me, 'I don't believe in global warming, but even if you don't believe in it, you have to make your company as green as possible because consumers demand it.'
"He's such a businessman, and if you're looking at the bottom line, you have to cater to what the consumer demands," she says.
Martin Sheen was van Diggelen's "first big celebrity" and someone she felt so comfortable with that she says, "I could have chatted with him all night. There were no airs for someone of his caliber and celebrity."
Sheen told van Diggelen she was "very brave," and she's frequently asked if she's ever nervous.
"I'm not in awe of anybody. I'm very respectful, but if you put people on a pedestal and talk up to them, it's not as good a dialogue," she says.
Now 43, van Diggelen was born in Helensburgh, Scotland, a place she says is best known for being where television was invented.
She met her husband, Frank van Diggelen, who was from South Africa, when both were students at Cambridge University in England. She earned a master's in land economics and he earned a Ph.D. and is now an engineer at Broadcom in Sunnyvale.
After they married, she says they asked, "'Where are we going to live?' He didn't want to live in Scotland because of the rain, and I didn't want to live in South Africa. We decided to check out the United States and thought we'd come for two years, and we've been here 18 years now."
She adds: "We love the way of life here and we love the weather, and we love how cosmopolitan it is."
Initially the two lived in Colorado, but they moved to the Almaden area 15 years ago when van Diggelen was pregnant with their first child.
"We try to get back to Scotland once every year or every other year ,and this year we're actually going to both Scotland and then South Africa," she says.
Van Diggelen does most of her work between 8 a.m. and 2:30 p.m., when her children are in school.
Now she's gearing up for the launch of her television show in the fall.
She's already done two pilot episodes, one with Carl Guardino, CEO of Silicon Valley Leadership Group, and the other with Richard Lowenthal, CEO of Coulomb Technologies.
Van Diggelen says she's been approaching television as she would a startup.
"Now we're in the stage of making it sustainable and we're looking for a company to sponsor Fresh Dialogues," she says.
Sponsorship will determine whether the series starts off as monthly or weekly, but either way van Diggelen is excited.
She's also planning to continue with her podcasts and videos, posting a new one each week.
Van Diggelen is also still involved with KQED, serving on the station's South Bay Advisory Committee and recording commentary for its two-minute Perspectives programming.
For more information, visit www.freshdialogues.com.