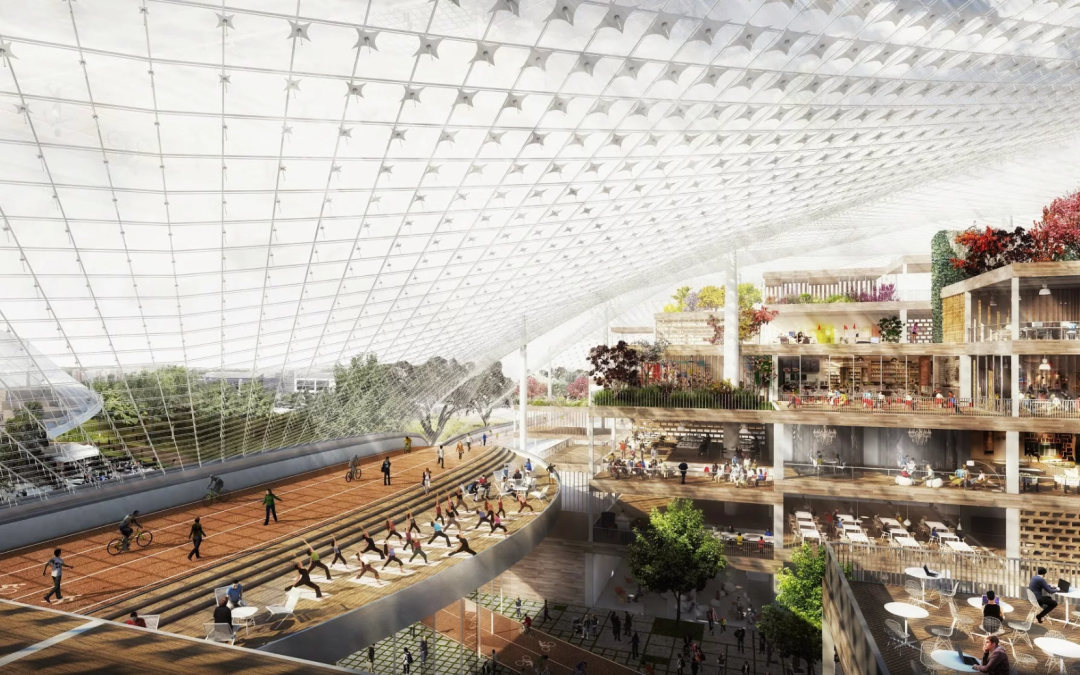 In San Francisco, the tech community continues to face an angry backlash for pushing out locals, artists and the elderly. Meanwhile, 50 miles south, Google has announced plans to partner with the City of San Jose to build a tech village dubbed "The Grand Central Station of the West." Experts see this South Bay development as a way for Google to "do it right" and build an inclusive development around a transport hub with lots of public open space and affordable housing.
Why are some people calling it a new template for the tech campus?  Alison van Diggelen reports on a tale of tech in two cities for the BBC World Service…
Photo caption: Google plans to rethink office space in Silicon Valley and use large translucent canopies to blur the distinction between buildings and nature. Source: Google (Charleston Rendering)
Listen to the podcast at the BBC World Service
Or listen to the segment below, introduced by the BBC's Bill Thompson (report starts at 0:40):
.
Here's a transcript of the report. It aired today on the BBC's program, Click
[Atmos: Train, bus atmos at Diridon station, in downtown San Jose]
Glen Abbott: If the same tech gentrification happens in Santa Clara, which it is…'cos Google just bought up what's available in Santa Clara, it just sends the housing prices up… people can't afford to live here..
San Jose resident (retired union organizer): I am in support of anything that will bring jobs with dignity and a living wage … and we don't just import a bunch of high dollar, high tech electronic gurus into our area…
Alison van Diggelen: These are just two of San Jose's residents who have concerns at the proposed development benefiting rich techies, to the detriment of the wider community. One lives in a trailer park, one has been homeless.
This summer, Google announced a plan to create a massive campus for up to 20,000 employees in San Jose's city center, the South Bay city that calls itself "The capital of Silicon Valley." Google's vice president of real estate outlined the company's vision for the Diridon Station development at a council meeting…
Mark Golan: South Bay has been Google's home for over 20 years now. We have thousands of Googlers who're residents of San Jose. Google shares the City's vision for the development of the Diridon area. …we are excited about the possibility of bringing a state of the art office, housing, retail, amenities, civic plazas, parks, and open spaces to the downtown San Jose area, all connected via an incredible mass transit system and integrated with the surrounding community.
Kim Walesh is the Director of Economic Development at the city. She laments that the tech boom means Silicon Valley's roads are often gridlocked and sees a solution in public transport.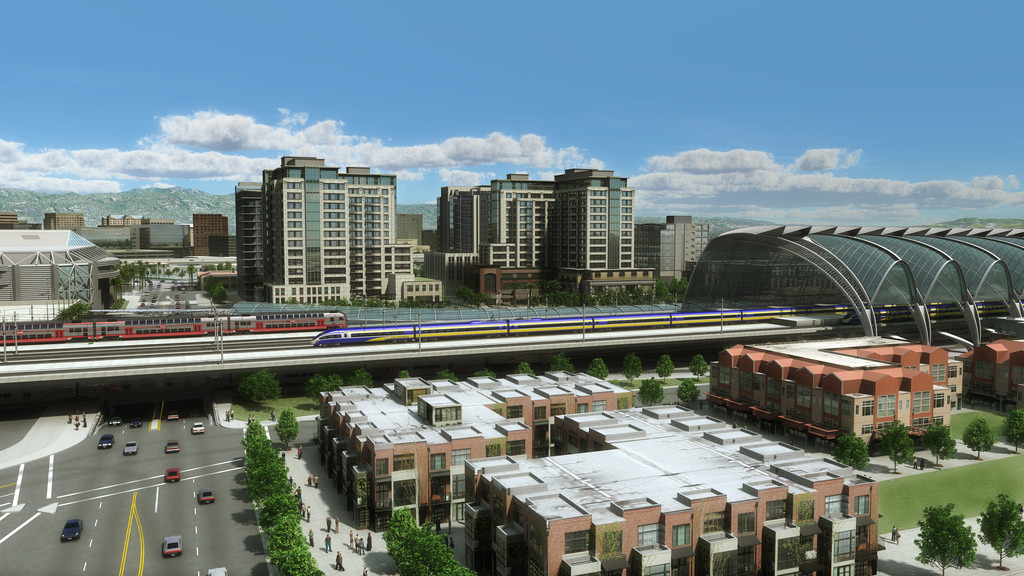 Photo: Visualization of HSR San Jose by California High Speed Rail Authority (image is preliminary and subject to change) 
Kim Walesh: Google will be the first major tech company to consciously decide to grow near transit. It's an opportunity to get it right…a counterpoint to traditional Silicon Valley campus development – a human scale, urban place….we're not even calling it a campus. That can connote inward looking like Facebook or Apple.
This is a totally different concept it says: Let's put our innovation employees right in the heart of downtown in an open campus environment with well designed parks and plazas for all sorts of people to enjoy and interact. That's where innovation comes from…
Bob Staedler of Silicon Valley Synergy is an expert in tech developments and a frequent advisor to the City Council. He describes this Grand Central Station vision…
Staedler: You're going to have a multi-modal transport hub that could be 150 feet up in the air, having four separate modes of transportation from bus to high speed rail, to light rail to Uber drop-off to traditional cars, and a campus integrated in there…
technology integrated into it like you've never seen before: you walk in and you see where exactly is the train on a map; and you see with technology where you go with light up boards, similar to what you see in Singapore and Tokyo….a 21st century transit station …
Staedler contrasts the open nature of Google's proposed campus to that of Facebook's Headquarters which is a high security island. As for Apple's brand new campus, 10 miles north?
Staedler: Apple has created the spaceship as they call it, it's really more of a fortress monument, a monument to Steve Jobs. What we're looking at with Google is creating an urban fabric with employees and the population and the transit station all integrated into one.
San Jose's Mayor, Sam Liccardo insists this proposed Google campus is critical to the future of Silicon Valley and the city…
Mayor Sam Liccardo: Silicon Valley has developed on the suburban model a lot of tilt up, one and two story tech campuses surrounded by a sea of parking – there are inherent challenges in the sustainability of that model. We're running out of land and God's not building any more. We have horrible congestion on freeways and it's not an affordable place to live.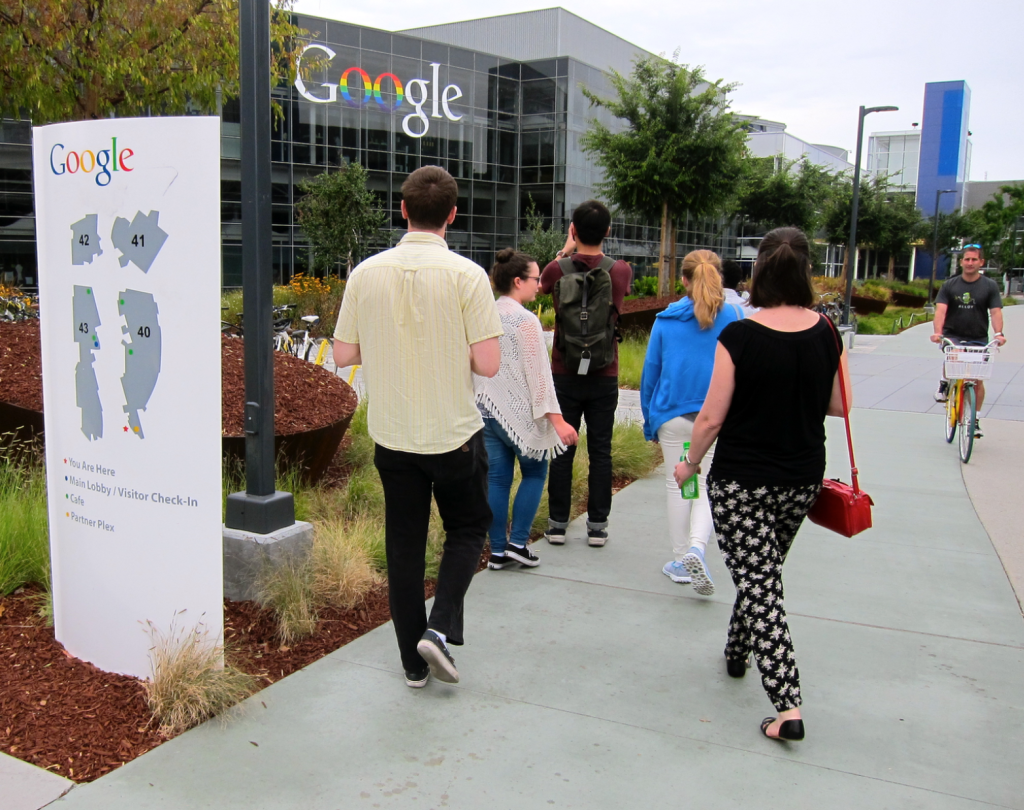 We need to develop differently – we're trying to retrofit a city built for automobile into a city built for people. We need to attract Silicon Valley's talented, creative people…if we cannot attract the  20-30 year olds to live here, they will be somewhere else…We've got a vision for the Grand Central Station of the West… We've seen what they're doing in London…it doesn't hurt that they have a few bucks.
Alison van Diggelen: So what have they learned from San Francisco's tech experience?
Sam Liccardo: We've seen how intense the tech backlash has been in San Francisco. We've got a strong focus on building affordable housing… address concerns about displacement, pressure on the cost of living.
Liccardo points out that this development may be long in coming…a decade even…
Sam Liccardo: This is not going to happen tomorrow: We're not going to have 20,000 Googlers descending from parachutes…
END