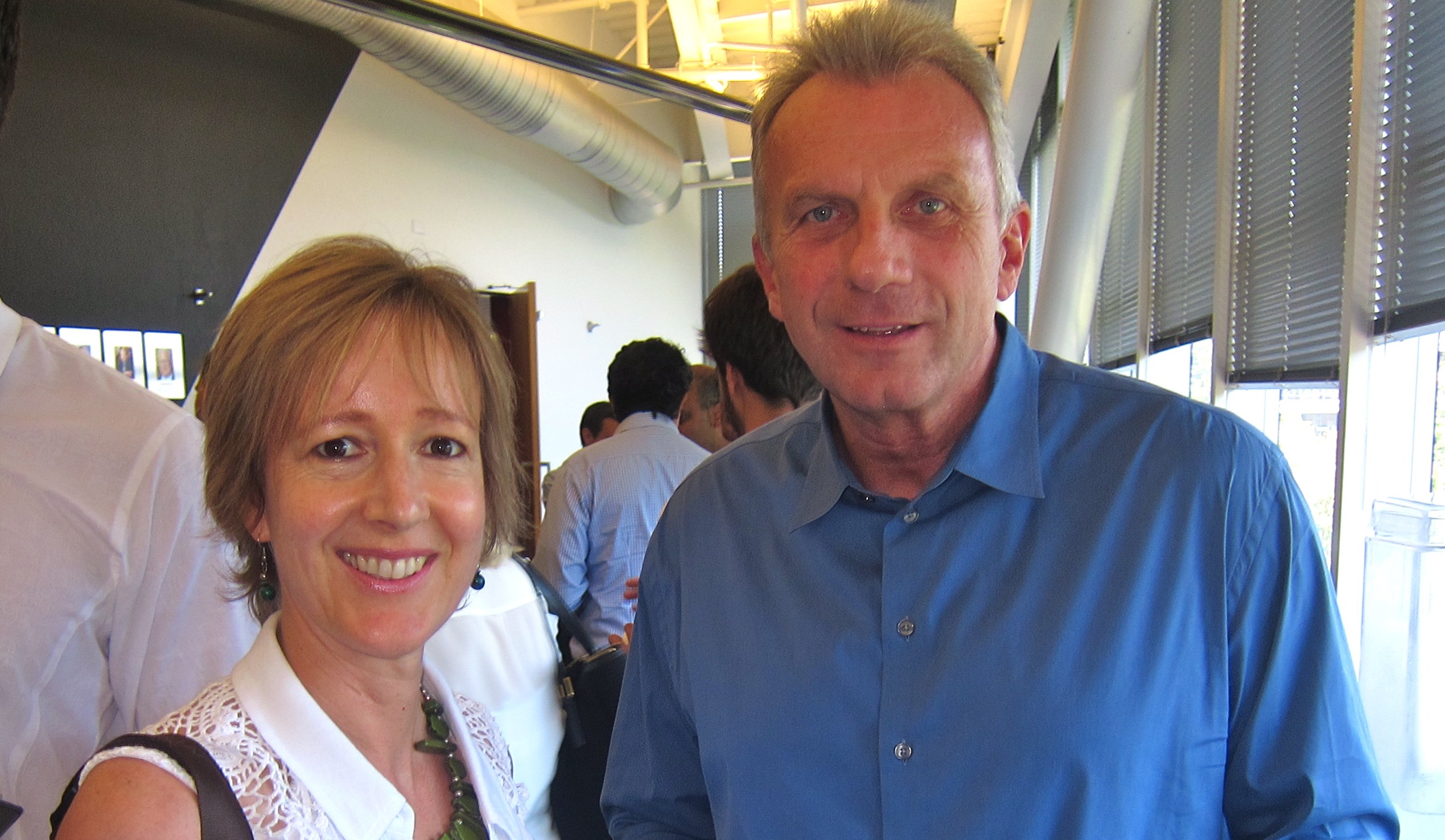 By Alison van Diggelen, host of Fresh Dialogues
Energy was high today at the Y Combinator Demo Day, as a sea of young entrepreneurs jostled for attention – and funding – from a vast throng of Silicon Valley investors. I chatted with NFL Hall of Famer, Joe Montana who's ditched his 49ers helmet for an angel investor hat these days (see the halo?) He was busy with the much buzzed about Helion Energy team which is working on "the world's first commercial nuclear fusion reactor." They hope to prove commercial scale fusion within 3 years by building a 50 Megawatt reactor in Redmond Washington, providing carbon emission-free power for 40,000 homes.
I'm curious to find out if the nuclear fusion company Tri-Alpha Energy, backed by Mad Men's Harry Hamlin will consider a joint venture, or perhaps just some knowledge fusion?
Montana said he committed to four other startups today, including Backpack, a company that connects travelers to shoppers, cutting price differentials for items like medicine and electronics around the world; and Unwind Me, an on-demand massage app. Sign me up for that demo!
Here are photos from today's Y Combinator Demo Day, where 75 startup teams presented and deep-pocketed investors like Jillian Manus looked for the next WhatsApp.
Alexis Ohanian (of Reddit fame) & Irina Lukashuk call time at Y Combinator.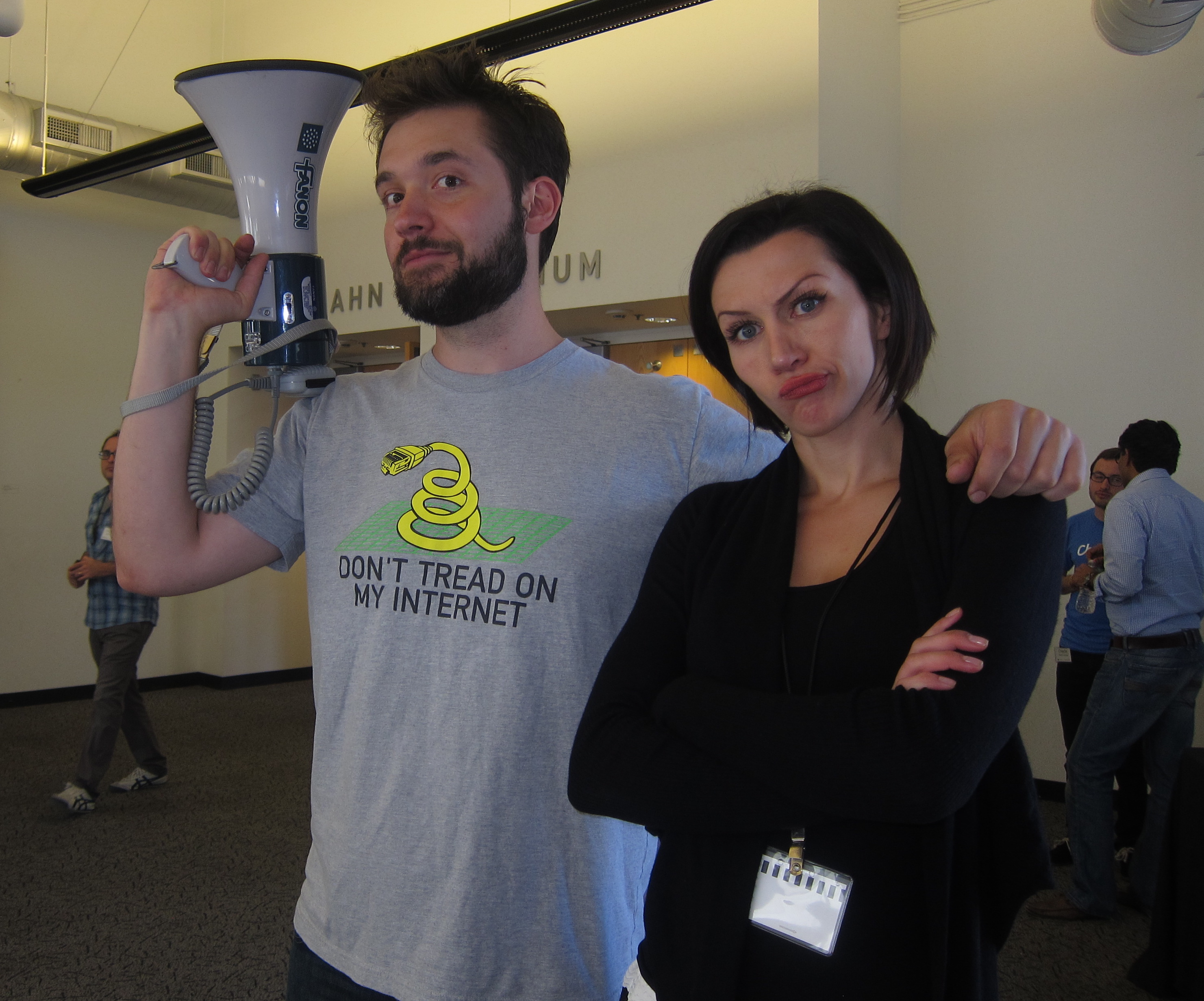 And some more (green tinged) highlights:
1. Edyn is a smart irrigation system for home gardeners and small farmers. Given California's massive drought challenges, this one caught my eye. A huge Kickstarter success with a cool design by Jambox designer, Yves Behar, it's set to go into production with Flextronics. Selling for $160, it could be a popular holiday gift this winter.
2. UPower is building nuclear batteries. This smart team, all MIT grads, describe their product as "a plug-and-play nuclear thermal battery." Their target market is off-grid locations such as remote islands. I spoke with cofounder Caroline Cochran who emphasized the carbon-free, emission-free nature of nuclear batteries and assured me that they were addressing safety concerns around radioactive waste. According to a report by Kyle Russell at Techcrunch, "the reactor, in addition to being fuel agnostic (it can use thorium, uranium, or recycled fuel) can actually reduce the half life of existing waste, and spent fuel from it can be reused in another reactor with some processing."
3. Beep is an operating system to make your speakers smart. Think: the Internet of "Audio-Things." The ex-Googlers confirm that Beep already works with Pandora and Spotify and say you'll soon be able to control your favorite NEST thermostat using your voice. It sounds like Star Trek's Enterprise is closer than you think…
4. Vatler offers a valet service for workers, special event attendees, etc. Think: Uber for parking. As the CEO said in his presentation, drive into any big city (say San Francisco?) and "parking's a bitch." His team's solution: an app to help you find an instant valet, using a quick tap on your phone. Quicker than looking, cheaper than parking.
5. The Immunity Project is developing a free vaccine to end AIDS and HIV. Frankly, it made all the earlier presentations seem trivial solutions to "first world problems" (except perhaps UPower) and got the audience's most enthusiastic response. Find out more about this ambitious project here.
And read more about the day from Colleen Taylor at Tech Crunch, Vauhini Vara at The New Yorker and Roberto Baldwin of Nextweb, who shares his top 10 picks.
Big thanks to Y Combinator partner, Kat Manalac for the invitation.
Joe Montana photo credit:  Vicki Thompson of SV Business Journal.
The event was held at the Computer History Museum in Mountain View where there's a remarkable collection of photos by Doug Menuez in the foyer, featuring Silicon Valley tech luminaries, including the inimitable Steve Jobs. Check it out next time!