Why did Virgin's Richard Branson decide to invest in Hyperloop One, the futuristic transport system that seeks to shrink journey times (like LA to San Francisco, London to Glasgow) to less than one hour? On assignment for the BBC World Service, Alison van Diggelen sat down with Branson in San Francisco to explore his vision for the Hyperloop, as well as Virgin Galactic, One Web and supersonic travel around the world.
Branson is still reeling from the deadly hurricanes that destroyed his island paradise, and he's calling for a Marshall Plan to aid sustainable recovery in the Caribbean region. He told me he's energized by the "climate skeptic in the White House."
"When you've got 99% of scientists saying the world is heating up, the world is heating up. Yes, you've got a climate skeptic in the White House but most sane people – most rational people – know that we have a problem. It's sad to have someone like that in such a position of power and therefore all of us have just to work that much harder to rectify any damage that he does." Richard Branson, Founder of Virgin Group
Photo: Richard Branson in conversation with Alison van Diggelen for the BBC World Service. San Francisco, October, 2017. Credit: Lewis van Diggelen
My report aired on the BBC World Service's tech program, Click. You can listen to the BBC podcast here (Branson segment starts at 0:35)
Or listen to the Branson segment below:
Here's a transcript of the segment (plus some bonus material), edited for length and clarity:
The BBC's Gareth Mitchell: First, a futuristic plan to transport us in supersonic tube trains. This is a concept called the Hyperloop and now one of the world's richest people is investing in it. Virgin Group founder, Richard Branson has just done a deal with one of the companies developing the technology, Hyperloop One. Alison van Diggelen, our reporter in Silicon Valley has been speaking to Richard Branson. The conversation begins with Branson's other great interest: space. Not just Virgin Galactic, but plans to improve connectivity for citizens back here on earth.
Alison van Diggelen: What makes Virgin Galactic distinct from what Jeff Bezos is doing with Blue Origin and Elon Musk with SpaceX?
Richard Branson: With Virgin Galactic our principal reason for being is to help this beautiful earth that we live on. Space can help people back here on earth…One of the things we're going to be doing through a company we're involved in called One Web is put an array of 2,000 satellites around the earth. That'll be the biggest array of satellites in space and they can help connect the 4 Billion people who're not connected today. If you're not connected, and you can't get Internet or wifi; it's difficult for you to start businesses and help your children get educated in remote places….
Alison van Diggelen: What's the timeline on that?
Richard Branson: One Web should be up and running in about 2 ½ years time (first launches are due to start in 2-3 months). Virgin Galactic's mission is taking people into space, making them astronauts, and giving them an incredible experience and a chance to look back on this beautiful earth. Next year (2018) should be the year for Virgin Galactic, the year that VSS Unity goes into space, the year I go into space and we start taking people into space. Because Virgin Galactic – unlike what Jeff Bezos and Elon Musk's are doing – is shaped like an airplane, like a spaceship (they've gone for big rockets) – it can go into space, it can come back, it can land again and we can grow it. So one day we can do point to point travel…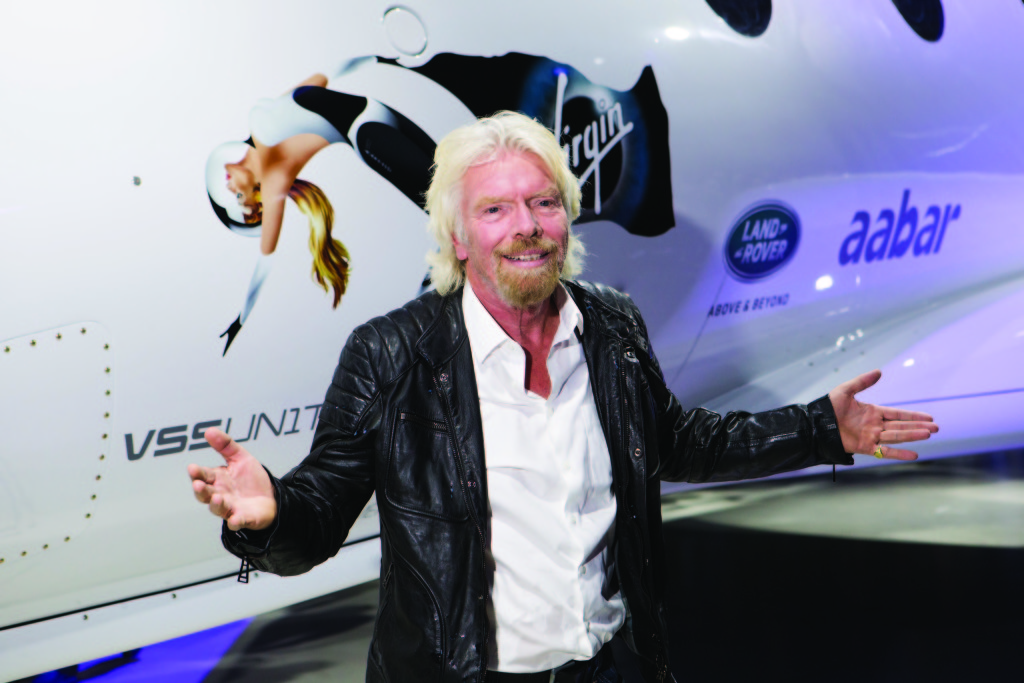 Photo: Richard Branson shows off Virgin Galactic's VSS Unity. Credit: Jack Brockway
Alison van Diggelen: What does that mean? Rocket speeds around earth?
Richard Branson: We could potentially (laughter) send people into orbit at 18,500 mph which would mean you could go anywhere on earth in 45 minutes. Realistically, our bodies won't cope with that so we most likely would send people into sub-orbital flight, traveling at more like 4,000 mph which would mean London to Australia in 3-4 hours, instead of 18 hours currently, so still a big step forward: much faster than Concorde was and still tremendously exciting.
Alison van Diggelen: What are the tech challenges to making that happen?
Richard Branson: The advantage we have today is something called carbon fiber and that is an awful lot lighter than metal – which is what Concorde was built with. That can also be used in the building of engines. A plane can be an awful lot lighter. The technology on supersonic engine power has moved ahead dramatically since Concorde. Unlike Concorde, which was built by British and French governments, and really never made any money, we think we can actually build planes to go supersonically that would be economically viable as well. Of course, as a private company they have to be economically viable…
Alison van Diggelen: Is that a Virgin Galactic project or the Boom supersonic jet project?
Richard Branson: We're helping "Boom" but we've also got our own Virgin Galactic project.
Alison van Diggelen:  Your latest big project is Virgin Hyperloop One. Tell me about that and your vision for that? You know (Hyperloop One board member) Shervin Pishevar, but what was it about the project that you thought: this is one for Virgin?
Richard Branson: 20 years ago, BR existed in Britain and it was pretty dire to say the least…most government run companies are not great, so we said to the government we'd be willing to take over the West coast main line and we also promised we'd transform it. There were 8.5 million ppl using it then. We brought in the Pendolino train and this year we'll have approx. 40 m people using it, but we're restricted to ~130 mph – whereas our trains could be going 160 mph – because the track isn't good enough. So we've been looking for technology that will transport people at much greater speeds. The exciting thing about Hyperloop is that if we could get a straight line between London and Edinburgh or London and Glasgow, we could transport people in about 45 minutes. That would open up the cities more than anything and the idea of being able to get into a pod…the pod could literally come to your office or your home, pick you up, go down a tunnel…the pod will connect to our system and then it takes off and 45 minutes later, a grandmother in Glasgow could find herself in London, the pod carrying on and taking her to see her grandchildren somewhere in London: A lot easier than the 4.5 hours it takes currently on trains.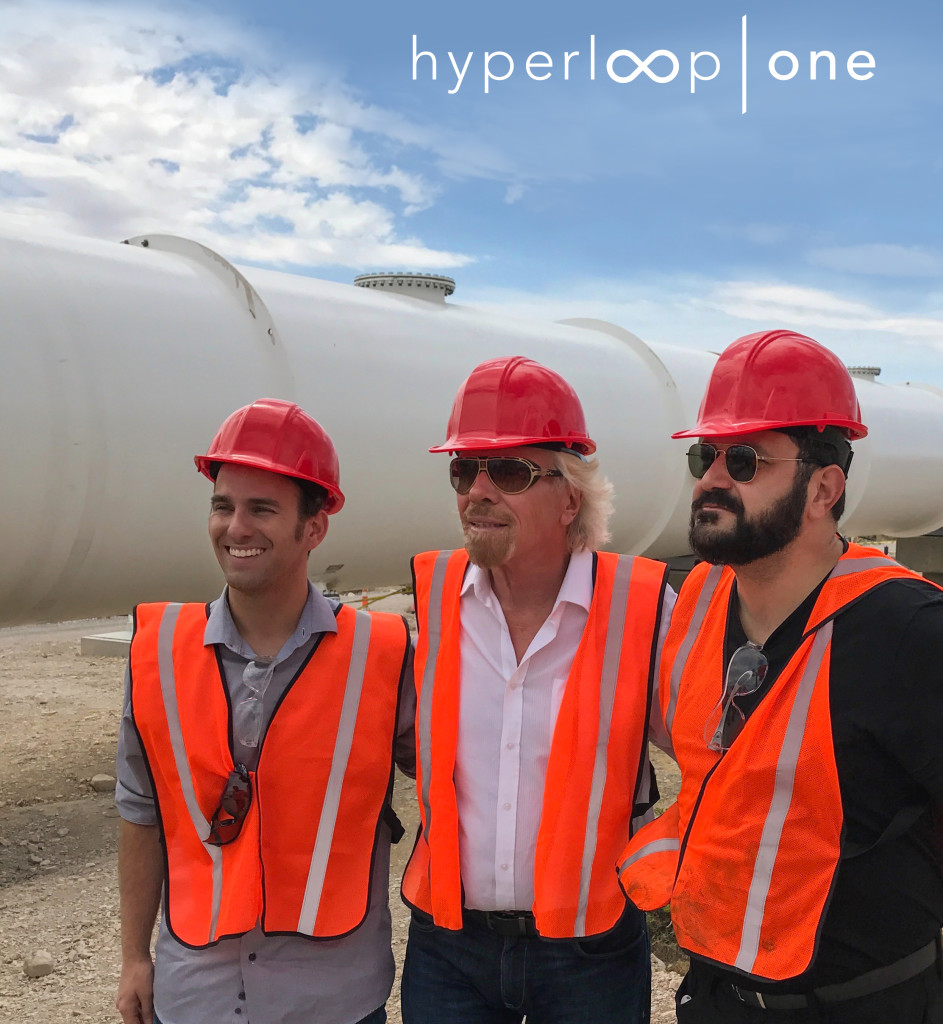 Photo: Virgin Hyperloop One team: Giegel, Branson, Pishevar. Credit: Virgin.com
Alison van Diggelen:  What's your timeline on that? My mother is 85 and she has grandchildren in London…
Richard Branson: I'm a little younger than her and am determined that it will happen in my lifetime. I will try to make sure it happens in her lifetime. Obviously we have got to have discussions with the government, they are building a high speed line but I think this could be compatible with that – and could be separate from that: Great Britain needs a lot more capacity. Obviously it's not just for Great Britain…We are talking to countries all over the world…
Gareth Mitchell: That's Richard Branson, talking to countries all over the world, and also to Alison van Diggelen. Let's talk to Bill Thompson.
Bill Thompson: I really wish I could believe the Hyperloop is something I'll see in my lifetime. The idea is a very interesting one: vacuum tube, high acceleration, low friction. There are enormous engineering challenges. I do think that talking it up as if it's just around the corner is too much of a distraction from solving the real problems of urban transportation. Getting permissions…sorting out the safety problems will take a lot more work. What happens if the power goes down when you're traveling at several hundred kilometers per hour in a steel tube? I'm pleased to see it being talked about but I'm certainly not holding my breath.
Continue listening to the BBC World Service Click podcast
Note: Virgin Hyperloop One was previously known as Hyperloop One and before that: Hyperloop Technologies. It's distinct from rival: Hyperloop Transportation Technologies or HTT.  Confused? Don't be! Find out more here. 
The new partnership was announced October 12 2017, and aims to offer passenger and cargo deliveries. Today it announced more strategic expansions to its team.
Many thanks to the Commonwealth Club of Silicon Valley for providing access to its Evening with Richard Branson on October 14th.