Two court cases; multiple sexual harassment accusations; a 200,000 #DeleteUber campaign; and an exodus of senior executives. To say Uber's had a bumpy start to the year is an understatement. You'd think the leadership at Uber would be curled up in a fetal position by now, gently whimpering. And yet, as Alison van Diggelen, host of Fresh Dialogues reports for the BBC World Service, the fight for ride-sharing and self-driving car supremacy continues full tilt. This week, Uber confirmed it's hired a top AI expert tasked with rapidly building a self-driving car team in Toronto, Canada. Alison spoke with Professor Raquel Urtasun (pictured above) yesterday and reported on Uber's ongoing challenges for the BBC World Service earlier today.
Listen to the BBC Click radio show podcast here
Or to the 5 minute Uber segment below:
.
Here's a transcript of my report and conversation with Click's host Gareth Mitchell (edited for length and clarity):
Gareth Mitchell: Today, more controversy at Uber. Has Uber been taking the regulators for a ride? According to the Reuters News Agency, the U.S. Justice Department has launched a criminal investigation into Uber software that helped evade the city transport officials. The tool, called Greyball was originally designed to foil would-be fraudsters from using Uber services. So protecting your drivers by deterring undesirable passengers, that's one thing, but now the suspicion is that Uber has also been "Greyballing" city officials investigating unlicensed Uber cars. Portland, Oregon said Uber used Greyball to evade 16 of its transport officials in 2014, before Uber was officially authorized to operate there. I've been hearing more from our Silicon Valley reporter, Alison van Diggelen. We started by talking about Uber's other woes…Uber and Google's Waymo are not getting on very well…
Alison van Diggelen: No, not at all.
WAYMO VS UBER
Alison van Diggelen: Waymo – Google's self-driving car spinoff – has accused Uber of stealing 14,000 files – including trade secrets. It concerns blueprints for Lidar, the spinning laser you see on top of self driving cars.  At a hearing in San Francisco last week, the judge said Waymo didn't yet have "a smoking gun" i.e. enough evidence to prove its technology was being used by Uber. We're still waiting to hear whether the the judge will issue an injunction – that could impact Uber's ability to use or develop this Lidar technology – and impact its entire self-driving car plans.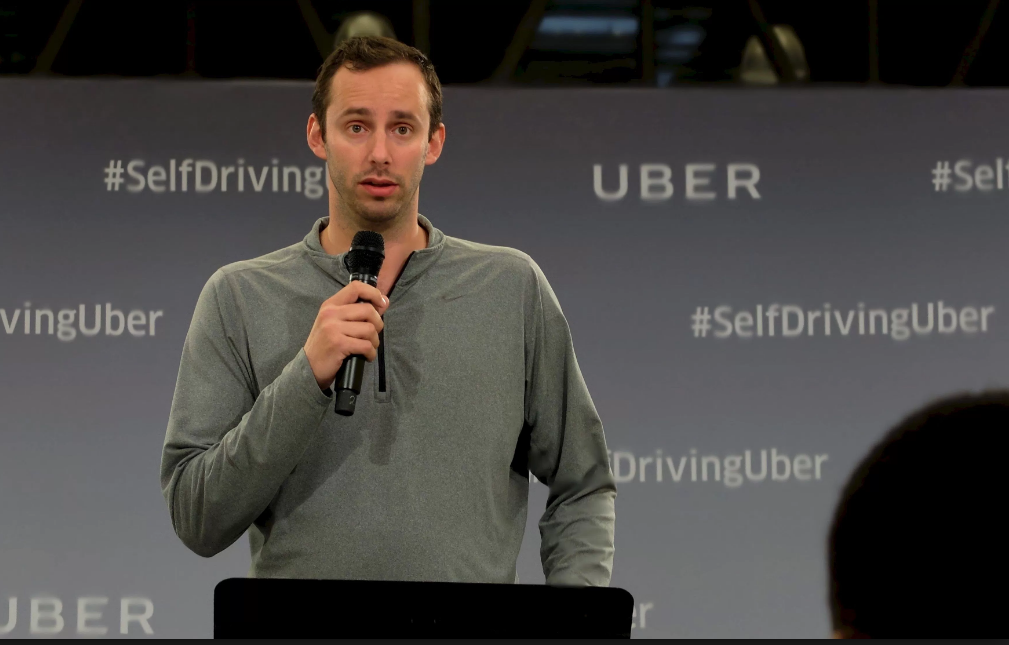 Uber's Anthony Levandowski is accused of stealing Lidar secrets from Google's Waymo, Photo credit: Quartz/Mike Murphy
There's also a criminal court case at the early stages investigating the software tool – Greyball – that allowed Uber to evade and deceive regulators in several cities. Software was used to analyze profiles and credit card information of potential Uber users, to avoid it being available to law enforcement officials. All this is piling on uncertainty to Uber's existing challenges -it puts its long anticipated IPO on hold indefinitely. (Uber may miss a good "window of opportunity" to go public, while the bull market endures. It's been valued at about $70Bn, that's $20Bn more than Ford!)
Gareth Mitchell: This Greyballing software. Initially, this was just a way for Uber to protect its drivers from dodgy customers and the allegations go that they're using it this more evasive way when it comes to regulators.
Alison van Diggelen: That's exactly right. When regulators tried to use the Uber app in places that it was forbidden at the time – like Portland, Paris, Las Vegas –  They'd just get a fake site. It looked to them as though it wasn't available.
Gareth Mitchell: Uber lawyers have told authorities in Portland, Oregon that the Greyball technology was used exceedingly sparingly….But what other challenges does it face, Alison?
HIGH PROFILE HIRING
Alison van Diggelen: Given the court cases; and a series of sexual harassment accusations and an exodus of executives recently, you'd think Uber would face huge hiring challenges. But yesterday Uber announced it's hiring a high profile Artificial Intelligence expert – Raquel Urtasun, so a little bit of good news for Uber. She's a professor at the University of Toronto. She'll lead the expansion of Uber's self-driving team in Canada.
I spoke with her yesterday and she told me she thinks the negative stories about Uber are overblown. She plans to build a team of several dozen within a year to develop what she calls the "perception algorithms" for self-driving cars … Basically, they're building the brain of the car so that it can transform what it "sees" – via sensors and cameras into an explanation of "what" it is seeing.
She acknowledges that competitors (like Waymo) are still ahead – they've been working on the technology much longer (since 2009), but she insists that Uber is getting closer every day. But Uber has a long way to go: Recent reports show its self-driving cars travelled on average of 1 mile before a human driver had to take control. Google's Waymo cars disengaged at a rate of once per 5,000 miles.
Gareth Mitchell: OK. That is Alison van Diggelen, talking to me just before we came on air.
[Online extra]
Alison van Diggelen: I also spoke with Anton Wahlman, a Silicon Valley Tech Analyst
He concludes that if Uber's reported $3 billion loss last year is accurate, the company is operating at negative gross margins – ie subsidizing fares – to drive out competitors. Wahlman anticipates that as soon as prices rise to produce profitability, new competitors will simply enter the market. If Uber were a public company today he says he would short the stock.
FUTURE
There is mounting pressure for CEO Travis Kalanick to resign or step back from his leadership role. Since Uber began, he's created an aggressive, "bad boy" culture at Uber and it'll be hard to reboot that culture, but it's still possible.
After all, replacing a founder (or founders) with a well established and experienced CEO is not unprecedented.  Google appointed a "grown up" leader in its early days, not to change a "bad boy" culture but to drive rapid growth. Eric Schmidt, a veteran of Novell software, served as Google's CEO for 10 years and passed the CEO position back to cofounder Larry Page in 2011. For now, it seems that Kalanick is holding tight to the steering wheel at Uber, but the pressure is growing for a co-driver to take over and navigate a safer, less turbulent road ahead.