The election of Donald Trump stunned the majority of people in Silicon Valley, but it also awakened many from their apolitical slumber. Today, leveraging technology is a key part of the national resistance movement.  Alison van Diggelen, host of Fresh Dialogues found that Silicon Valley may be the epicenter of high tech, but old-school methods still have their place in the tech resistance, and techies are less partisan than you might expect.
(Photo credit: A young women protests at an immigration rally, by Chris Shipley/The First 100 Days Project)
"Good is going to come out of this difficult time. Too many people in Silicon Valley stood back from politics…it's the context in which we're building our businesses. We can't continue to build democracy as if it's all about capitalism and we can't build capitalism without the context of democracy," Chris Shipley, Founder The First 100 Days Project
In the same week that Hillary Clinton formally joined the resistance movement, the BBC World Service aired this report.
Listen at Click on the BBC's World Service (@3:26 ) or to the short segment below:
Here's a transcript of the report and discussion with Click's host Gareth Mitchell and tech commentator, Bill Thompson (edited for length and clarity).
Gareth Mitchell: After 100 days (of Donald Trump's presidency), what's the view of the tech community? As Alison van Diggelen has been finding, attitudes aren't quite as straightforward as you might think.
Mario Savio: There is a time when the operation of the machine becomes so odious, makes you so sick at heart that you can't take part…and you've got to put your bodies upon the gears, and upon the levers, upon all the apparatus and you've got to make it stop!
Alison van Diggelen: That was Berkeley student activist Mario Savio in 1964. Once again, Berkeley has become a flashpoint of political protest. The election of Donald Trump left many people in Silicon Valley shocked and outraged. Coder, Nick O'Neill was dumbfounded last November. But by inauguration day, he'd found his voice. He launched an app called 5Calls that makes it easy for citizens to become political activists. His app has enabled over 1 million phone calls to members of Congress in all 50 states. In US politics, old fashioned phone calls are still the most effective leverage. Here's O'Neill:
O'Neill: People have tweeted us: I've never called my representatives before…but because we made it so easy… we put the phone numbers, and the scripts and issues together in one place, that helped them get over that hump. They know exactly what the process is.
van Diggelen: O'Neill is just one of hundreds of Silicon Valley techies leveraging tech skills, and a startup mentality to create a resistance movement against the anti-immigration, anti-environment, anti-globalization stance of Trump's administration. Apps and projects include: Tech Stands Up, Track Trump, Swing Left, and the Tech for Campaigns Project…
What made the tech community wake from its apolitical slumber?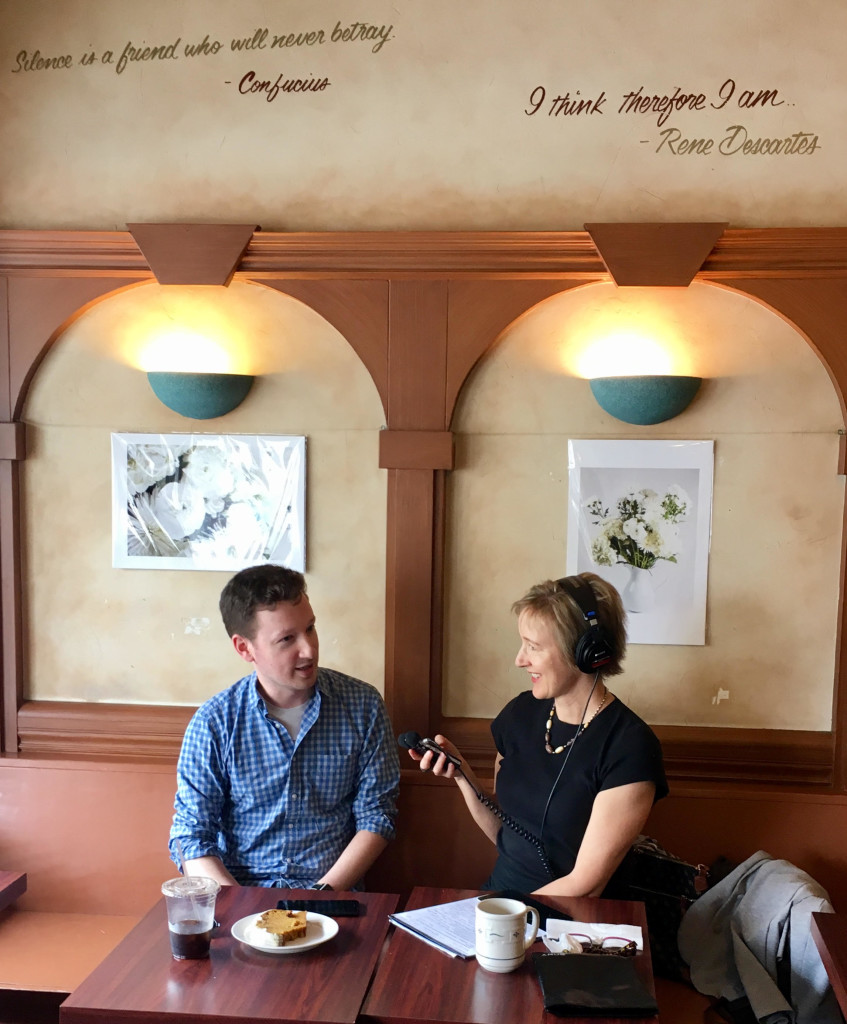 (Photo: "President Trump…therefore we resist" Interview with 5Calls Founder, Nick O'Neill at the Thinkers Cafe in San Francisco)
O'Neill: All these people feel disenfranchised, a little bit helpless, and so we're all trying to build things to see what sort of change can make….The tech approach is to jump first, build things and see if it sticks. It's the ethos that runs behind tech…
van Diggelen: But not all tech reactions are partisan. At the Free Speech Movement Cafe on Berkeley's campus, I met with Ash Bhat, a 20-year-old student. He explains how Trump's rhetoric felt personal for many, especially his Muslim and undocumented classmates. But it was a violent demonstration against a right wing provocateur on campus that inspired him to act.
Bhat: It was depicted as a group of Berkeley students destroying their own school and that couldn't be further from the truth. Anarchists came in, breaking windows… I remember being in my rhetoric class, going to WhiteHouse.org …looking through the source code and I was like: hey this looks pretty scrape-able.
van Diggelen: Bhat found he can "scrape" or extract data updates from the White House every time an executive order is signed. The Presidential Actions app launched and his team now boast of tens of thousands of users across the political spectrum. They've resisted partnerships with partisan groups.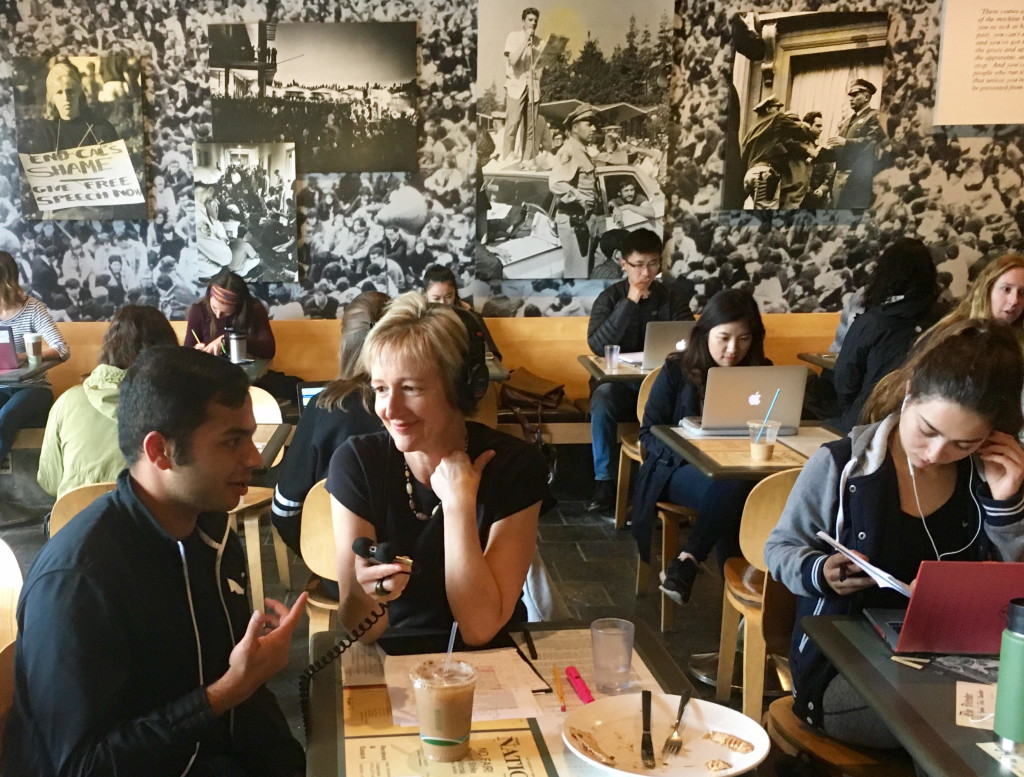 (Photo: Ash Bhat and I discussed the power of resistance in the Free Speech Movement Cafe in Berkeley. It's dedicated to Mario Savio, whose passion inspired thousands of students and activists worldwide)
Bhat: As someone in tech, it's a responsibility for us to build software that helps inform the public… be compassionate towards both sides and provide unbiased bipartisan information.  There's a lot of talk about the resistance…my worry is being too tied to a polarized side just feeds the echo chamber. The people who're afraid of tech will no longer listen to it…
van Diggelen: How will he ensure Presidential Actions information is unbiased?
Bhat: We're taking the actual docs from the White House, first hand primary documents, we're looking at summarization algorithms as opposed to subjectively summarizing contents… We want to be able to present the news to our users so that they can come to their political conclusions completely by themselves.
van Diggelen: But the tech resistance isn't all bits and bites. Remarkably, old fashioned ink and paper is part of its arsenal.
Chris Shipley has advised over 1500 startups in Silicon Valley. After the Women's March in Washington DC, she was inspired to create "The First 100 Days Project" to chronicle citizen activism in stunning visual images. Her Indiegogo campaign aims to make commemorative postcards and a book. Why so old-school?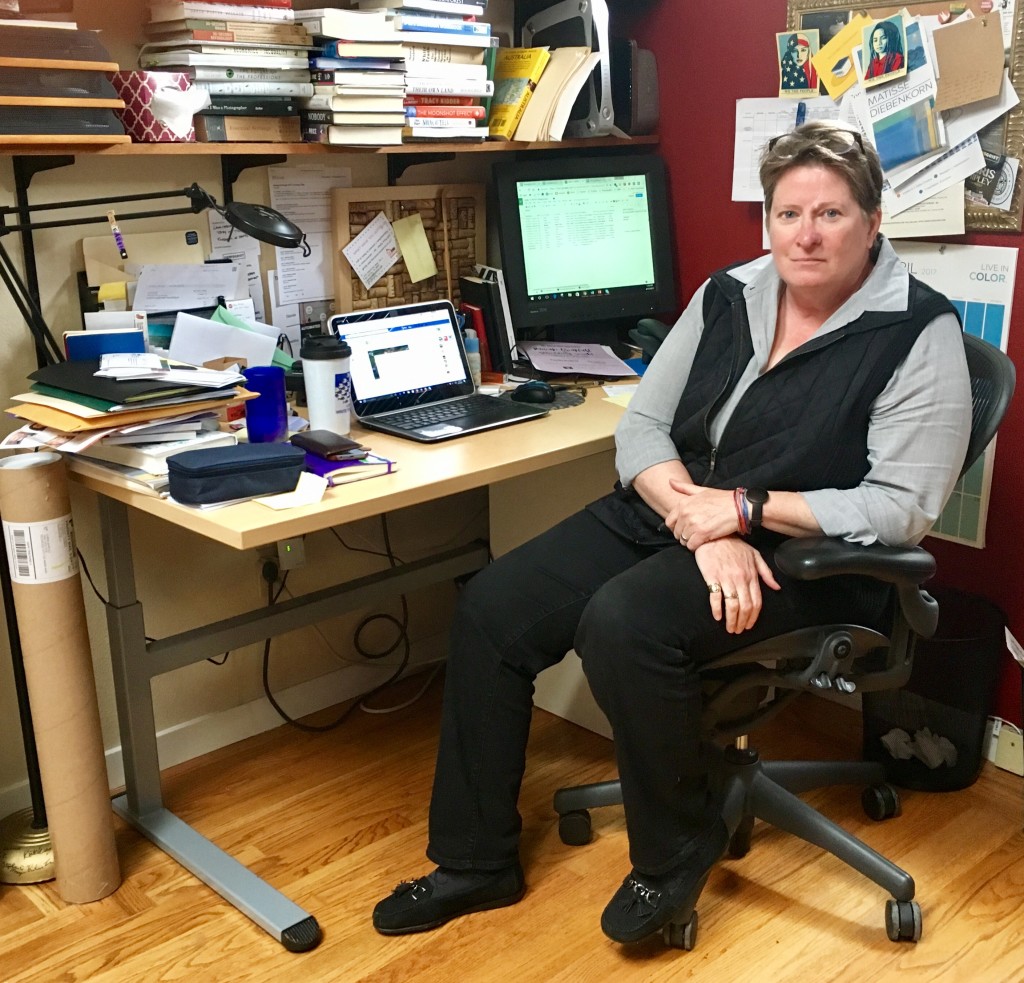 (Photo: Chris Shipley's project aims to support "at risk" organizations such as Planned Parenthood, The Environmental Defense Fund and arts organizations)
Shipley: There's something ephemeral about digital media – it a wonderful expression, a wonderful reach, but then we go to the next url and we're on to something else. A book, a postcard, something you can hold in your hands has this reminder effect..a book can sit on your table, someone can pick it up, flip through it and come back to it again and again, and be reminded of the conversations happening in DC, in SF and Seattle, one march after another…
van Diggelen: But of course she's leveraging technology via social media:
Shipley: Text msgs, IMs, Twitter, all social channels are ways of building  awareness…allow the message to be amplified. It's very gritty, hand to hand combat. If there's a tech to get the message out, we're going to use it.
van Diggelen: Shipley admits that her project is aimed at progressives, but is emphatic that they want to be heard and listen to the other side too…
Shipley: We're in a really pivotal time. I'm a casual optimist, good is going to come out of this difficult time. Too many people in Silicon Valley stood back from politics…It's the context in which we're building our businesses. We can't continue to build democracy as if it's all about capitalism and we can't build capitalism without the context of democracy.
Bill Thompson: A certain sector of the tech community has been enlivened by the election of Trump to deploy their skills. It's always good when people get engaged in politics, but I'm reminded of Evgeny Morozov's book "To Save Everything Click Here" and part of me wonders how much real engagement these apps will get. There's a danger of it descending into "clicktivism." The app that encourages people to phone their representatives about issues that matter to them – on whatever side of the political fence you are – is a really important development there.
Gareth Mitchell: It's a bit more active than clicking on something you agree with…you have to take some action…
Bill Thompson: Exactly. It's not just "liking" something. It's designed to take you through to be really engaged with politics. At a time when the U.S. does seem slightly fractured, it's good to have things which encourage people to be politically active and argue for the things they believe in.
Gareth Mitchell: Yes, and follow people on Twitter with whom you don't agree!
Join the conversation at Fresh Dialogues on Facebook
Find out more about Silicon Valley's reaction to Donald Trump
Check out more Fresh Dialogues podcasts on iTunes
NB: The copyright of our BBC reports remains with the BBC and are shared here for demo purposes only.