By Alison van Diggelen, host of Fresh Dialogues
I recently attended Silicon Valley's Tech Awards, and despite the inspiring innovators from around the world, there was an underlying mood of disquiet (even alarm) as Silicon Valley adjusts to the imminent reality of a Donald Trump presidency. I asked Tim Ritchie, President of the Tech Museum, what his predictions are for Silicon Valley under a new administration whose leader who has frequently espoused anti-science rhetoric. Here's his response:
"We need to become a community that values science, that trusts evidence, that's not afraid of facts, that's not afraid of the future. My hope is that people will say: we're Americans, we do not fear the future; we believe we can solve problems. And so hopefully it'll be a wakeup call to be who the world needs us to be."   Tim Ritchie, President of the Tech Museum of Innovation, and host of the Tech Awards.
Of course, Silicon Valley is not afraid of the future and is full of risk-taking innovators, but as Ritchie says, it has received a wakeup call, and a stark reminder of the political bubble it lives in. There is a thriving tech world beyond Silicon Valley and its sky-high cost of living, traffic congestion and their impact on our quality of life are forcing some residents and companies to look elsewhere.
Portland, Oregon attracted Intel back in the 1970's and more recently, tech companies like Google, AirBnB, Salesforce, and eBay have moved some facilities to the Portland area.  Today Portland is a hub for global sportswear companies and has a growing tech startup scene. I went there to investigate what Silicon Valley and other global tech hubs can learn from its success and filed this report for the BBC World Service program, Business Matters.
Listen to the podcast at BBC Business Matters (The show is titled: How will Castro's Death Affect Cuba-US Relations?) The Portland segment starts at 29:00.
Listen to the Portland segment here:
Here's an excerpt of Tuesday's program and my original report transcript (edited for length and clarity):
BBC host, Fergus Nicoll: Move over Silicon Valley. Today, we take you up to Silicon Forest, zooming up the west coast to Portland, Oregon and its thriving tech scene. A growing number of companies have made that move north. So what are the ingredients that make it a fertile ecosystem for tech startups and what can other tech hubs learn? Over to Alison…
Alison van Diggelen: Thanks Fergus. I took the 90 minute flight north of Silicon Valley to Portland (aka Silicon Forest). It does have a thriving tech scene and I wondered if Silicon Valley has anything to fear from this growing startup scene. I met with Jonathan Evans, a Blackhawk pilot who's now CEO of Skyward, a drone management startup. Here's what he said:
Jonathan Evans: If you haven't been to Portland, you have to come, it's one of the most magnificent cities on earth. It's a beautiful, culturally rich city, an urban patchwork of villages, pedestrian scaled and we sit right at the foot of the Cascade mountains and just inland of the Pacific Ocean. This culture is wonderful at supporting innovation, technology and big bold ideas…This is a pioneering place. We're anchored by Intel's largest campus here. Intel, the Moore's-law-driving-machine that's producing all the chips and there's a whole constellation of hardware companies that have come out of that ecosystem.
Alison van Diggelen: Although Evans visits Silicon Valley twice a month to meet with clients and investors, he's not tempted to relocate his business.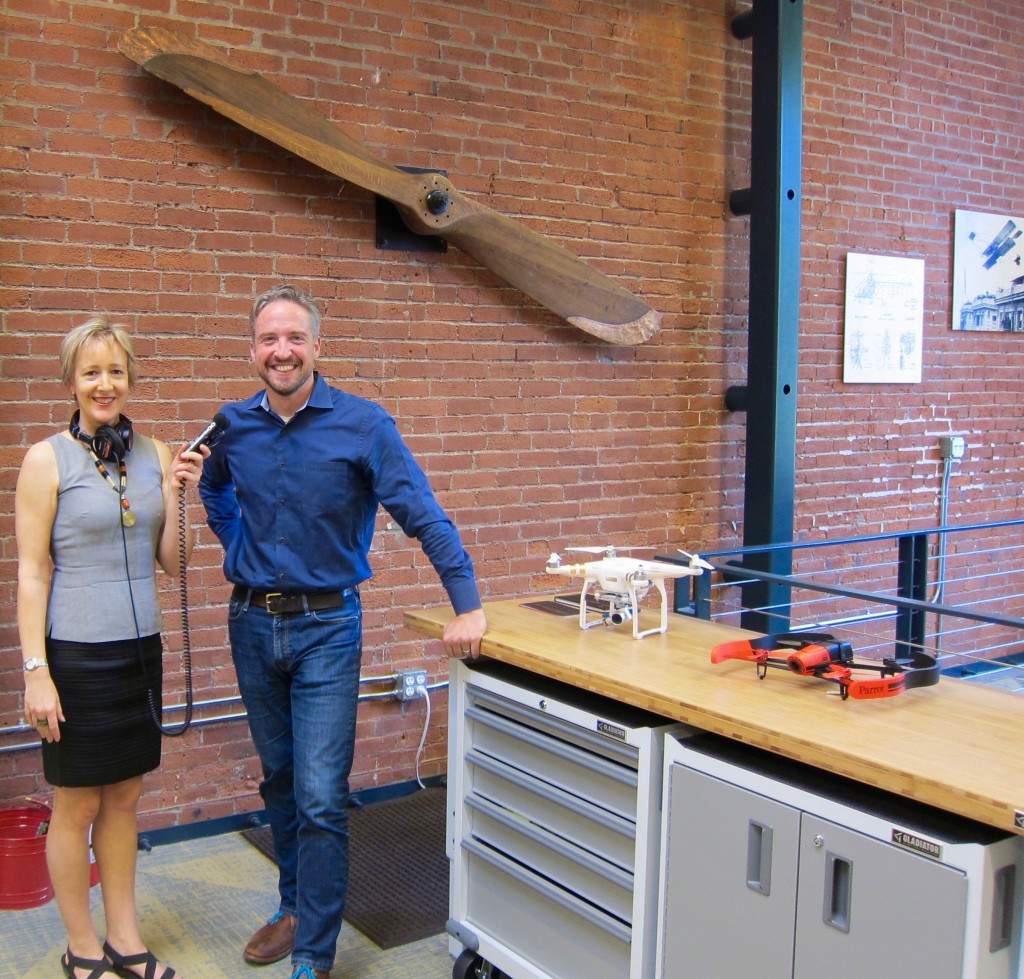 Jonathan Evans: I don't think there's ever a part of me that wants to stay…(laughter) It's a personal choice….We live well. If you look at it tenaciously as a business man: it's half to one-third the cost living here and that translates to the salaries that we have to pay and the rent we have to pay…everything that comes into building a lean venture-backed tech startup really comes to apply here nicely…It's a very legitimate place to grow a company, and to be backed by San Francisco and Silicon Valley.
Alison van Diggelen: And that cheaper "cost of doing business" has caught the attention of high-priced, highly congested Silicon Valley. Tech companies like Google, AirBnB, Salesforce, and eBay have already moved some facilities to the Portland area. They tend, however to be the support and "backend" part of today's tech ecosystem.
Polysync, a software startup in the autonomous driving sector recently relocated to Portland, from Idaho. I spoke with the CEO, Josh Hartung. Why did he choose Portland and not Silicon Valley?
Josh Hartung: Silicon Valley is always at the cutting edge, you have the best people in the world, hyper-new type stuff, where you're seeing machine learning and autonomous driving really being pushed. For us, that wasn't so important…We're infrastructure builders, we want people who're good at the plumbing… we want solid engineers that build backend.
Alison van Diggelen: For a big picture view, I crossed the river to talk with Skip Newberry, the President of the Technology Association of Oregon (pictured at top).
Skip Newberry: We're still relatively immature… as a true technology hub. We don't have the deep bench that exists in a place like Silicon Valley.
Alison van Diggelen: And yet, he's bullish about Portland's growth potential. A recent report showed that Portland's tech talent pool grew 28% from 2010 to 2013, even faster than Silicon Valley's (in percentage terms). Newberry says a focus on talent, access to capital and the regulatory environment is helping. He's convinced that public-private partnerships in education and the "Internet of Things" will help create the right ecosystem for startups. He cites projects to improve air quality and transportation.
Skip Newberry: One area that we've been really active in has been "Smart Cities"– leveraging Portland's reputation internationally as a global hub for urban planning and transportation systems. We've been trying to focus on the biggest challenges cities face, because if we can solve those, it's something that will allow us to remain competitive in attracting top tech talent, because our quality of life will continue to be good. We've got a network of cities around US and globally who're doing the same thing.
Alison van Diggelen: So does Silicon Valley have anything to fear from Portland? Not for now. Silicon Valley has more established tech hubs like Boston and Austin; New York, and Seattle to worry about. In any case, it's too busy forging ahead, "inventing the future" with artificial intelligence, autonomous driving, drones and who knows what else?
Fergus Nicoll: Nice piece, Alison. Thanks. That was Skip Newberry, one of the people that believes Portland has the vision and I guess there has got to be an environment that fosters this: state authorities, maybe federal interest in making sure the good news is spread across the states…not just Silicon Valley?
Alison van Diggelen: Absolutely. I think the ecosystem of Silicon Valley is second to none and that was something that I came across when I talked with startup founders in Portland.  There isn't that deep bench of experienced people, the venture capital…
Fergus Nicoll: Explain that phrase "deep bench."
Alison van Diggelen: I think it's a baseball term. It means experienced business people: angel investors, venture capitalists, people who have started companies and have scaled them up: from a startup to the size of Facebook, Google etc. Portland is a relatively young tech hub and so they're still establishing that talent base. What Silicon Valley has is a self perpetuating cycle: you've got the innovators, the risk-takers, the early adopters and it all reinforces. There's a cycle going on: the people who're successful become angel investors, venture capitalists…they're all focused on Silicon Valley, because they're here in Silicon Valley. Despite our connected world,  doing business with eye to eye contact is still important.
Fergus Nicoll: Parag Khanna, is there endless room for such hubs or should it be focused?
Parag Khanna: It was a great piece. I have been to Portland and the geography does matter as well as the cost of living. It's very close to the Vancouver/Seattle corridor, a wealthy, high quality infrastructure, diversified businesses, also a lot of talent spilling over from there and obviously sales opportunities for Portland based companies. And as the story reflected: talent spilling over from Silicon Valley. The geography is wonderful for this and people can live in between these two great, very deep bench economic zones and yet have a very high  quality of life and affordable cost of living.
Continue listening to the podcast for these discussions:
Tech Clusters in Asia: Parag Khanna offers some excellent insights.
Smart Cities
A "Masterclass" in public speaking (featuring the fearless Lucy Kellaway of the Financial Times)
The future of Cuba/US relations, post Fidel Castro: I'm predicting the business opportunity will be irresistible for President Trump and we'll soon see a tech hub in Havana, as well as a brand new Trump tower.
To explore other interviews and reports for the BBC, check out the BBC Archives at Fresh Dialogues.
NB: This report and other BBC Reports and BBC Dialogues at Fresh Dialogues are shown here for demonstration purposes. The copyright of this radio report remains with the BBC.