Photo: Skyward CEO Jonathan Evans is convinced we'll see "Jetsons" human-moving drones in 5 to 10 years
By Alison van Diggelen, host of Fresh Dialogues
"It's harder to move from A to B and when you look at the sky, you have a blank slate. Within 5-10 years you will see human-moving aero robots that will be moving programmatically in space. It's a lot like the vision we have of the Jetsons. It's going to be much more on-demand, much cheaper, empowering all of us to be able to access the sky for whatever we want to," Jonathan Evans, CEO Skyward
"That's the problem with autonomous driving: each one of these sensing modalities has their limitations: some don't see well in rain, in fog, at dusk. The Mobile Eye, what Tesla was using to detect lanes, some objects…that does very poorly at dusk….when the sun is head on. You really want backup, systems that are all corroborating its perception of the environment. In my opinion, the more sensing, the better," Evan Livingston, Polysync Test Engineer
 .
Here's a transcript of my report (edited for length and clarity).
BBC Click Host, Gareth Mitchell: Flying cars are part of the subject for our final item. We're off to Portland, Oregon to its famous "Silicon Forest", their counterpart to Silicon Valley in California. There's a startup there working on flying cars, another is working on autonomous vehicles and we have this report from Alison van Diggelen, who's been there.
Alison van Diggelen: My first stop was the Technology Association of Oregon. Its President, Skip Newberry is bullish about Portland's growth prospects: in data, software development, and the Internet of Things.
Skip Newberry: I refer to Portland as having this Goldilocks phenomenon: we're not too big, not too small, not too expensive and yet we also have some interesting amenities and international connections. We have a great quality of life.
Alison van Diggelen: He sent me to Polysync, a software startup that helps speed up the development of autonomous cars.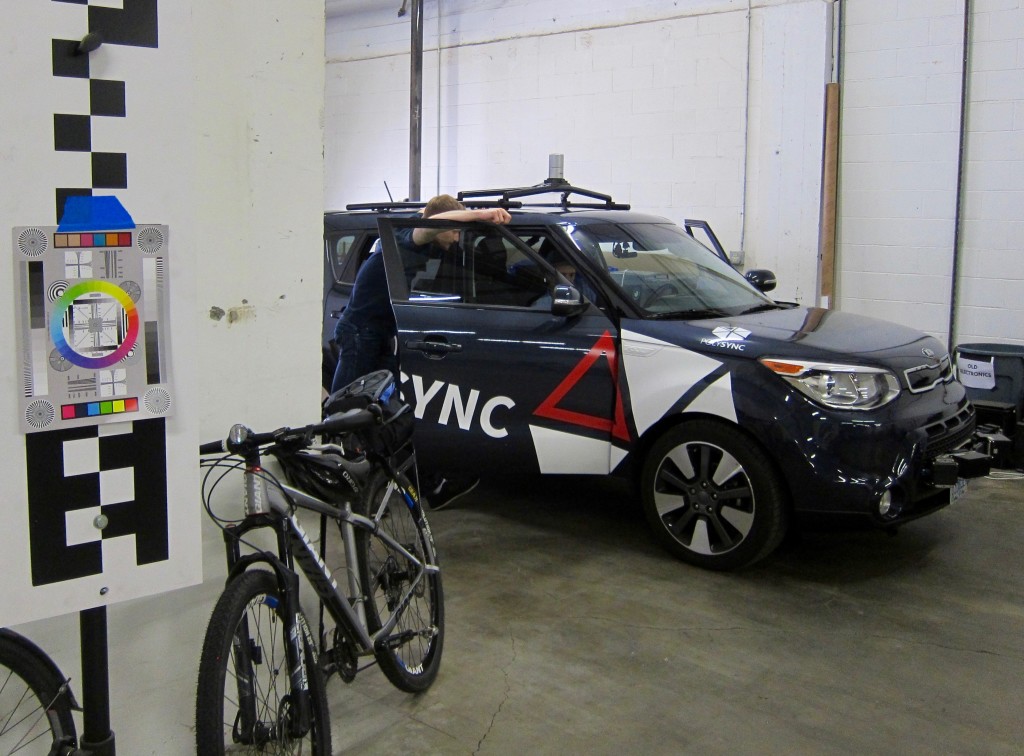 Polysync just earned a top 10 startup ranking at this year's L.A. Auto Show.
Evan Livingston: On the right trigger we have acceleration, on the left trigger we have breaking. [Ambi: car accelerating and breaking]
Alison van Diggelen: In a converted warehouse, Polysync's engineers test the software of autonomous cars to make sure all the sensors are communicating. Field engineer, Evan Livingston gave me a demo.
Evan Livingston: On this car, we have about 15 different sensors…we have 4 cameras that give us 360 degree views of the environment, we have six radars. We have 2 different LIDAR systems, and then we have a GPS inertial movement unit…so it gives us a very accurate location of the vehicle.
Alison van Diggelen: We discuss the recent fatal crash involving Tesla's autopilot feature.
Evan Livingston: That's the problem with autonomous driving: each one of these sensing modalities has their limitations: some don't see well in rain, in fog, at dusk. The Mobile Eye, what Tesla was using to detect lanes, some objects…that does very poorly at dusk….when the sun is head on. You really want backup, systems that are all corroborating its perception of the environment. In my opinion, the more sensing, the better.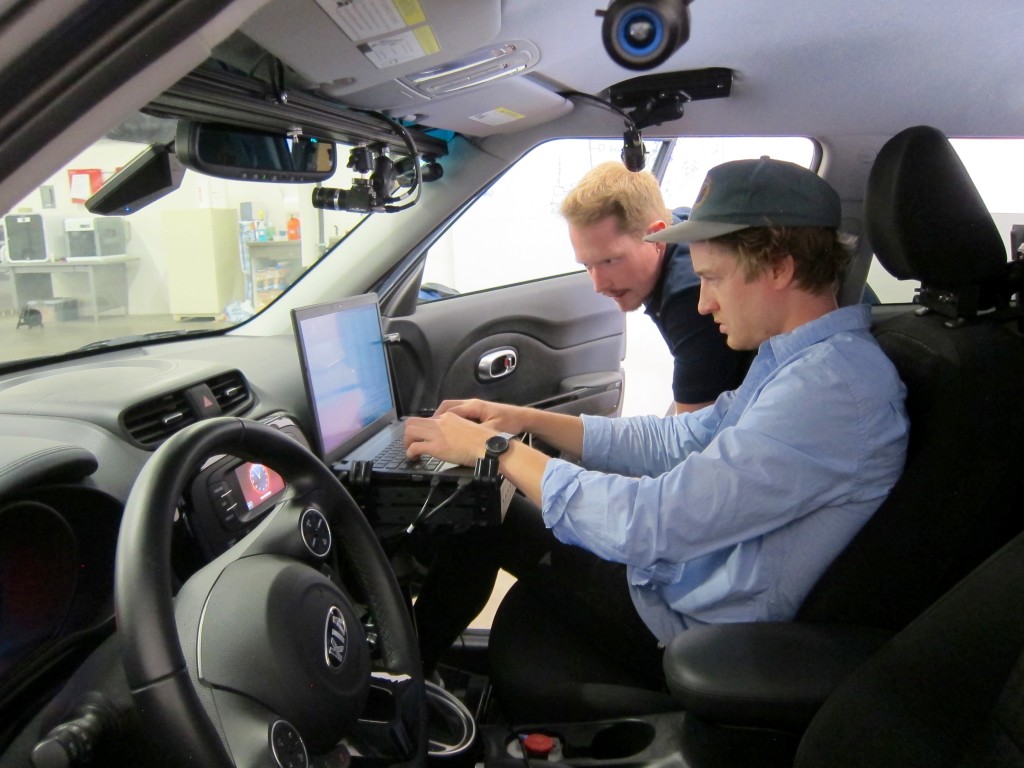 Evan Livingston sets up a demo of the Polysync software that connects the car's 15 sensors.
Alison van Diggelen: Polysync's team has doubled in size in this year, driven by partnerships with over 50 major car manufacturers and their suppliers. The company uses a 32-acre "mock city" campus near Detroit for testing. It's called M-City. Here's Polysync's CEO, Josh Hartung.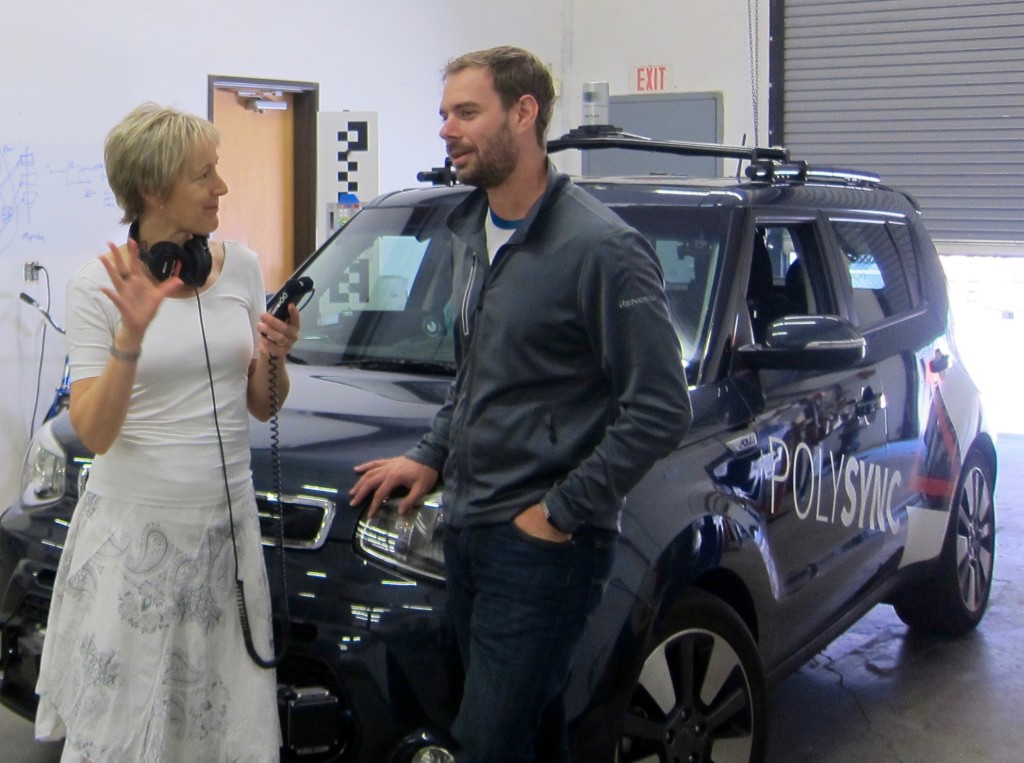 Josh Hartung says MCity's physical test track allows them to test near collisions and real world simulations.
Josh Hartung: They have cute fake buildings, and intersections, a small section of highway, little stop lights…. They have different ways they can trick an algorithm to think that it's a real  person with cardboard cutouts or inflatable targets. It's one of the first in the world.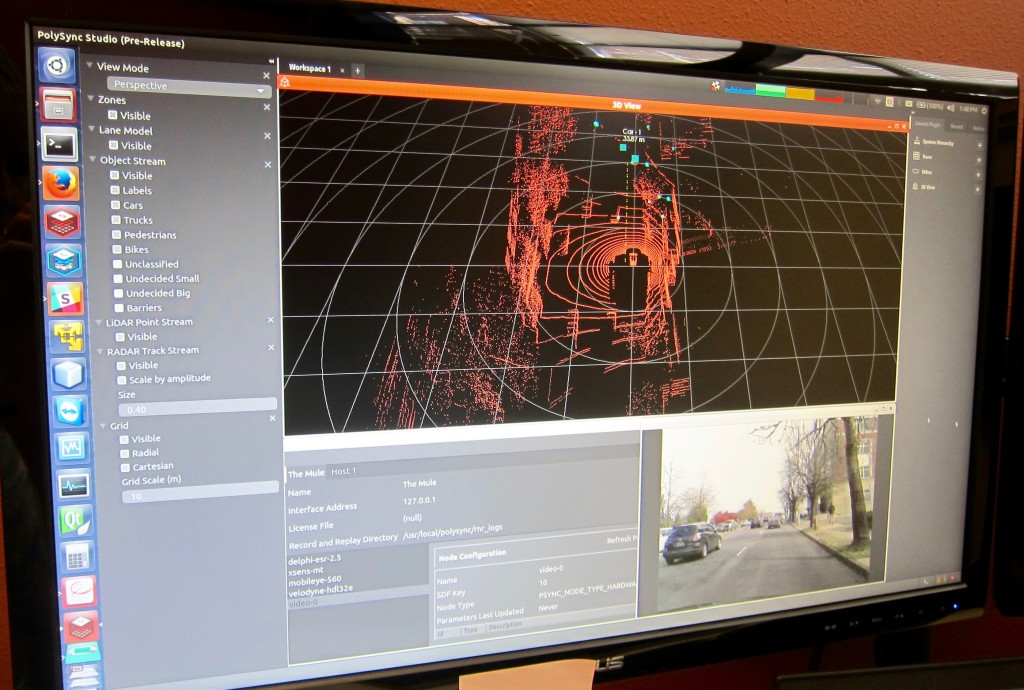 Polysync demo shows the car sensors in action
Alison van Diggelen: Across the Willamette River, I meet with Jonathan Evans, a former Blackhawk pilot in the army. He leads Skyward, an operations platform for commercial drones. He's excited about how our perception of drones is changing as they touch our lives ever more closely…from fun toys to aerial surveys to even delivering breaking news.
Jonathan Evans: They look at this really beautiful piece of technology that is really like a flying cellphone. It's gyro-stabilized, grid-oriented, information-oriented robot that can move ubiquitously in space… We take the pilots and the aircraft and we put them into the global airspace and help them conform to whatever the rules of the road are there. We were in the era of the Wild West… but now we have regulators that have provided us the channels to flow into responsibly. You can see a dramatic shift into civilization in the sky.
Alison van Diggelen: Evans thinks that drones will soon make (package) deliveries –even Internet delivery – and anticipates a paradigm shift in transportation.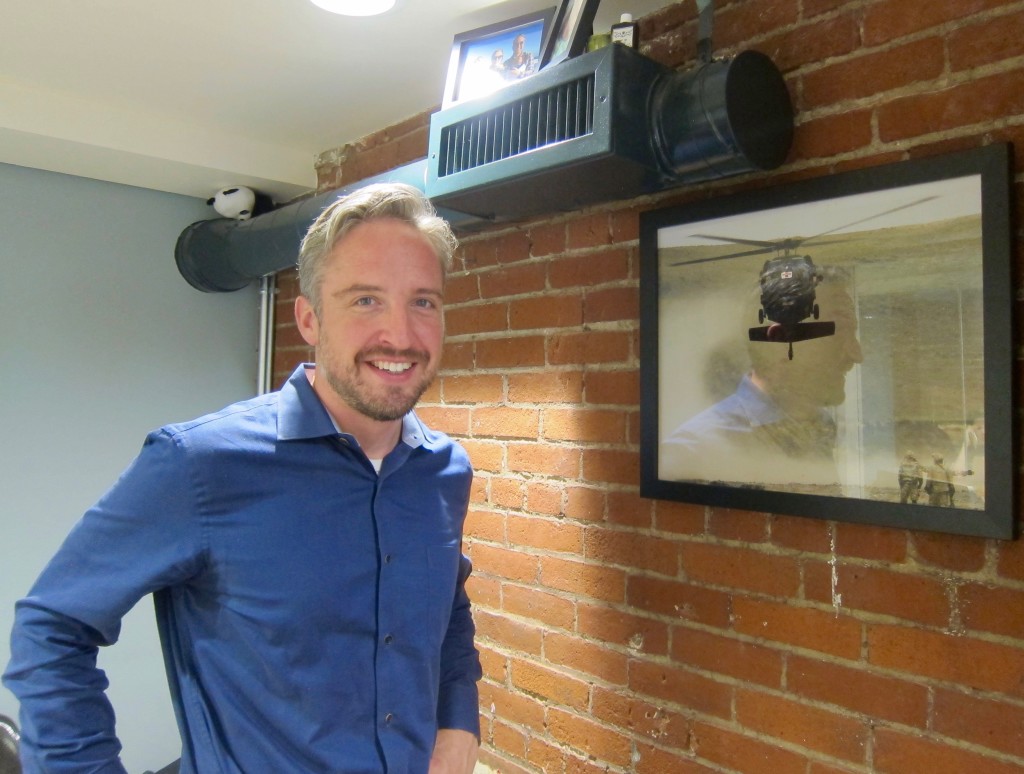 Jonathan Evans: On the ground, things are getting much more clogged and it's harder to move from A to B and when you look at the sky, you have a blank slate. Within 5-10 years you will see human-moving aero robots that will be moving programmatically in space. It's a lot like the vision we have of the Jetsons. It's going to be much more on-demand, much cheaper, empowering all of us to be able to access the sky for whatever we want to.
Alison van Diggelen: Silicon Valley companies may steal the limelight but behind the scenes, Portland's "Silicon Forest" is making its mark on the evolution and impact of technology around the world. [Ambi: Skyward flight ops team, DJI Phantom 3 Professional drone]
Jonathan Natiuk: "That's kinda cool, man!"
(Report ends)
Gareth Mitchell: Are we really heading for the Jetsons in our lives, do you think Bill Thompson?
Bill Thompson: Well, I started off being really skeptical about this…but then I discovered a human carrying drone is being tested in Nevada, the eHang drone…the actual hardware is being built. It can go 100 km/hour. The hardware is there and what we hear from Skyward is that the regulation is starting to be there. That's the crucial thing. It's about making sure if we have the technology that can deliver these things. It fits into a broader regulatory environment, so it becomes both legal and as safe as it can be to do them. It took a long time for the automobile, for the car, to go from being something strange and mysterious to dominating our cities. I do think we will get to the stage where we're using the skies in these new ways, so actually, yeah: it is coming.
Find out more about electric and autonomous vehicles, from Tesla to Hyperloop at Fresh Dialogues EV archives