By Alison van Diggelen, host of Fresh Dialogues
This week, artificial intelligence (AI) reached a significant milestone. For the first time, Google's DeepMind unit beat the legendary champion of Go, a highly complex board game. Machines are now being built with self-learning mechanisms that simulate the neural network of the human brain. What does this mean for the future of AI and its ability to replace humans in the workplace? The future just got closer.
Sebastian Thrun is well known for being a pioneer in artificial intelligence and autonomous cars, but is now laser focused on making sure online education bridges the skills gap, via his company, Udacity. Here's what he said recently about AI:
"Udacity is my response to the development of AI. The mission I have to educate everybody is really an attempt to delay what AI will eventually do to us, because I honestly believe people should have a chance." Sebastian Thrun*
I sat down with Thrun at the company's headquarters in Silicon Valley to explore his grand vision and audacious promises. Last year, Udacity raised $105 million in venture funding, based on a valuation of $1 billion. Is this another overpriced Silicon Valley unicorn or is the value justified?
First, a little back story: In 2012, Thrun was astounded at the massive number of people signing up for his Stanford AI course online course: 160,000 in all, mostly from outside the United States. He quickly realized that online education has the potential to make learning affordable and reach millions globally.
"Nothing has more potential to unlock a billion more brains to solve the world's biggest problems," wrote Tom Friedman in 2013.  But of course, his and Thrun's rosy predictions couldn't happen overnight. The online learning business had some serious teething problems with high drop out rates, and dismal failure rates. But today, the future of online education is looking brighter.
There are now countless online education companies globally. The big three are: Coursera (a Stanford startup) which now boasts 15 million students; EdX (affiliated with MIT and Harvard) with over 5 million users; and Udacity, 4 million.
Since Udacity's high profile failure at San Jose State, the company has refocused its online courses and recently partnered with Google, AT&T and Amazon to design "nanodegrees" tailored to the needs of tech companies. Thrun is so bullish about the market value of these 4-12 month nanodegrees, which offer project based learning, that he's offering a money-back job guarantee.
"For certain Nanodegree programs we're offering all your tuition back unless we or you find yourself a job within the first 6 months of graduation. For the student, the education is basically free. … These are jobs that pay $80,000 or more, maybe $120,000 in Silicon Valley. With the first month's salary they can recoup all tuition or we just pay them tuition back…"  Sebastian Thrun, CEO Udacity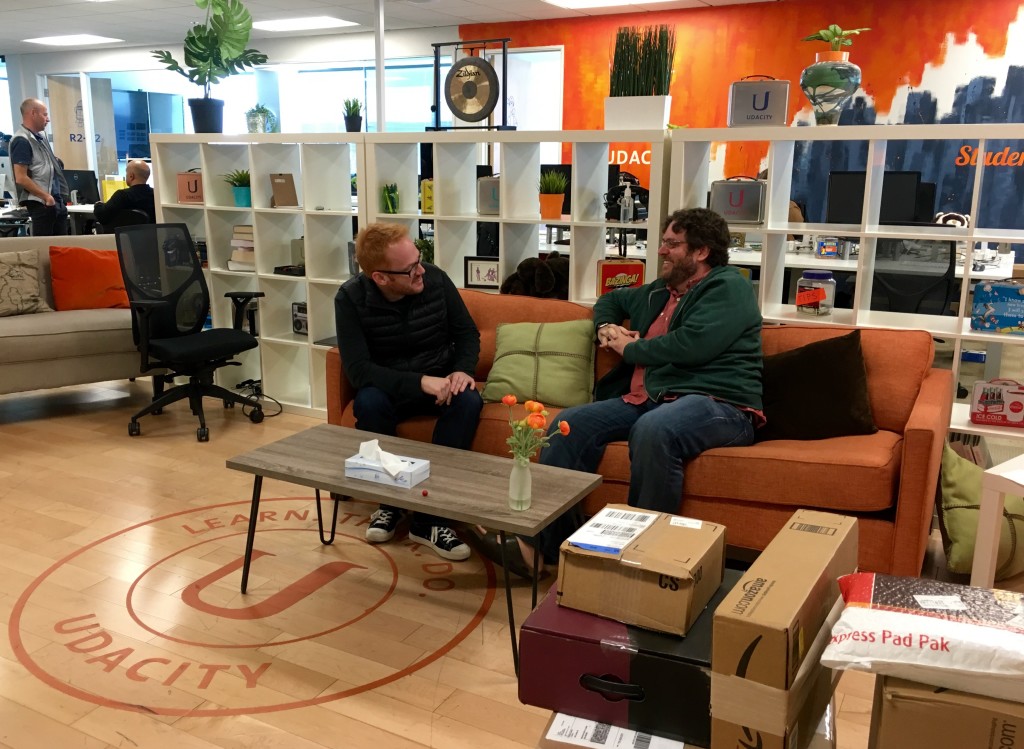 Here are more highlights from my conversation with Sebastian Thrun:
On Redefining Education
I think education has to shrink: We have to stop thinking of education as a four or six year investment you can only afford once in your life. We have think of education as a lifelong thing, to shrink the size of our degrees and make education a daily habit, the same way we brush our teeth every day. We have to redefine what education really means.
On Access to Education
Elite colleges like Stanford are extremely inaccessible. They're failing in their mission to provide access. The Udacity recipe is exactly the opposite – we want to reach everyone and have no admission hurdle. We want to be able to educate people. We do this today in Ghana, in Sub Saharan Africa, in Bangladesh, in China, around the world. If we do this, we can have a substantial impact on the world's GDP because so much talent is under utilized because of lack of education. If we give people in Syria the same chances as kids in America have, it's going to be spectacular.
On Persuading Skeptics 
The question is still open how much a nanodegree will become gold standard…this takes time. But some companies earmark jobs specifically for us, give us preferential treatment. Google even invites the top nanodegree finishers on campus in Mountain View to meet their recruiters, which they don't do with other universities….
And others are still skeptical. People are hired on conventional credentials and many of our students are career shifters. They don't have the 20 years of history that a seasoned person has.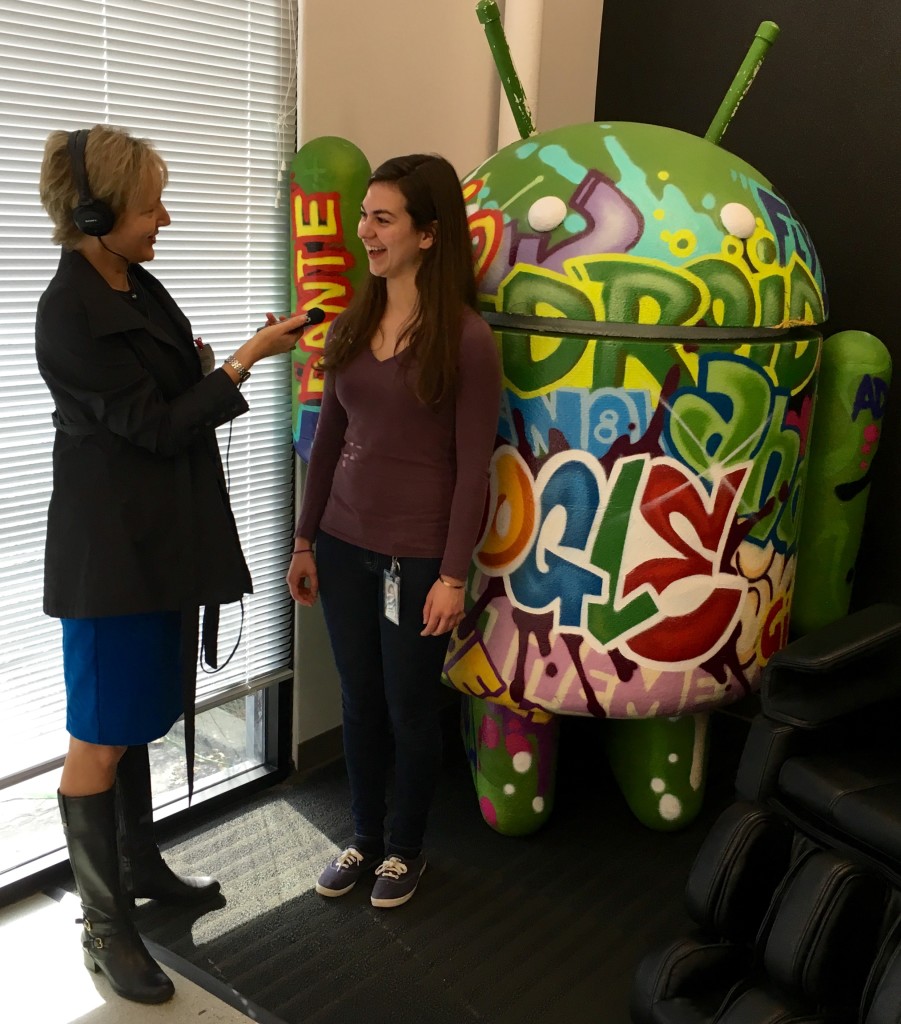 Last year, Marchisio got a promoted from customer service to "web solutions" engineering at Google after completing Udacity's nanodegree. She said of her 6-month intensive program: "It's industry relevant, fun…maybe I'm just a nerd but I really enjoy spending my weekends working through programming materials."
Marchisio adds, "I'd guess there are more women in a Udacity program than there would be in an academic course…an online environment feels more safe…less social pressure. You can try things on your own, make mistakes and not feel embarrassed about it."
On Udacity's China Expansion
China has 20 million college students. It's huge. It has a thriving new middle class and can't keep up with brick and mortar university buildup to meet the demands of these people.
I want to go there and tell them look: You can become a Silicon Valley trained Android iOS engineer, a data scientist, a cyber security engineer, even a self driving car engineer for almost no money in about half a year.
Note: Udacity currently has an office in China and plans to roll out its learning platform, by replicating Google tools and building its own server farm in the second quarter of 2016.
On his Moonshot, 50 Year Vision
Conventional degrees will be gone. We'll abandon the idea of education first, and then work.
I see people starting work straight out of high school and bringing experiences, deficiencies, desires back into education. We'll have a life where education and work is on all the time. The old fashioned – you get born, ed, work, retire and die is obsolete.  We have to do all these things at the same time, with the exception of death of course!
We have to learn to play, to get educated. We have think of life as a process, not as an accomplishment, but have a growth mindset for our lives. That will be the case because 50 years from now, things will be moving so insanely fast that to stay current, a college education will expire faster than its course.
***
In conclusion, it looks like Udacity has found a sustainable business model by focusing on the IT job market. The company currently has about 11,000 students enrolled in its nanodegree programs, each paying approximately $200/month, producing an estimated annual revenue of over $26 million. If Thrun can continue to drive rapid growth, compete effectively against the growing competition and replicate the company's current success as it expands in China, then perhaps that $1 billion valuation doesn't look quite so make-believe.
*Interesting to note that although Thrun offers online education as a way to "delay" the massive job losses that AI will eventually produce, Udacity's top listed nanodegree is…you guessed it: machine learning. Otherwise known as AI.