By Alison van Diggelen, host of Fresh Dialogues
Elon Musk handed over Tesla Model X keys to five lucky new owners in Fremont last Tuesday. Thanks to the super sleuth investigation work of Dana Hull and Evan Adams, we've identified the first six Model X SUV buyers:
#1 Elon Musk
#2 Steve Jurvetson
#3 Mark Templeton
#4 Sergey Brin
#5 Mark Tebbe
#6 Ira Ehrenpreis
Tesla Board member, Steve Jurvetson, pictured above with Elon Musk, is the owner of the first Model S. He told me this week that Elon beat him to #1 this time round, by producing a check for the Model X at an early Tesla Board meeting.
I interviewed some of the heady buyers – and would be buyers – at the launch event. Several had come as far afield as Michigan, Florida and San Diego. Here's my very small non-scientific study (I mean, how many people can you talk to when music like Lana Del Rey's  "Young and Beautiful" is blaring all night?) I have identified four types of Model X buyer: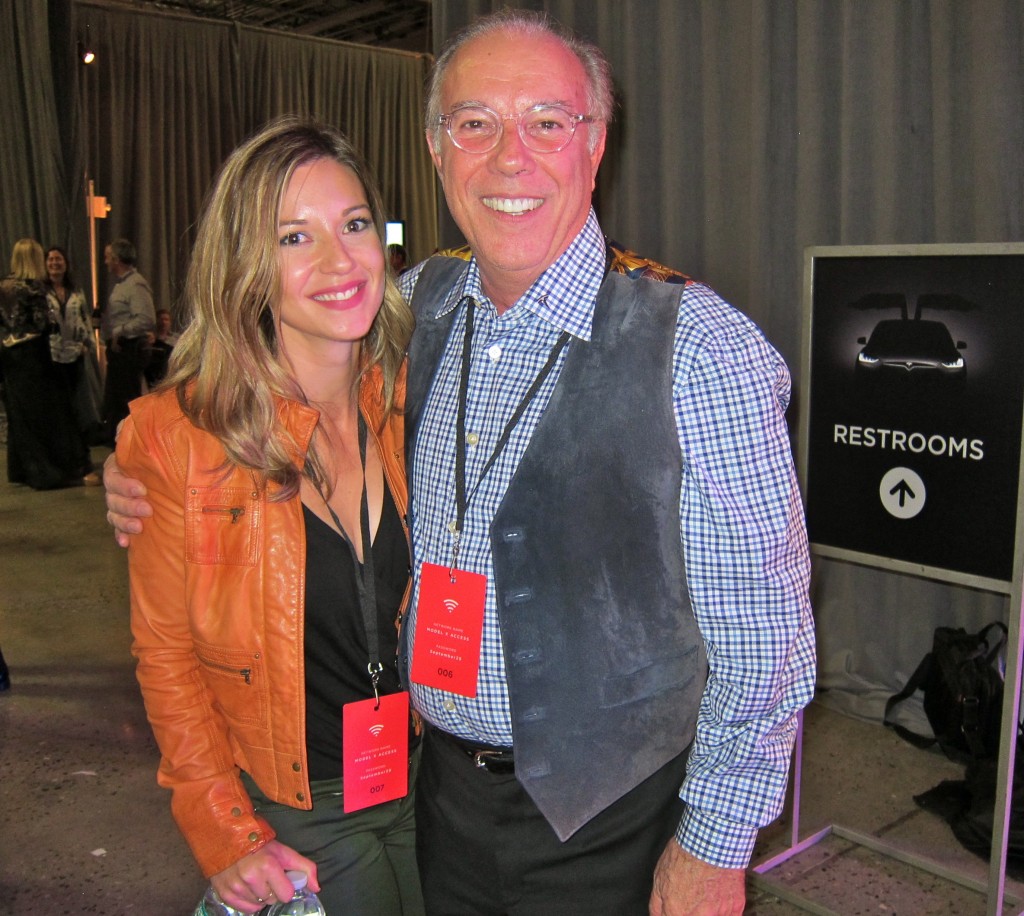 1. The Electric Vehicle enthusiast
Mark Templeton, CEO of Citrix was the delighted owner of Tesla Model X number 3 and is planning to ship his SUV back to Florida. Here's what he told me backstage:
"Once you go electric, you never want to go back!" Mark Templeton
2. The car collector
Several people I spoke with said they already own the Tesla Roadster and the Model S, so buying the Model X would be the finishing touch on their "Tesla Triple Crown."
3. The safety-first, anti-minivan family
Eric (who wouldn't share his last name) is an East Bay father of three. He told me that Tesla's safety record and the Model X's seven seats was a big attraction for him and his wife. How could you think of doing the school carpool and the soccer runs without one? He put a $5,000 deposit down in December 2014 and thinks he's about 15,000th on the waiting list. He's happy to wait, but he's not willing to pony up for the ludicrous mode and the hefty price premium it commands.
"I want the functionality of a minivan and the style of a high end car, but I will never ever buy a minivan." Eric (East Bay)

.

.(Tesla CTO JB Straubel and family get some stroller assistance from Elon Musk, Photo: Fresh Dialogues)
4. The Elon Musk fan club
These are the people who talk about Elon Musk in whispered tones, who can't mention his name without drawing comparisons to the genius of Thomas Edison or Steve Jobs. These are the people who'd buy a plant pot or garbage disposal from Elon Musk, if he was involved in its creation.
Of course, it goes without saying that having a high income (or net worth) is a prerequisite to buying the Tesla Model X. Perhaps even ludicrously high? Did anyone say 1%?
The SUVs starting price is about $80,000, though the ones that changed hands on Tuesday came fully loaded at $132,000 plus.
For those without that kind of pocket change, you'll have to hold your breath for the long awaited $35,000 Model 3. Musk says they'll be releasing details and taking orders March 2016. I wonder who'll be first in line this time?
Read more about Tesla and Elon Musk at Fresh Dialogues
Musk gives VW a lesson in Clean Air
Elon Musk's Life Story – in his own words and more EV reports