By Alison van Diggelen, host of Fresh Dialogues
Why are robots getting close and personal? Here's my BBC World Business Report about The Brave New World of autonomous cars and social robots. It aired on BBC World Service Monday April 13, 2015.
Two pioneers, Elon Musk of Tesla Motors and Cynthia Breazeal of Jibo Robot, explain why autonomous cars and robots are poised to invade your home and (potentially) make your life easier and safer.
Here's the program. Listen at 12:16 on the podcast.
WBR Host, Susannah Streeter: The era of robots is getting personal. They're slowly moving into our homes and our garages. What's the business case for robot cars that can chauffeur you autonomously and desktop robots that can be your personal assistant? Will they be job killers or job creators? Alison van Diggelen reports from Silicon Valley, California where two pioneers recently described a brave new world full of robots.
Jen-Hsun Huang (Nvidia CEO): Ladies and Gentlemen, Please welcome Tesla CEO, cofounder, Elon Musk [applause]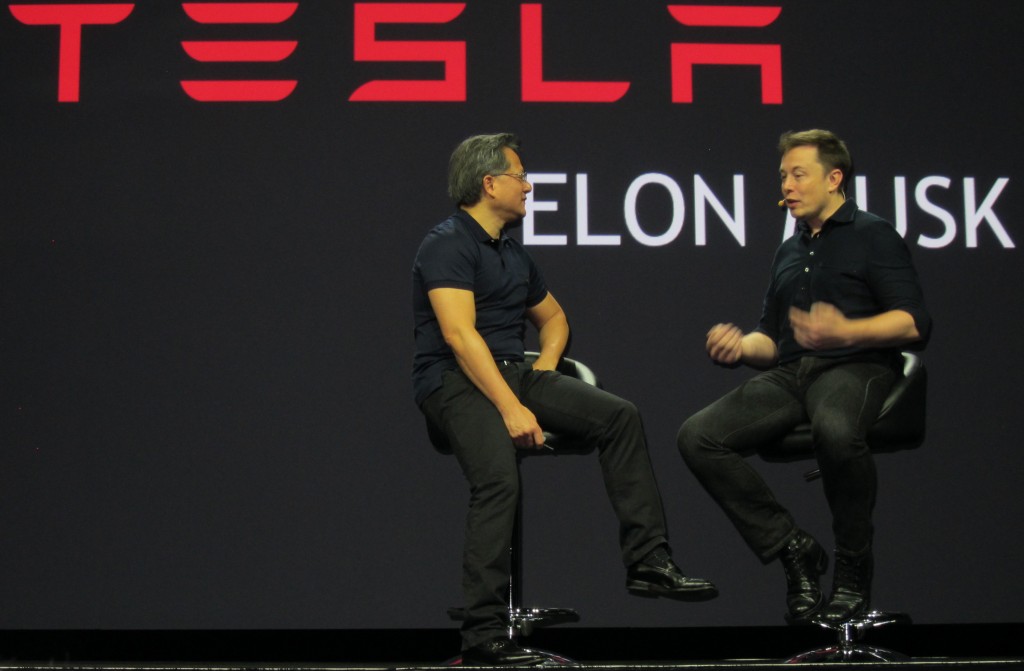 Elon Musk: In the distant future, people may outlaw driving cars. It's too dangerous. You can't have a person driving a two-ton death machine. [laughter]
That's Elon Musk, the CEO of electric vehicle maker, Tesla Motors speaking at a recent Silicon Valley tech conference. He helped revolutionize the world of electric vehicles by creating a sexy, high performance car that left the "golf cart" era in the dust. Now he's joined the charge in autonomous driving, led by Google, and claims that taking a self driving car will soon be as everyday as using an elevator.  But are you ready to step into a robot car?
Elon Musk: You'll be able to tell your car: Take me home, go here, go there, anything…in an order of magnitude safer than a person. It's going to be the default thing and could save a lot of lives.
Although you might grimace at the thought of relinquishing control, for Musk, Google and several major car manufacturers, the business case for autonomous cars is a no brainer – they say it could save $400 Billion a year in accident related expenses. Researchers at Columbia University found that a shared driverless fleet of cars could reduce personal travel costs by 80%.
But will robotic cars and other types of robots kill jobs?
Cynthia Breazeal argues they won't. She's a pioneer in social robots – ones that focus on human-robot interactions.  She invented Jibo, a singing, dancing tabletop robot that looks like a cross between the Pixar lamp and an iPad.
Jibo Announcer: Introducing Jibo, the world's first family robot. Say hi Jibo…
Jibo: Hi Jibo! [laughter]
Jibo Announcer: Jibo helps everyone out throughout their day [music]
Jibo is a personal assistant robot that can photograph, video, entertain and educate you and your family. It can remind you to call your mum on her birthday and even read your children bedtime stories.
Jibo: Let me in or else I'll huff and I'll puff and I'll blow your house in!!
Girl: [Giggling]
Jibo announcer: He's not just a connected device, he's one of the family.
Girl: Shhhhh. Good night Jibo! [Computer sounds]

.
Although some people might find Jibo a bit creepy, the company's crowd funding campaign showed its strong consumer appeal. Last year, it raised over $2M from Indiegogo in just 8 weeks. This year, it secured $25M in venture capital. Jibo goes on sale next year.
Breazeal acknowledges that robots were viewed as job killers, historically.
Breazeal: When robotics first came onto the market, it was a lot about replacing human labor. (So that's been the assumption) Social robotics as a whole research discipline has been about a very different paradigm. So Jibo is not being designed to replace anyone or anything. (Sometimes people talk about, 'it's going to replace my dog…' it's not about that.) Jibo creates a different kind of relationship…like with your doctor, your dog for example. It's about supporting the family, those who help care for the family, doctors and nurses…This high touch high tech technology is much better able to address those in need.
Her robot might one day be a job killer for healthcare workers and personal assistants. But for now, Breazeal is on a hiring spree, looking for engineers and she has MILLIONS to spend.
Ultimately, the brave new world of robots envisioned by these pioneers is as inevitable as the relentless advance of tech innovation.
Musk is only half joking when he says this:
Musk: I just hope there's something left for us humans to do…
***
The report was recorded at the Nvidia Conference, Silicon Valley on March 16, 2015.