By Alison van Diggelen, host of Fresh Dialogues
As news broke about Gov. Jerry Brown's mandatory water restrictions in California, I joined Roger Hearing on the BBC's Business Matters program to discuss the state's historic drought and the governor's slow response.
"We are standing on dry grass, and we should be standing on five feet of snow," Mr. Brown said. "We are in an historic drought… a new era…The idea of your nice little green lawn getting watered every day, those days are past."
Although the governor's mandate calls for a 25% water use reduction, it probably won't go into effect until June and will barely impact the farming community, which accounts for 80% of the state's water use (almond farmers alone use 10%). According to a report by Lisa Krieger, the CA Department of Water Resources confirms that agriculture water use has already been heavily restricted, however the new rules will not restrict groundwater pumping.
Experts at NPR's KQED say the most worrying part is that this crisis is a glimpse of the future: the low rainfall and high temperatures we've experienced in the last four years are now the "new normal," thanks to climate change.
Here's an extract of our discussion that starts at 29:00 in the BBC podcast:
Hearing: We know California is sunny…but it's rather too sunny and not quite rainy enough…and for the first time in the state's history you have mandatory water restrictions. How does it affect your life and what's going on there?
van Diggelen: Yes, this is big news here. Governor Brown went up into the Sierra this morning and he stood where normally there would be about five foot of snow and he was on grass. It was such a powerful image to relay to people the extent of the problem: 2013 was the driest on record in the state, 2014 was the warmest. It was like a one-two punch for the environment and finally he's getting round to doing something. A lot of people, myself included, are asking: Why didn't you start something a year ago? We saw this coming…(A recent San Jose Mercury News editorial describes Brown's action to date as "lame.")
Hearing: What's it actually look like? Do you notice the lakes ebbing away, the rivers drying up?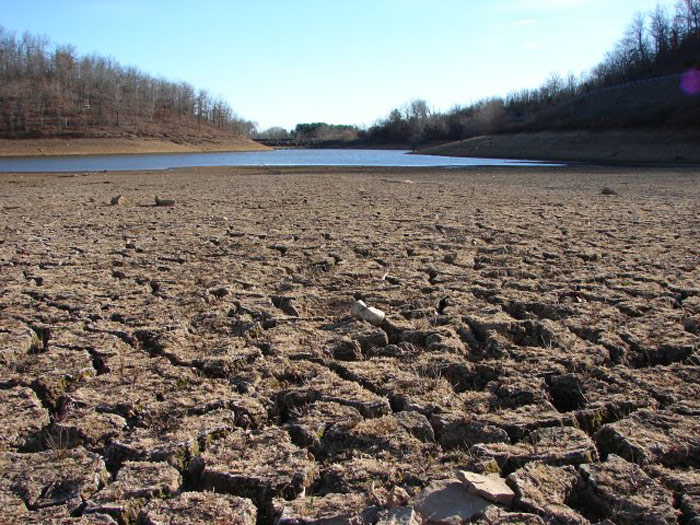 van Diggelen: There are a lot of reservoirs in the south San Francisco Bay area that are completely dry or close to being dry. A lot of locals are letting their grass go brown. There are a lot of visible ways of seeing this, however you're also seeing beautiful verdant grass on golf courses, so you could say there is a cover up going on. This is long overdue, there really needed to have been mandates before this, but at least there is something happening now. Gov. Brown is calling for reduction in water use of 25% for the next year.
Hearing: But he can't make rain. Is there any sign of it coming?
van Diggelen: Our rainy season is almost over. We're now in April and the majority of our rain falls between September and March, so it's not looking likely. We may get one or two light showers, but the experts are saying the window of opportunity for a big storm has passed.
Hearing: It's going to be a long hot summer.
***
Toward the end of the program (at 48:45 in the podcast), Don McLean fans will be interested to learn that we discussed the "American Pie" manuscript, which goes to auction on April 7th. I couldn't help remarking how relevant the classic contemporary song is to California today:
"I drove my Chevy to the levee, but the levee was dry."
Sadly, as climate change progresses, dry levees, lakes and rivers are going to be a widespread sight in California. Indeed, that and brown lawns are going to become "the new normal."
So bye-bye verdant green lawns…
It's been nice knowing you.