By Alison van Diggelen, host of Fresh Dialogues
A frisson of excitement swept through the crowd as
ABC's Cheryl Jennings
introduced Silicon Valley's most famous woman. It was definitely a "rock star" moment for many of the four thousand women attending San Francisco's Moscone Center May 23.
Jaws dropped, eyes shone, and the applause was deafening. Cheers and whoops rang out as
Sheryl Sandberg
strolled across the stage and did her thing. With a remarkable nonchalance, she managed to engage every person in the room by asking them
to do something
for her. "Put your hands up if you've ever said, I'm going to be CEO of this company."
.
.
"We're here to change that today," she said.
.
In her best selling book
"Lean In"
and in dozens of interviews, Sandberg has been coy about using certain terms. She calls her book "
a sort of
feminist manifesto" and in her
interview with Google's Eric Schmidt
, she talked about "unleashing a movement," but on Thursday, she was feeling the women power. Referring to the handful of men present, she said, "You'll get a pass when the inevitable
revolution
happens."
Here are highlights of her speech. Check back soon for video highlights with Sheryl Sandberg and Congresswoman Jackie Speier.
.
The Problem
"The rate of change for women in getting top jobs in corporate America has stalled out in the last 10 years. It's been flat at 14%. Women are held back by sexism, discrimination, bad corporate policy, bad public policy and a
leadership ambition gap
." Sheryl Sandberg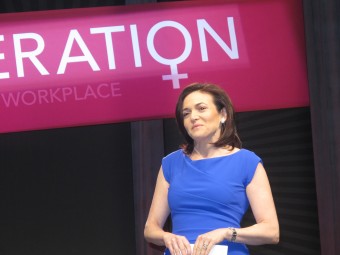 The Vision
"I believe that a world where more women were running organizations, where women ran half of companies and countries and men ran half of our homes, would be a better world." Sheryl Sandberg
On Warren Buffett
"Warren Buffett said he was successful because he was only competing with half the population." Sheryl Sandberg
The Economic Argument
"The laws of economics tell us that if more people compete, if you are sourcing talent from the full population you will get better outcomes." Sheryl Sandberg
The Growth Opportunity
"In every industry, sector, government, we're picking from roughly half the pople. If we source from the whole population our performance as companies, as countries will improve. This is not just about equality…this is about creating growth and opportunity." Sheryl Sandberg
The Solution
"In order to change…it's going to change person by person, woman by woman."
Find out more
about the Lean In movement and Lean In circles for inspiring women.