By Alison van Diggelen, host of Fresh Dialogues
It's well known that green roofs are good for the environment, but did you know they can have major impact on your productivity and energy costs? Paul Kephart has been building green (or living) roofs for over twenty years, from Post Ranch Inn in Big Sur to the California Academy of Sciences in San Francisco. We met at one of his Silicon Valley projects, the Stanford Medical Center, and he explained how green roofs not only save in heating/cooling costs, but can increase worker productivity and even speed up patient recovery rates. He predicts that green roofs will go mainstream in the near future, especially in California where companies like Facebook are embracing the concept. Check out Facebook's new Frank Gehry campus design featuring a rooftop park. Here are some of the highlights of our conversation:
What is a green (or living) roof?
"A layer of soil and plant material that typically covers the top of a structure…We find these on residential, civic and commercial buildings throughout North America."
Kephart recently worked on the Transbay Center in San Franciso which will feature a 5 acre rooftop park.
What are the key advantages of green roofs?
"They cool the city by decreasing the ambient temperature around the building by as much as 60 degrees in the summer months; they also help us save on our energy costs by thermally regulating the building envelope and increasing energy efficiency and reducing the cool load by up to 20 degrees in the conditioned space…they provide habitat for migratory birds and insects: butterflies, humming birds…"
"We know in a hospital setting..when patients have access to green, they heal 35% faster. That's one of the reasons why Lucille Packard Hospital incorporated this greening as part of the structure."
How do they help during a storm like Hurricane Sandy?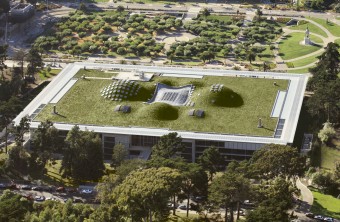 "One of their main benefits is storm water management. It's like a big sponge. When it rains, all that water is absorbed in that column of soil and it mitigates for these flash flood events…They become more resilient to these catastrophic events or more resilient long term to changes in climate or spikes in energy demand."
What about return on investment, ROI?
Kephart cites the Vancouver Convention Center project which achieved a ROI of four years. Part of that rapid return included the reuse of grey water in the building.
What's driving the use of green roofs in the private sector for companies like Facebook?
"What we're trying to do is protect the structure, the building envelope, regulate its thermal performance which means a great life cycle analysis for those that are interested in that bottom line. That's one of the key components, one of the primary drivers of this greening movement in North America and beyond It's why this industry has grown 80% over the last five years. We're seeing a return on investment. This landscape is a non-mowed California grassland..it takes very little input and water to provide a beautiful green space, fresh air, habitat. "
"When people have access to a park or greenery or look out  of their corporate offices on this kind of setting, that they're more productive and have less absenteeism. That's why you see corporate America, like Facebook saying let's build this beautiful  park on top of our structure. Corporate America begins to adopt a greening and sustainable standard as part of its architecture, it's a great statement…and demonstrates that it's possible…California is going to adopt these green measures and it's going to take off."
What's in the future for green roofs?
"With political will and public education and this emphasis on financial return on energy savings, we can turn this around and green our cities."
This Fresh Dialogues interview was recorded at Stanford Medical Center in Palo Alto, December 20, 2012.
 Camera work and stills courtesy of Lina Broydo.