By Alison van Diggelen, host of Fresh Dialogues
This month, I moderated a panel of green jobs experts for the Commonwealth Club Silicon Valley. Experts included: Parag Chokshi, Clean Energy Public Affairs Manager, Google; Josh Green, General Partner, Mohr Davidow Ventures; Linda Keala, Vice President Human Resources, SolarCity and Nanci Klein, Deputy Director, Office of Economic Development, City of San Jose.
You can listen to the conversation here. The event will soon be televised: Contact us or check back soon for details.
The panel shared insights about the green economy, as well as tips for finding and securing green investments and green jobs. Here are highlights of our conversation (edited for space and clarity).
What are hot sectors in the green economy?
Josh Green, Mohr Davidow Ventures: "In the current environment, we're looking for less capital intensive deals (energy efficiency, LED lighting and building management systems), so that means we're on the side of energy demand much more than energy production. People call this cleantech IT – Information Technology. I'm an investor in Xicato, an LED module company. The LED convergence will happen…the payback is less than two years and (it's) equivalent to halogen light. You don't have to replace them for ten years or more and especially in a commercial settings, you end up lowering your maintenance costs."
On cleantech growth sectors in Silicon Valley
Nanci Klein, Office of Economic Development, City of San Jose: "People say manufacturing has left the US…but manufacturing is very exciting here. When you talk about innovation and commercialization, Silicon Valley is a hub around new product introduction. Contract manufacturers will take a low volume, high mix of products. …the ten largest in the world – Tier One contract manufacturers – are all here in Silicon Valley, six of them in San Jose. They're like a secret weapon resource. We try to link baby investors to these companies. You take someone with a hot idea and you put them with all of the accelerated services…if the product is good you can have a rocket in terms of acceleration."
Nanci said the following Silicon Valley cleantech companies are currently hiring: Flextronics, SunPower, Solar Junction, Nanosolar, Lunera, Enlighted, Philips Lumilix, Coulomb/ChargePoint, Echelon, Cypress Envirosytems.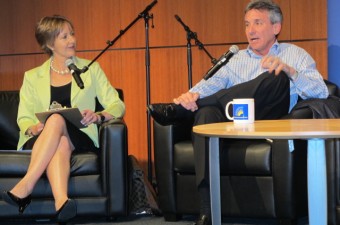 On Solyndra
Josh Green, Mohr Davidow Ventures: "The loan guarantee program is operating well within the loan loss reserves. Certain loans are going to fail…The Solyndra mess became a big political football…the good news is that we've passed the half life…Congress officially stopped all its hearings. There will be continued efforts to end the loan guarantee program…but Solyndra itself: it's over in terms of an issue.  As investors, it never was an issue, it was a company that was not successful…I've got a portfolio with lots of companies that are not successful.  Out of 100 investments, if you have 10 that meet your investment objectives (10x your money or better) then you're 'wildly' successful, that makes you a top venture capitalists. That means you have a 90% – under your expectations success – rate."
Tips on getting a green job
Linda Keala, Director of HR, SolarCity: 
1. "A background in cleantech is not a prerequisite."
2. "Differentiate yourself – what about the job (post) got you inspired? What resonated about the company?"
3. "I love getting handwritten letters. A personalized message tells me this is who I am, this is what I can bring to the company. Sometimes I get them in little pink envelopes…"
4. "Touch a spot in our hearts and we'll take a close look at that resume."
Josh Green, Mohr Davidow Ventures: "Have passion to change the world."
How to get a job in Google's Green Team (there are currently seven openings in the sustainability/green team areas)
Parag Chokshi, Clean Energy Public Affairs Manager at Google: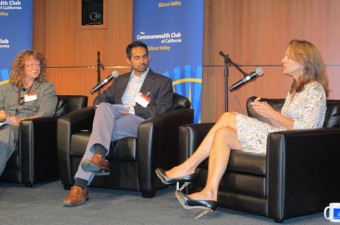 Here are the qualities Google looks for:
1. "Be a self starter, work independently and drive forward a project."
2. "Think about creative solutions. We value innovation and creativity."
3. "Show passion and new ways of thinking about things…that is very valuable."
How is the City of San Jose helping entrepreneurs in Silicon Valley and beyond?
Nanci Klein, Office of Economic Development, City of San Jose: Here are some of the resources available – The Entrepreneur Center in downtown San Jose; Business Owner Space; Opportunity Fund. Check out SJEconomy.com. She also recommends the Cleantech Open competition and SolarTech an association for those in solar and financing sectors. The City of San Jose is working in partnership with Lawrence Berkeley Lab and others to create Prospect Silicon Valley, a demonstration and commrecialization center for cleantech startups.
On storage and battery technology
Josh Green, Mohr Davidow Ventures: "Storage is the most important development that could happen for our grid at the utility scale storage level as well as the emerging EV market to encourage the widespread adoption of EVs. ON the grid side, there is NO storage…the second you produce an electron it has to be consumed…this results in the creation of "Peaker Plants" used for 5-15 hours a year (especially in August). Storage has the greatest potential to unlock value.
In the transportation sector, lithium ion batteries are the lightest batteries and they still weigh about 1400 lbs in the new Tesla Model S. To the extent that you can get these to be a smaller battery pack you can unlock incredible advantages.
For the next 10 years, lithuim ion technologies are going to be where batteires and storage are focused. There are about 50-60 venture backed companies in the Bay Area, working on advanced battery technology. Mohr Davidow has invested in extracting lithium from geothermal brine at goethermal plants in Southern California. Its the lowest cost producer in the world with the best environmental footprint. We believe that lithium will help fuel the storage revolution."