By Alison van Diggelen, host of Fresh Dialogues (see November 8 update below)
Today Bill Weihl, Google's Green Czar confirmed that he's leaving the company as of November 8th. What does this mean for the future of Green at Google? And the future of green innovation in Silicon Valley and beyond? Weihl has been the leader of Google's Clean Energy Team, spearheaded many innovative initiatives; and over $800 Million in green investment since 2006.
Google has taken a unique role in green policy advocacy as well as cutting edge clean energy investment. In July, Fresh Dialogues covered Google's Green Dream, an audacious report outlining how the right green investment and policy could positively impact the economy and the planet. Without Weihl at the helm, Green at Google may lose some impetus. A new Green Czar has not yet been announced.
So what's next on this Hero of the Environment's agenda?  Has he been tipped as President Obama's Green Czar? Certainly Tom Friedman has turned down that job (saying he gets enough aggravation playing golf). Is Weihl heading to Europe where the debate about climate change is (thankfully) over. Or perhaps China has promised him a fortune to lead the ambitious green agenda for its new five year plan?
For now, he's being tight lipped.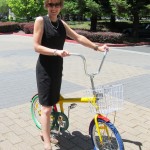 He simply told me, "It's time to move on and find something new."
Plus he's standing by his statement made in September at the GoingGreen Conference that, despite the naysayers, "The Solyndra debacle will not impact smart venture capital investment." Emphasis on the "smart."
Stay tuned.
Fresh Dialogues will update you as soon as Mr. Weihl shares plans for his replacement and his next exciting chapter. Bets are on that he will stay in the green arena.
UPDATE  November 8, 2011 1pm PST
Will a new Green Czar be appointed soon? Google's Parag Chokshi confirmed today in an email response, "Bill (Weihl) played a unique and important role bridging several different internal teams. But we have a strong team in place. Urs Hoelzle will continue to lead our data center efficiency and renewable power purchase efforts, and Rick Needham leads on sustainability and renewable energy investments."
We assume that means "no."
Parag Chokshi, Clean Energy Public Affairs Manager, also confirmed that it was Rick Needham and his team who spearheaded the $800M in green investments (another $45 M was made by Google.org).
Chokshi said that Weihl would be having a good send-off today. Just what that means in terms of low carbon celebrations and green-themed surprises is yet to be revealed. Watch this space.
Read transcripts, see photos and check out our ARCHIVES featuring exclusive interviews with Tom Friedman, Paul Krugman, Vinod Khosla and many more green experts and visionaries…
and join the conversation at our Facebook Page
Check out exclusive VIDEOS AT THE Fresh Dialogues YouTube Channel