By Alison van Diggelen, host of Fresh Dialogues
Today, we're presenting the third in our new Lesson Plan Series based on Fresh Dialogues interviews. The series is compiled by Lisa Lubliner, our new Fresh Dialogues Education Expert.
Fresh Dialogues Lesson plan – battery technology electric cars
In 2010, Fresh Dialogues produced a video featuring Mark Platshon, a venture capitalist at Vantage Point Capital Partners, one of the leading investors in battery and energy storage innovation. Mark gave a good overview of energy storage, its limits and potential; and explained what venture capitalists are looking for in new storage technologies. Let's call the VIDEO Batteries 101.
Here are some extracts:
What is a battery?
"Throw a dart at (two elements on) the periodic table and you can make a battery out of it…a potato and a penny can make a battery…unfortunately we have a very limited periodic table…(and remember)  Moore's Law doesn't apply to chemistry!" VC, Mark Platshon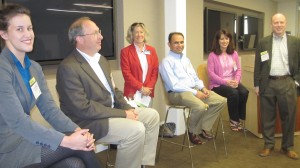 To find out more about batteries and explore a step by step lesson plan about batteries – check out the lesson plan link below:
Why are batteries important to us?
How do batteries work?
How are lithium ion batteries superior to alkaline ones?
How can battery efficiency be improved?
How does battery innovation impact electric cars and the transport sector?
Click this link for the answers:  Fresh Dialogues Lesson plan – battery technology electric cars
MORE RESOURCES
At NY Times – Building a Better Car Battery
And NPR – Leading the Charge to make Better Electric Cars
If you're an educator and have more resources to share on this topic, we'd love to hear from you. Please LET US KNOW –
Lesson plan credit:  thanks to GM.com/education
The video was recorded at SDForum'sCleantech Breakfast held at SAP headquarters in Palo Alto on June 29, 2010. The event was moderated by Jeffrey Selman of Nixon Peabody and also featured (former VentureBeat's and now) Tesla's Camille Ricketts, Dania Ghantous of Qnovo Corp. and Ashok Lahiri of Enovix.
For more videos and interviews with Green Visionary and NYT columnist, Tom Friedman; Nobel Prize winning economist, Paul Krugman; Oceanographer and Titanic discoverer, Robert Ballard et al…check out Fresh Dialogues archives
For exclusive video interviews, check out the Fresh Dialogues YouTube Channel
For more Lesson Plans check out our Education Tab above (under All Categories)