By Alison van Diggelen, host of Fresh Dialogues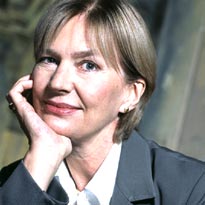 "This is our generation's Sputnik Moment," said President Obama in his State of the Union Speech last night. He's referring of course to the space race with the Soviet Union, which spurred massive investment in research and development… and massive job creation.  Today, he challenges the nation to invest massively in the future again, especially clean energy and green tech. It's the only way we can catch up with (or surpass) China  in the clean energy race.
Is China the invincible leader of clean energy and clean tech? It certainly looks that way. In a Fresh Dialogues interview, New York Times columnist, Tom Friedman explained his China envy… and emphasized that government has a huge role in jumpstarting the green economy. Would he like to be Obama's Green Czar? Not a chance. He explains why in the video below.
What can we learn from China's remarkable lead in clean energy?  I talked with China expert, Isabel Hilton, founder and editor of China Dialogue who has earned a OBE for her groundbreaking work in this field. Her team's mission: to give the reader an inside look at China's environmental policy and encourage dialogue between China and the rest of the world. (Check out the site…it's in Chinese and English)
"If you think you can ignore China, you don't know what's coming down the road," warns Hilton. She describes the strategic economic shift in China over the last four years, from dirty unsustainable development to a new cleaner, greener outlook. In 2011, a new five year plan will be released to position China for the future. Hilton is impressed by the focus and conviction of China's new policies which invest heavily in research and development; and support for new cleantech industries; strategies Obama says are necessary here in the US.
Hilton cautions that public opinion is a stumbling block to progress in the West and that the "Merchants of Doubt" community is undermining policy change by generating and sustaining doubt on established scientific issues. She challenges Obama to act decisively. So far, she says, "Obama has failed to live up to his convictions." Time will tell if Obama's forceful State of the Union speech last night – with its "The Future is ours to win" optimism –  and the bipartisan mood of Congress will create real change.
.