By Alison van Diggelen, host of Fresh Dialogues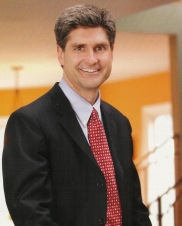 You've no doubt heard about the November ballot measure (Proposition 23) which aims to to scupper California's landmark climate change legislation, AB 32. In this Fresh Dialogues interview, Carl Guardino, CEO of the Silicon Valley Leadership Group, didn't pull any punches in his response to those behind the plan.
"We're not going to sit idly by and watch you dismantle our environmental achievements… which are also economic ones," says Carl Guardino.
The Silicon Valley Leadership Group, which represents over 300 major companies in the valley, including Google, Hewlett Packard and IBM (approximately one in three private sector jobs) provides a proactive voice for Silicon Valley businesses on public policy issues, locally and in Sacramento and Washington D.C.
.
Here's a recap of the issue:
AB 32 is the Golden State's attempt to cap carbon emissions to 1990 levels by introducing a version of a cap-and-trade carbon tax which would hit power plants, refineries and cement manufacturers hard.
What is Proposition 23?
Supporters call it "The California Jobs Initiative," and point to the high cost and potential job losses of implementing AB 32; but Proposition 23's main impact would be to suspend (and effectively repeal) the provisions of AB 32. In turn, AB 32 supporters have launched a Stop Dirty Energy Prop Campaign to thwart the proposition. As of today, Proposition 23 is way ahead in the social media popularity index with over 4,500 Facebook "likes" for Prop 23 compared to just under 3,000 for its opponents.
And here's how Guardino describes it:
"A veiled attempt to dismantle California's environmental achievements."
.
Who is behind it?
Two Texas-based oil companies, Valero Energy Corporation and Tesoro Corporation, provided the initial funding to launch the campaign. Valero donated over $4 Million to the cause.
Guardino's argument
"This is an economic engine not a caboose and we're not going to let folks ruin the engine that continues to fuel the renewable energy, clean green economy. It's not only good for our environment – and it's critical – it's also good for our economy and jobs; and we've proved that through innovation of products, processes and what we do with our people every day in Silicon Valley."
"What's wonderful about Silicon Valley is that it's never been an 'either or'  –  it's never been about the environment or the economy," says Carl Guardino. "We can have our cake and eat it too."
.

.
Download or listen to this lively Fresh Dialogues interview

We welcome feedback at FreshDialogues.com, click on the Contact Tab
The interview was recorded at the CreaTV studios in San Jose on April 29th 2010. At that time, Proposition 23 was not yet on the ballot, but Guardino correctly predicted it would receive sufficient support to qualify.
For other Fresh Dialogues interviews re. AB 32:
Former Secretary of State, George Shultz: "it would be "an unmitigated disaster" if the measure to suspend AB 32 passes in the November election." click here
Akeena Solar's Barry Cinnamon click here
For more interviews with Friedman, Krugman, Ballard et al…check out Fresh Dialogues archives
For more exclusive video interviews, check out the Fresh Dialogues YouTube Channel