By Alison van Diggelen, host of Fresh Dialogues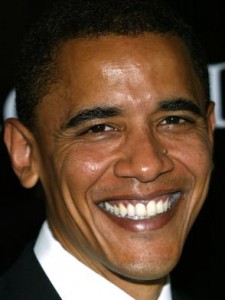 Last night, President Obama addressed the nation for the first time from the Oval office. His subject: the BP oil spill disaster. Although some say he was "vapid", Obama seized the opportunity to call for a clean energy future and end our addiction to fossil fuels. He underlined China's massive investment in clean energy jobs and industries (subtext: just like the Space Race in the 50's & 60's, the race for Clean Energy has begun, and the U.S. is falling behind); and reminded us that we send almost ONE BILLION DOLLARS EACH DAY to foreign countries for their oil.
"The tragedy unfolding on our coast is the most painful and powerful reminder yet that the time to embrace a clean energy future is now.  Now is the moment for this generation to embark on a national mission to unleash America's innovation and seize control of our own destiny." President Obama.
.
In this week's Fresh Dialogues, we look at the advice gleaned recently from a panel of clean tech experts in Silicon Valley. If the Obama administration is serious about unleashing America's innovation and creating a clean energy future, it would do well to take note.
From the Fresh Dialogues archives: The Obama administration ought to have sent an envoy to the FountainBlue State of Clean Green Conference this year. A panel of Silicon Valley clean tech experts had much to share on this question: how can Obama better jumpstart the clean tech economy?
Tim Woodward, Managing Director, Nth Power said the government needs to create market demand, and recommends that every government building should have solar power and be retrofitted for energy efficiency; but he warned,
"There's a little too much of a 'large check mandate' in the Federal Government that picks technologies and stifles innovation at lower levels: figure out how to get
smaller dollars

into the innovation engine of smaller companies."

.

.

Download or listen to this lively Fresh Dialogues interview

We welcome feedback at FreshDialogues.com, click on the Contact Tab

Laurie Yoler, Managing Director, GrowthPoint Technology Partners said,
"I look at the pricing and incentivizing through market pricing. We're
still subsidizing imported oil without putting the investment into alternative energies

…I think we should

put a tax on imported oil

and use it to help pay off some of the defense spending we're using to protect the transmission of that oil. We need to forge ahead with cap and trade legislation… until we have a price on carbon it's hard for the markets to plan and have any certainty."

.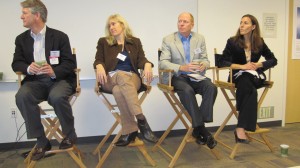 Elise Zoli, Partner and Chair, Energy Practice, Goodwin Procter said that the Department of Energy needs to improve the low commercialization rate of national labs and is excited about a new national initiative to create virtual access to all the labs' technology… "so you can  see the technology, acquire it and begin to commercialize it."

"The DoE has a fantastic lab structure, producing some really innovative technologies… (we need to ) leave them there and help them – through public/private partnerships – and take that technology out of the labs…"
But
"There are things they (the DoE) do terribly and being a bank is one of them."
.
And Elise has one last piece of advice if you have a green energy technology you think the Feds can use, contact Richard Kidd at the Federal Energy Management Program: "Richard Kidd will not know you exist unless you call him…send an email to Richard's team and use my name!"
Note: Richard's email is richard.kidd@ee.doe.gov, 202-586-5772  – tell him Elise sent you…And check out the Program's website contact page for more info.
Other panelists included Dan Adler, President, California Clean Energy Fund, and Matt Maloney, Head of Relationship Management, Silicon Valley Bank. The interview was recorded at Fountain Blue's Conference on January 29, 2010.
Related Fresh Dialogues interviews
with Emmett Carson, CEO of the $1.7 Billion Silicon Valley Community Foundation on "How to Create a Green Jobs Mecca"
with Laurie Yoler on Tesla and the State of the Union Address
with Elise Zoli, In Defense of Nuclear
For more Fresh Dialogues archives