By Alison van Diggelen, host of Fresh Dialogues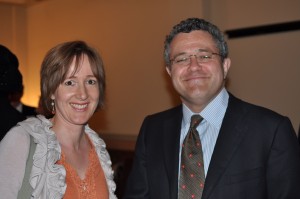 Fresh Dialogues (TM) is an interview series with a green focus: Fresh Questions, Fresh Answers. This video interview took place at  Foothill College Celebrity Forum on April 1, 2010, just one week before Justice Stevens announced his retirement. Check out the new Fresh Dialogues YouTube Channel more exclusive interviews.
Download or listen to this lively Fresh Dialogues interview
We welcome feedback at FreshDialogues.com, click on the Contact Tab
ALISON VAN DIGGELEN: Hello and welcome. Today on Fresh Dialogues: Jeffrey Toobin.
Jeffrey – thank you so much for joining me on Fresh Dialogues. Let's go on to your specialty: The Supreme Court. In 2009, they decided against environmentalists in a lot of cases…
JEFFREY TOOBIN: Six out of six.
ALISON VAN DIGGELEN: Yes. What are your thoughts on that, moving forward? Is this going to continue…this anti-environmental stance of the Supreme Court?
JEFFREY TOOBIN: I think that the court as currently constituted will likely continue in that direction. I don't think it's a particular hostility to the environment per se. I think it is a general sympathy for corporate defendants in all cases, environmental cases being one category of cases where the corporations are the defendants.  They are also generally – the conservative majority –  fairly hostile to government regulatory efforts…and the environment is one area, not the only area. So if the court stays as it currently is, I think you'll see a lot more cases like that.
ALISON VAN DIGGELEN: So would you say, it's moving more pro-business?
JEFFREY TOOBIN: Clearly
ALISON VAN DIGGELEN: And the environment losing out as a result?
JEFFREY TOOBIN: That's certainly how the environmentalists see it.
ALISON VAN DIGGELEN: And how do you see it?
JEFFREY TOOBIN: Again, not a field of great expertise of mine, but I see who wins the cases and who loses them. And it's the polluters who keep winning.
ALISON VAN DIGGELEN: And what about the future? Justice Stevens is due to retire shortly…
JEFFREY TOOBIN: He hasn't said so officially but I think he will retire this Spring.
ALISON VAN DIGGELEN: So how is that going to change things? What are your predictions?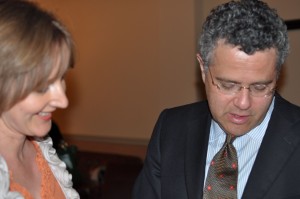 JEFFREY TOOBIN: I think he is a key member of the liberal four on the court, he will likely be replaced by another liberal. So in terms of the outcome of  cases in the next few years, probably not a huge impact, but I often like to quote Byron White the late Justice, who said if you change one Justice, you don't just change one Justice, you change the whole court. If you start to have an energized liberal group of young  – by Supreme Court standards -Justices like Sonia Sotomayor, like the next Obama appointee, the wind could start to be at their back. And if Obama gets re-elected, you could see more appointments…so it's a big deal.
ALISON VAN DIGGELEN: And who is your No. 1 candidate for that appointment?
JEFFREY TOOBIN: Elena Kagan, the Solicitor General, former Dean of Harvard Law School. Very much an Obama type person – moderate Democrat, a consensus builder…
ALISON VAN DIGGELEN: Do you know if she's an environmentalist?
JEFFREY TOOBIN: I don't… I just don't know. My sense is, it's just not an issue that has come across her plate a lot…she is someone who has written on administration law, which tends to mean she's a believer in the power of the Federal Government to regulate. But I wouldn't…
A – I don't know what she thinks…and B – I don't…
A is enough. I don't know what she thinks about these issues…(laughter)
ALISON VAN DIGGELEN:  (laughter) OK. Jeffrey Toobin I really appreciate your taking the time for Fresh Dialogues.
JEFFREY TOOBIN: My pleasure. Nice to see you.
For more Fresh Dialogues Video interviews click here