By Alison van Diggelen, host of Fresh Dialogues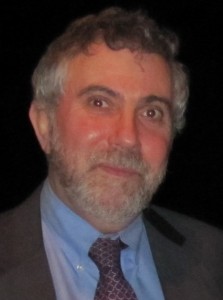 Download or listen to this lively Fresh Dialogues interview

We welcome feedback at FreshDialogues.com, click on the Contact Tab
Here's the transcript.  SEE VIDEO of Part One (Part Two coming soon)
In advance of Obama's trip to China this week, Nobel Prize winner, Paul Krugman gave a short, sharp economics lesson on climate change and China during our exclusive interview in Silicon Valley, November 12. What does he think the US and Chinese governments should be doing to combat climate change and stimulate the green sector?
Why is he not concerned about China's lead in clean energy technology?
Krugman explains why negotiating with China over CO2 emissions would be preferable to trying to enforce a carbon tax. Hear all this and more in this Fresh Dialogues interview.
Here are selected quotes:
"Climate change is the mother of all externalities…left without any government intervention, we're going to basically par-boil the planet."
"You don't want to get hung up on the specific sexy technologies (like wind turbines)…look at the history of information technology…nobody gets a monopoly for very long."
"If we say to the Chinese, we want you to have a carbon tax – how can we really tell it's enforced? But if we negotiate with the Chinese that they will have total CO2 emissions of so much, we can monitor that pretty well."
For Part One of the Paul Krugman interview – on Obama's Job Summit click here
The interview was recorded at Foothill College Celebrity Forum Series on November 12, 2009. With special thanks to Dick Henning.