By Alison van Diggelen, host of Fresh Dialogues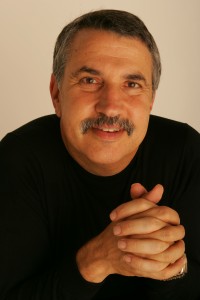 Download or listen to this lively Fresh Dialogues interview
We welcome feedback at FreshDialogues.com, click on the Contact Tab
I sat down with Pulitzer prize winning Tom Friedman to discuss his book and the upcoming Climate Summit in Copenhagen. In this part of the interview, we discuss what we can learn from Denmark – dubbed the greenest country in the world; the role of Silicon Valley in energy technology innovation; and where he thinks the next Green Google will grow. Tom says emulation is more effective than compulsion in solving the climate crisis, so I asked him:
Do you think the Copenhagen Summit is a waste of time?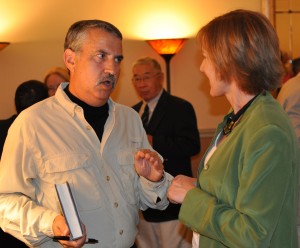 "Sometimes global summits can really drive decisions… and frame the agenda on a global scale…it's just that, it's not where I would be betting all my chips. I believe this is a problem that will be solved by innovators and not by regulators…engineers and not by lawyers."
What can we learn from Denmark, a country dubbed the "greenest in the world"? 
"They have real focus on making themselves as independent of foreign oil as possible… They also really took energy efficiency and innovation seriously; they put in the right taxes, regulations and incentives to stimulate a clean energy industry…Today the two biggest cellulosic ethanol companies in the world are Danisco and Novozymes… the largest wind turbine company in the world is Vestas."
Will Silicon Valley be home to the energy technology revolution?
"It could happen here; it could happen in any of 10,000 green garages across the country. Energy technology is exploding everywhere… Minnesota has an enormously innovative ecosystem…Route 128 outside Boston…the Dallas area…you have a lot of little hotbeds of innovation around the country…that is one of our great strengths…(but) there's no question that Silicon Valley is our premiere center of innovation."
Will Bloom Energy be the next Green Google?
"I don't know where they are in their technology development …how close they are to having a scale product for the market – both for industry and the home – but what they're working on is very exciting. I've been following them from the very beginning…and so I think there's great potential there."
The interview was recorded on September 10, 2009 in Silicon Valley
To listen to Part One of the interview with Tom Friedman on his China Envy, click here 
And for Part Two on Van Jones resignation and what motivates Tom to drive the green agenda, click here
To read transcripts of Fresh Dialogues with Tom Friedman, click here