By Alison van Diggelen, host of Fresh Dialogues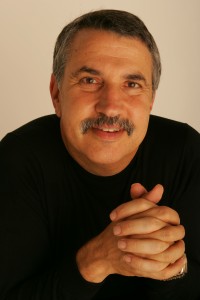 Download or listen to this lively Fresh Dialogues interview
We welcome feedback at FreshDialogues.com, click on the Contact Tab
I caught up with Pulitzer Prize winner, Tom Friedman, at the Foothill College Celebrity Forum lecture series last month, where he delivered a spirited argument for why the United States must embrace a green economy. In this second part of our interview, we explore his part in driving the green agenda. This January, he took part in a congressional hearing on green tech and economic recovery, sponsored by US Senator, Barbara Boxer. We discuss his role in that; how he deals with critics; and why he enjoys daiquiris with New York Times colleague, Maureen Dowd.
Click here for part one of the interview about his book, Hot Flat, and Crowded.
On Friedman's role in driving the green agenda
I use my platform as a journalist to drive this agenda that I see as important… I see a lot of things that are very exciting happening – exploding really – on a kind of small scale, but they haven't yet reached critical mass and when you're talking about changing the climate, you are talking about critical mass. It hasn't yet been translated into policy at scale.

On his action at the Congressional level in January
It was an informal hearing, sponsored by Barbara Boxer, on climate and energy. John (Doerr) and I were the two main expert witnesses…No one intervention like that is going to be decisive, it takes many more…most of all from the President.
On dealing with critics
I think there's a big audience for what I say and I don't really pay attention to the critics. I keep on marching on. I hear it and it's fine. And it's a free country. You can say whatever you want.  But I've got my own bully pulpit and I use it. I don't use it to shout back at critics; I use it to get my message out.  I'm looking forward. You know, the dogs bark and the caravan moves on. I'm in the caravan.
My feeling is, I'm out there. And therefore, if you can't take the heat, don't be out there… Why would I waste a column writing about one of my critics? So what I always say to the critics is: 'you may be writing about me, I really appreciate that, but don't think for a second that I'd waste a column writing about you.'
What drives Tom Friedman?
I'm having fun. I have the best job in the world. I get to be a tourist with an attitude…go wherever I want, write whatever I want…and they pay me for that. I wouldn't give it up for the world. I still enjoy getting up every morning, hitching up my trousers and getting out there…opening up my laptop and taking on the world.
The interview was recorded at the Flint Center in Cupertino on September 10, 2009
For Part One of the interview, click here
For Part One transcript, click here
For Part Two transcript, check back soon