By Alison van Diggelen, host of Fresh Dialogues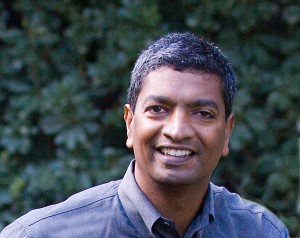 Download or listen to this lively Fresh Dialogues interview
We welcome feedback at FreshDialogues.com, click on the Contact Tab
SEE THE VIDEO INTERVIEW WITH KR SRIDHAR HERE – A FRESH DIALOGUES EXCLUSIVE Part One: Fuel Cell Technology and Efficiency
Also Part Two Bloom Energy: Affordability is Essential Video
Part Three Bloom Energy: Mission to Change the World Video
Bloom Energy CEO KR Sridhar is a man with a mission to change the world. A former NASA advisor who developed technologies to sustain life on Mars, this earnest scientist is now harnessing his visionary skills and a large team of engineers to solve the energy crisis. His ambitious goal? To revolutionize the energy industry, just like cell phones revolutionized the communications industry. His team is developing  high efficiency fuel cells to provide a global distributed system of electricity supply at low cost.
Although the company is still in stealth mode industry speculation is rife about its future plans. KR agreed to discuss Bloom Energy's progress in this exclusive Fresh Dialogues interview recorded on September 30, 2009. To read the interview transcript click here
.

.
Why is energy the focus of KR Sridhar's mission?
"Energy is a passport to a better living. For the rest of the world that doesn't have access to power, to electricity; to give them that is empowering them to a better life. If your solution works and you make it affordable and you distribute it all over the world, then you have definitely changed the world….You give power to the people."
What's in the Bloom Box?
"It takes the chemical energy from the fuel and converts that to electrons with no in between conversion. So you are changing your currency only once. It's an electro-chemical reaction..like a battery…but the big difference is it's a power generator so you keep supplying the fuel in and you'll keep getting the electrons out – most importantly without combustion. It's a one step conversion… high efficiency…you burn less fuel – less greenhouse gases -and eliminate all the combustion related polluting gases."
What's the link with transportation?
"Transportation can potentially go in two directions in the future. One is a hydrogen infrastructure for the car, the other one is an electrical infrastructure for the car…plug-in hybrids…Our device can either produce the electricity that'll charge the car or provide you hydrogen if the transportation becomes hydrogen based. So we've sort of become the gas station for the transportation industry."
Bloom Energy's road map and schedule
"We're building both the bridge and the future destination…There's a sense of urgency, you feel like you need to do it faster than humanly possible. This is a big scale issue. It's not a microchip. These are huge devices and they need to be build in very large quantities…factories, machines for factories. These things don't happen overnight.  It's going to be slower than what the bits and bites people in Silicon Valley think because it's not like software that you're just going to copy a million times instantly and distribute…You are not talking about eight quarters. You are talking longer than that."
(Note: Bloom Energy filed its first patent in 2003. To check out the patents, click here)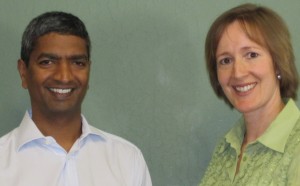 What motivates KR?
"The driver that makes you wake up in the morning …comes from something very fundamental. Any parent knows that… anywhere in the world…if there's one thing they have in common: they want a better life for their children than what they had. I deeply believe, unless we solve this energy issue and not make it a zero sum game… then we cannot promise our future generations a better life that what we had."
How are the Tennessee trials going?
"We're very optimistic about where it's going and we feel very good about where it is and it'll get there."
Note: Bloom Energy was Kleiner Perkins Caufield Byers' first clean tech investment.  Industry reports say the company has received over $250 Million in funding, and is valued at $1.45 Billion but KR advised that reported figures were not accurate. To read this interview transcript click here
In the second part of our interview, KR Sridhar gives more details of his timetable, the affordability of Bloom Boxes, his massive team of Ph.D. engineers, government policy and how his green mission begins at home. Check back soon.
The interview was recorded in the Edison Room at Bloom Energy's offices in Sunnyvale, California on September 30, 2009