By Alison van Diggelen, host of Fresh Dialogues
Download or listen to this lively Fresh Dialogues interview
We welcome feedback at FreshDialogues.com, click on the Contact Tab
I met with Guy Kawasaki at his Garage Technology Partners office in Palo Alto earlier this month to explore his role as a Macintosh evangelist and how he's since become a successful entrepreneur and marketing guru.  What a fun personality: Guy laughs easily and rarely stops smiling!
Guy gives some insights into what has made the iPhone so successful. ( Apple just announced second quarter revenues are up 9%  thanks to strong sales of iPhones and iPods) We also discuss the green revolution, religion, death magnets and:
Why he disputes that he's a legend…yet
Why being a legend should NOT be your goal in life
His advice to young entrepreneurs and what he learned from Virgin founder Richard Branson
An invaluable life lesson his father taught him
What turning 50 meant to Guy
His online presence  –  Twitter and Tweetgate controversy
The difference between an evangelist and a sales/marketing exec
Working with Steve Jobs and what he learned from him
Why Guy thinks Steve Wozniak is a legend and why he recommends the book,  IWoz
Advice for Green Revolutionaries from his book,  Rules for Revolutionaries
Listen to Fresh Dialogues with Guy Kawasaki
The interview was recorded at Garage Technology Partners in Palo Alto on April 8th, 2009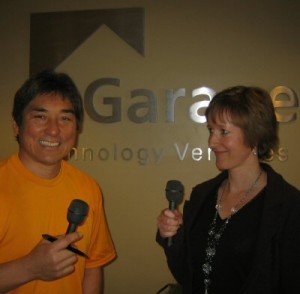 Guy's green tip: he recently installed low-flow shower heads in his home and bought the Samsung front loading  clothes washer (Model WM2487HWM).
Result: he's halved his monthly water usage. Impressive stuff.
In part two of our interview (coming soon), Guy gives his take on the Amazon Kindle, the future of venture capitalism and explains why he can never drive a Prius. Hint: it's something to do with their…um… aesthetics.  He revealed his strong views before he knew I was a Prius driver and proud of it…makes for some interesting listening!
Click here for the green interview transcript.
Click here for Guy Kawasaki on Green Publishing and Kindle
Click here for Guy Kawasaki on Why Prius are Ugly