| | |
| --- | --- |
| | Streaming Media West arrived in Silicon Valley last week and assembled an impressive crowd of business and technology gurus. I had the pleasure of meeting some of the pioneers of new media production, including JD Lasica, Co-Founder of OurMedia.org, Sarah Szalavitz, Co-Founder & CEO of 7Robot, producer of Zaproot, a bite sized news show about the Green revolution. I was most impressed with Sarah's savvy and her claim that her show is now more popular than Discovery and Treehugger. They even landed a deal last year to get paid for content. Sadly, she says, that window is now closed: the days of getting paid for content are over (for now at least). |
So how can you make money on the web? The panel of New Media Production: Building an Independent Media Brand outlined two distinct business models. The first: find your niche, build your product with top quality content, grow your brand, build a community and get them involved: then you have a valuable community worth advertising to. OR, do like Will Coghlan, Co-Founder of Hudson Street Media use the web to showcase your work, build your reputation and use it as a calling card to open doors to sponsorship or VC funding. He's still at it after 200 episodes of Political Lunch, a compelling lesson in tenacity right there.
Of special interest to Women's Radio listeners was Adriana Gasgoigne, Director of Corporate Communications at hi5. and Co-Founder of Girls in Tech. This experienced host and vlogger (video blogger) can be found on Bubblicious, MeeVee, and TheWeakSpot. She emphasized the importance of networking and cultivating mentors for women working in new media technology.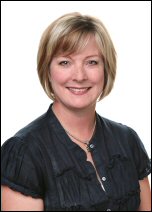 I also spoke with Alison Jeske, Director of Product Management at Beauty.com and Drugstore.com where she's using online video clips to drive traffic and conversion rates for her products. EBags and REI are already well in the game. Listen to this short interview to find out who is leading the field in this area; the optimum length of video clips and why she thinks this is a mandatory marketing tool for any business today.
Fun to see the Fresh Dialogues podcast picked up by the VideoRetailer website. Word certainly gets around fast!